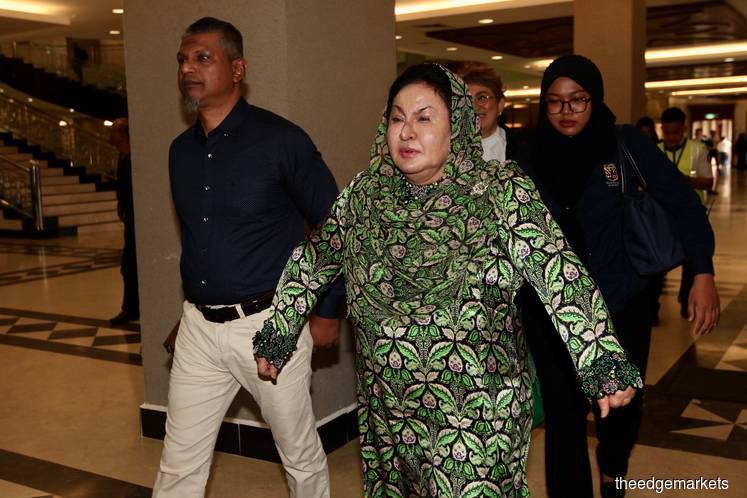 KUALA LUMPUR (Feb 19): Former education secretary-general Tan Sri Madinah Mohamad confirmed today that she was instructed by Datin Seri Rosmah Mansor to look into and expedite a RM1.25 billion solar hybrid project proposed by Jepak Holdings Sdn Bhd.
Madinah said this in reply to a question during re-examination by senior deputy public prosecutor Datuk Seri Gopal Sri Ram in Rosmah's graft trial at the High Court.
Madinah, who served as the education ministry secretary-general between 2013 and 2016, had earlier testified that she had met Rosmah, the wife of former premier Datuk Seri Najib Razak, at a national Permata programme.
At the event, Madinah said Rosmah told her: 'You tengok sikit project solar Jepak. Cepatkan sikit' (Can you take a look at Jepak's project. Speed it up, please.)
Sri Ram: Are you quite certain in your mind that the accused used the word "Jepak" during that conversation?
Madinah: Yes.
Sri Ram then went on to ask the witness whether she benefited personally from the project.
Sri Ram: It was put to you that you had a peculiar interest in Jepak because you had a personal interest, which you denied. Have you ever received any money from Jepak or Datuk Rizal Mansor (Rosmah's aide) or the accused regarding this project?
Madinah: I have never received any money from any of these parties.
Sri Ram then referred the witness to an earlier point, during cross-examination by the defence, where she was asked on her efforts to advise Najib.
Sri Ram: It was put to you that you could have advised the PM on the project but did not. Can you explain?
Madinah: In the running of the Education Ministry, like any other (ministry), there is an established hierarchy, where the KSU (secretary-general) reports to the minister in charge for any directives that he had received.
Any communication on this [solar hybrid] project, on the issue or viability of this project, is communicated by myself as KSU to the minister. I sought the minister's advice to which he said he would tell the PM.
The witness reiterated that she had raised concerns such as lack of funds, and that there was never any allocation for the solar hybrid project to the ministry.
"We also needed more time to assess the proposal, and we [needed] more information from Jepak for due diligence, such as the breakdown of financial requirements, the scope of the project and consultants that Jepak intended to hire to oversee the project, and many other related matters, that would be required by the Finance Ministry before the project [could] be approved.
"I had informed MoE (Education Ministry) several times on these requirements and it was not for me to overstep my boundary and go straight to the prime minister. I cannot cut the chain of command," she said.
Sri Ram: In the civil service, would you say the chain of command is unbroken?
Madinah: Yes, correct.
Rosmah is accused of soliciting RM187.5 million from Jepak managing director Saidi Abang Samsudin between January and April 2016, and of receiving RM5 million and RM1.5 million in 2016 and 2017.
Hearing continues tomorrow with the seventh prosecution witness, Finance Ministry deputy secretary-general Datuk Othman Semail, expected to be cross-examined by the defence.
Read also:
Madinah: It's not my place to question PM's approval of solar project