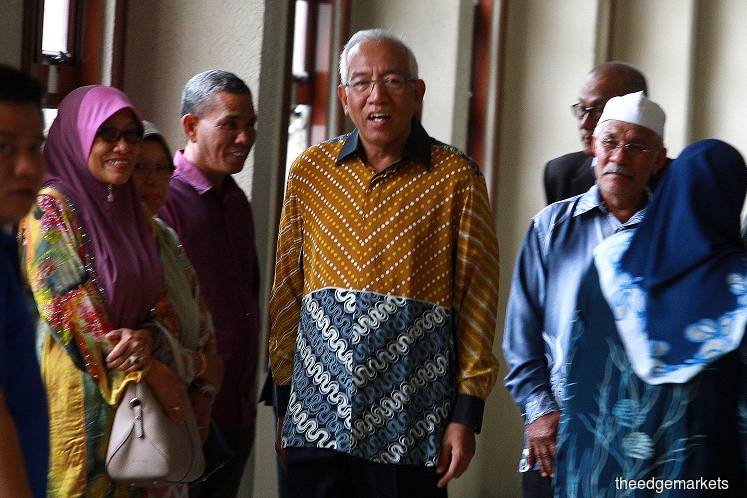 KUALA LUMPUR (May 13): Datuk Seri Mahdzir Khalid, who was recently appointed as Tenaga Nasional Bhd chairman, is not involved in the graft allegation against Datin Seri Rosmah Mansor on the solar project contract in Sarawak, said his lawyer today.
In a statement, lawyer Datuk C Vignesh Kumar Chellapah who represented Mahdzir during the trial clarified that Rosmah is the sole accused and Mahdzir only attended the trial as a witness.
Vignesh issued the statement following allegations on social media linking Mahdzir's involvement in the solar project and questioning Mahdzir's subsequent appointment to chair TNB.
"We are made aware of a Facebook posting by a former minister questioning the appointment of Datuk Seri [Mahdzir].
"In the said Facebook posting, it was juxtaposed that a 'character' involved in a solar project for schools in rural Sarawak [was] given a position in a GLC (government-linked company), which is related to energy," said Vignesh.
Responding to that, Vignesh pointed to Mahdzir's role as a witness in the trial. "He was never charged nor was there any finding of guilt against Datuk Seri [Mahdzir] in this case," he said.
"Despite knowing that his testimony in court would possibly be detrimental to his political career, Datuk Seri Mahdzir chose to cooperate with the Malaysian Anti-Corruption Commission (MACC) in furtherance of justice and to ensure that the real perpetrators would be brought to justice.
"Pursuant to that, he had given testimony as a prosecution witness for the MACC under oath in court in February 2020," said Vignesh.
"However, the unfounded statements and slanders brought against Datuk Seri Mahdzir without proper understanding of the justice system are regrettable.
"Our client has also instructed us to file defamation action or any other action deemed necessary should there be any more attempts to discredit or defame him," he added.
Meanwhile, Vignesh also said that Mahdzir's appointment as TNB chairman was based on merit, namely his experience as deputy minister of energy, green technology and water in 2013-2015.
"It would therefore be slander and utterly irresponsible to deduce the bribery case against Datin Seri Rosmah as indication that Datuk Seri Mahdzir too was involved and/or is an accused in the graft [trial]," he said.
In the trial, Rosmah is facing multiple charges of receiving RM6.5 million and soliciting a RM187.5 million bribe for helping transport firm Jepak Holdings Sdn Bhd obtain a RM1.25 billion solar hybrid project among rural schools in Sarawak in 2016.
Mahdzir, who was a witness in the ongoing trial, was then education minister.
In the trial, Mahdzir, who held the post between July 2015 and May 2018, said the wife of former premier Datuk Seri Najib Razak had pressured him to speed up the process of approval for the contract.
The Umno vice-president was appointed as TNB chairman effective May 12 to replace Tan Sri Ahmad Badri Mohd Zahir, who was appointed as chairman of the Employees Provident Fund with effect from May 1.