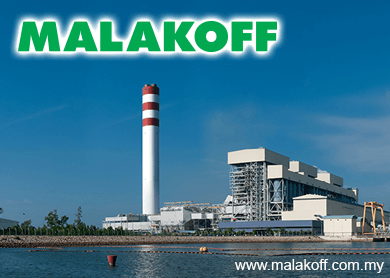 KUALA LUMPUR (May 16): Malakoff Corp closed unchanged on its first trading day yesterday after completing Malaysia's biggest initial public offering since 2013.
The shares, which were priced at 1.80 ringgit each in the IPO, earlier gained as much as 2.2 percent on the Kuala Lumpur stock exchange. About 313 million shares were traded.
The power utility's IPO raised 2.74 billion ringgit ($770 million) in the country's biggest first-time share sale since UMW Oil & Gas Corp.'s $902 million offering in October 2013, according to data compiled by Bloomberg.
MMC Corp., controlled by businessman Syed Mokhtar Al- Bukhary, took Malakoff private in 2007 in its largest biggest- ever acquisition, data compiled by Bloomberg show. The company has six power plants in Malaysia with 5,346 megawatts of effective capacity and owns about 690 megawatts of net power production capacity overseas, according to its website.
Malakoff plans to increase its power generation capacity to 10,000 megawatt by 2020, a 66 percent increase from its current capacity, according to a company statement in April. It has set a target dividend payout ratio of at least 70 percent of net income starting January 2015, it said.
The company will use the money raised to fully redeem a 1.8 billion ringgit Islamic bond, according to its share-sale document.