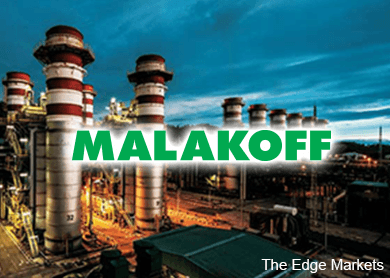 KUALA LUMPUR (May 15): To allay investors' concern that it was buying assets from 1Malaysia Development Bhd (1MDB), Malakoff Bhd, which was relisted on Bursa Malaysia today, reiterates that it is "not in talks with 1MDB about any potential deals".
 
In a statement after market close, the independent power producer (IPP) reiterated its stance as a a news report by Bernama earlier today had said Malakoff was keen on acquiring debt-ridden 1MDB's power assets that are held by the latter's unit Edra Energy Global Bhd has dampened Malakoff's share price performance on its maiden trading day.
 
Malakoff said it strongly denies the report which stated that it was considering the buy and urged Bernama to retract the piece, which it termed "a misrepresentation".
However, Bernama's report seems to have rubbed the shine off Malakoff's debut on Bursa today. The share price of the largest public-listed independent power producer (IPP) in Asean, in terms of capacity, ended the day at its initial public offering (IPO) price of RM1.80. 
The stock traded in a tight range between RM1.78 and RM1.84 throughout the day, with 312.93 million shares done, making it the top most actively traded counter on Bursa today.
 
1MDB's 3B project, which is to construct a 2,000-MW power plant in Tanjung Bin, has been delayed due to some hiccups, including lack of financing. 
All eyes are now on the Energy Commission as it has to decide the next course of action on the project because any further delay would possibly result in serious power shortage in 2018.
 
Consequently, this sparks speculation on which power producer is likely to take over the project.
 
Tenaga Nasional Bhd's president and chief executive officer Datuk Seri Azman Mohd told The Edge Financial Daily on Monday that the utility group was keen on taking over the project - though not not at just any price.
 
Back to Malakoff, analysts noted that the lacklustre share price performance today seemed an indication of the wider soft market sentiment.
 
"The market is cautious. It could be due to the mounting debt problems in 1MDB," a dealer who declined to be named told theedgemarkets.com.
 
In fact, Maybank Investment Bank Bhd as the stabilising manager had purchased 77 million shares at RM1.795 in a bid to support Malakoff against selling pressure, a filing with Bursa Malaysia this evening showed.
 
Besides the purchase of 1MDB's power assets, a research analyst said investors could be unconvinced about Malakoff's Tanjung Bin Energy Power Plant's commencement, slated to be operational next year.
 
The power plant had previously seen delays due to technical glitches; it is expected to add 1,000 MW of coal-fired power generation capacity once operational.
"It is an important earnings driver for Malakoff from next year onwards," the research analyst said.
In the long term, if the price and operational technicalities are right, the group's share price could likely trend upwards, said another research analyst when contacted.
 
Malakoff's institutional offering of some 1.28 billion shares was oversubscribed by 13 times and retail offering of 150 million shares by 1.24 times.
Going forward, Malakoff's share price performance will likely be closely watched as it may well be the bellwether to Edra Energy's upcoming IPO exercise.