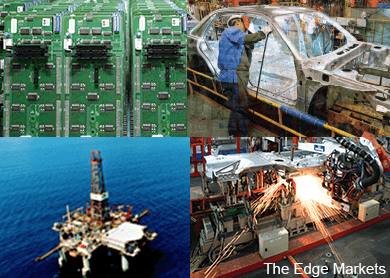 KUALA LUMPUR (Apr 10): Malaysia's industrial production index (IPI) rose 5.2% year-on-year (y-o-y) in February 2015, driven by increases in the manufacturing, mining and electricity components of index.
The IPI's increase came in above market forecast of a 4.7% y-o-y rise, based on a Reuters survey.
According to a statement by the Statistics Department today, the IPI's manufacturing component registered a 4% increase while the mining output was up 9.2%. Electricity production climbed 1.9%.
Higher manufacturing output was supported by an 8.4% rise in the production of electrical and electronics (E&E) products, and 4.1% increase in petroleum, chemical, rubber and plastic items.
Growth in the mining sector, which was mainly due to higher crude oil output, was partly offset by a fall in the natural gas production.
Cumulative IPI growth for the first two months of the year came in at 6.1% y-o-y as all three components of the output gauge rose.
Month-on-month, February IPI, however, fell 0.1% as all three segments of the index fell.
The IPI's 5.2% y-o-y rise in February compared to the 7% growth in January.
Reuters' market forecast had earlier placed February factory output growth at 4.7% y-o-y as Malaysian exports fell sharply during the month.
Reuters reported that Malaysian exports fell due to slowing demand from China, while sales to the European Union and Japan were also weak.