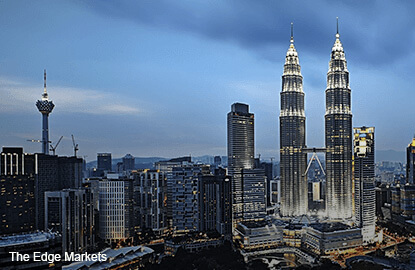 KUALA LUMPUR (Feb 13): Malaysia's economy is likely to have expanded faster in the final quarter of 2016, boosted by strong manufacturing and a recovery in commodities and oil prices, a Reuters poll showed.
Fourteen economists surveyed expected growth of 4.5% in October-December from a year earlier, up from 4.3% previously and the second successive quarter of stronger momentum, according to the median forecast of economists.
The survey of 14 economists gave forecasts for fourth quarter growth ranging between 3.7% and 5.0%.
The median forecast matches the 4.5% expansion over the fourth quarter of 2015, though it remains far off the record 10.1% recorded in the first quarter of 2010.
Malaysia, an energy and commodities exporter, snapped five quarters of declining growth in July-September, and economists say that a faster expansion in the October-December quarter will indicate that the economy is on the mend.
Exports were up 10.7% in December on a strong recovery in shipments of crude oil, petroleum products and palm oil and palm-based products.
Last January, the federal government had to trim its full-year 2016 growth forecast to 4–4.5% from 4–5% due to the sharp drop in global crude prices.
Prime Minister Datuk Seri Najib Razak said in October when unveiling Budget 2017 that the economy would likely grow between 4–5% in 2017 on expectations that growth will pick up marginally.
The ringgit currency, which lost 4.3% against the dollar in 2016, remains fragile, prompting Malaysia's central bank in November to clamp down on offshore trade of the ringgit and to boost liquidity and domestic trade of the local currency.