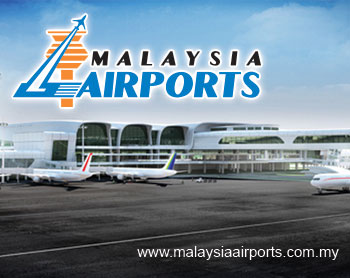 KUALA LUMPUR (Dec 4): Malaysia's international airport operator is planning to sell its first perpetual sukuk, helping insurers and pension funds meet their longer-term liabilities.
Malaysia Airports Holdings Bhd. plans to offer as much as 1 billion ringgit ($290 million) of the bonds with no set maturity, which carry a 10-year call option, at 5.8 percent to 6 percent this week, two people familiar with the matter said yesterday.
The company last sold sukuk in two portions in August 2013. The yield on the 4.15 percent notes due in 2018 has dropped 11 basis points from its 2014 high to a six-month low of 4.05 percent, data compiled by Bloomberg show.
The perpetuals, which pay higher yields to compensate for the risk of holding debt with no pre-determined maturity, are drawing interest from Kumpulan Wang Persaraan (Diperbadankan), the nation's second-biggest pension fund. The bonds are gaining popularity in Malaysia, where $988 million has been raised via four sales since a 2012 debut by the national airline.
"Malaysia Airports' perpetual sukuk will provide diversity in the Islamic market," Mohamed Azahari Kamil, chief executive officer at Asian Finance Bank Bhd. in Kuala Lumpur, said by phone yesterday. "Demand will be there, especially from pension funds and insurers that prefer longer-dated instruments."
Yields Falling
The airport operator's perpetual notes are the first in the nation to have a credit rating. They were assigned a rank of AA2 by RAM Rating Services Bhd., the third-highest investment grade and two levels below the company's top AAA assessment. Chief Financial Officer Faizal Mansor declined to comment on the sale plan when contacted by telephone yesterday.
Perpetual bonds are treated as equity rather than debt on a company's balance sheet, enabling firms to raise funds without affecting their creditworthiness. Malaysia Airports' sale is part of a 2.5 billion ringgit Islamic bond program from which it issued sukuk last year. The funds will be used to complete financing for the country's low-cost air travel terminal.
Average yields on 10-year AA2 rated conventional bonds have dropped eight basis points to 5.22 percent since reaching a 27- month high in August, a Malaysian central bank index of corporate notes shows.
Malaysian Airline System Bhd. paid 6.9 percent for its government-guaranteed perpetuals in 2012. The unrated securities cannot be traded under the securities commission's regulations.
"The yields offered by Malaysia Airports are attractive given that we expect" rates to fall, Wan Kamaruzaman Wan Ahmad, chief executive officer of Kumpulan Wang Persaraan (Diperbadankan), who oversees the equivalent of about $27 billion, said by phone yesterday in Kuala Lumpur. "The perpetual sukuk will also help us better manage our longer-term liabilities."
Planned Issues
AirAsia Bhd., Malaysia's biggest low-cost carrier, has set up a 1 billion ringgit perpetual sukuk program from which it hasn't issued yet. Automotive distributor DRB-Hicom Bhd. also plans to sell as much as 2 billion ringgit of the debt. Property developer SP Setia Bhd. and plantation group Boustead Holdings Bhd. are the other issuers to have completed sales.
The latest note issue will help boost Islamic bond sales in Malaysia, where offerings climbed 48 percent to 55.1 billion ringgit in 2014 from a year earlier, data compiled by Bloomberg show. That's more than 2013's 49 billion ringgit total and short of the record 95.8 billion ringgit in 2012. Global issuance gained 13 percent to $44.2 billion.
The Bloomberg-AIBIM Bursa Malaysia Corporate Sukuk Index, a benchmark that tracks the most-traded local-currency notes, increased 2.7 percent this year to an unprecedented 108.02, compared with 2013's 2.8 percent gain.
Earnings Drop
Syarikat Takaful Malaysia Bhd., an Islamic insurer, would be interested in buying the debt at the yields indicated, said fixed-income manager Sheikh Faiz Mohamed.
"From a Takaful company's perspective, perpetual sukuk provide better yields," Kuala Lumpur-based Sheikh Faiz, who helps oversee 6 billion ringgit in assets, said by phone yesterday. "Insurance and Takaful companies prefer longer-end paper as our liabilities are long."
Malaysia Airports is the sole operator of all 39 government-owned air terminals. Its shares have fallen 8.8 percent this quarter to 6.83 ringgit, giving it a market capitalization of 9.4 billion ringgit, according to data compiled by Bloomberg. The FTSE Bursa Malaysia KLCI Index of equities has dropped 4.8 percent.
The company may report net income of 121.7 million ringgit in 2014, compared with 388.9 million ringgit a year earlier, according to the average estimate of 17 analysts surveyed by Bloomberg. The company had 10.5 billion ringgit of assets and 5.8 billion ringgit of liabilities as of December.
"The slowdown in the company's earnings is reflected in the ratings," James Lau, an investment director at Kuala Lumpur-based Pheim Asset Management Asia Sdn., who oversees $300 million, said by phone yesterday. "The yields are pretty good given that there is a flight out of equity."