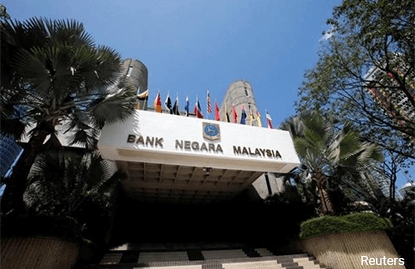 KUALA LUMPUR (Feb 27): Malaysia's central bank is expected to hold its benchmark rate at 3.00 percent on Thursday, a Reuters poll showed, amid higher growth and inflation rates.
Nine out of the 10 economists polled predict no change to Bank Negara Malaysia's (BNM) key rate, while the other one sees a 25 basis point cut.
To most analysts, there is now far less pressure to have a cut than there was in July, when the first trim in more than seven years was made.
They also expect BNM to keep its overnight policy rate steady throughout 2017, on concern that a cut would add pressure on Malaysia's ringgit currency.
The ringgit, which hit a near 19-year low of 4.4980 to the dollar on Jan 4, was at 4.41 early Monday. That put it up 1.2% this year, but still 9% weaker than when the central bank made a 25 basis point cut in July.
In the last quarter of 2016, Malaysia's economy grew 4.5% from a year earlier, after 4.3% expansion three months earlier. Full-year growth was 4.2% in 2016, the slowest in seven years.