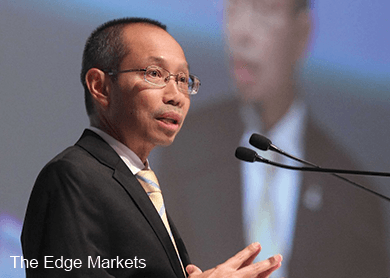 KUALA LUMPUR (April 23): Minister in the Prime Minister's Department Datuk Seri Abdul Wahid Omar said Malaysia had continued its effort to reduce national dependence on crude oil revenue, amid lower prices of the commodity.
Wahid, who is in charge of economic planning, said the country hoped to reduce dependence on oil to below last year's contribution of about 30% to national income. He said the country had been diversifying its economy.
"We have been consistently diversifying the economy to reduce dependence on the oil and gas sector," Wahid said at the Invest Malaysia 2015 event here today.
Over the last one year, crude oil prices had fallen to some US$56 a barrel today, from an intraday high of about RM107 in June 2014.
Oil prices had fallen on oversupply concerns. Lower crude oil prices do not bode well for Malaysia's economy, considering the country is a net oil exporter.
Hence, cheaper oil has directed the spotlight on the ringgit. The ringgit had weakened to 3.6280 today, compared to its strongest point at 3.1415 in August 2014 over the last one year.
The ringgit's strength also hinges on other global factors. Today, Bloomberg reported Malaysia's ringgit fell along with other Asian currencies, as U.S. housing data bolstered the dollar and a Chinese manufacturing index dropped to a 12-month low.
The ringgit weakened on speculation that a jump in existing U.S. homes sales will add to the case for the Federal Reserve to increase interest rates this year. The decline in a Purchasing Managers' Index for China, Malaysia's second-biggest export market, follows data last week that showed the economy expanded 7 percent in the first quarter — the slowest pace since 2009.