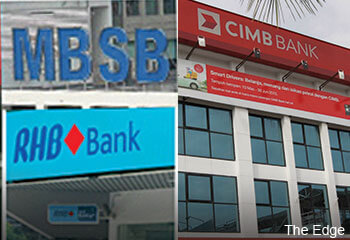 KUALA LUMPUR (Jan 14): Malaysia's dream of forming an Islamic megabank to accelerate industry development remains just that.
A three-way merger that would have created a lender with the financial clout to win bigger sukuk deals against the likes of HSBC Holdings Plc and Standard Chartered Plc has stalled as tumbling oil prices wreak havoc on the economy. The planned amalgamation of CIMB Group Holdings Bhd., RHB Capital Bhd. and Malaysia Building Society Bhd. would have been the nation's largest ever M&A transaction.
Central bank Governor Zeti Akhtar Aziz first raised the idea of an Islamic finance megabank more than five years ago to better compete for business in the Persian Gulf and cement Malaysia's position as a Shariah-compliant hub. A license slated to be awarded in 2011 for a multinational lender to be formed between Asia and the Middle East didn't materialize, depriving the $1.7 trillion global industry of a growth engine.
"This is a dampener on the development of Islamic finance and its reach into the global market," Mohamed Azahari Kamil, chief executive officer at Asian Finance Bank Bhd. in Kuala Lumpur, said by phone yesterday. "I don't think there will be another merger for a while as current market conditions aren't conducive."
CIMB's board will meet today to discuss the merger, according to a stock exchange filing from the bank issued late yesterday. The parties are still in discussions, according to a RHB statement.
Regional Integration
While CIMB has topped the sukuk underwriter rankings in Malaysia for the past eight years, HSBC has held the title in the Middle East since 2009. As the nation's second-largest lender, CIMB arranged a total of 18.3 billion ringgit ($5.1 billion) in deals in 2014 when overall sales reached 62 billion ringgit, data compiled by Bloomberg show. Europe's biggest bank managed $2.5 billion, down from $5.5 billion in 2013 and $9 billion in 2012.
The Islamic Development Bank was seeking partners in 2012 to bring in $1 billion in investment to form a megabank. The financial institution, which was to be established with Riyadh- based Dallah Albaraka Group and the Qatari government, planned to issue Islamic bonds that lenders could buy to manage excess funds, Jeddah, Saudi Arabia-based IDB President Ahmad Mohamed Ali said in a May interview that year. That plan also didn't come to fruition.
The CIMB-RHB merger, first announced in October, would have created a group with total assets of 637.9 billion ringgit, surpassing the 612 billion ringgit of the nation's biggest lender Malayan Banking Bhd., according to data compiled by Bloomberg. The new entity would have become Southeast Asia's fourth-largest bank, behind Singapore's DBS Group Holdings Ltd., Oversea-Chinese Banking Corp. and United Overseas Bank Ltd.
Success Doubts
Terms for the deal no longer make sense as the industry outlook worsens, people with knowledge of the matter, who asked not to be identified because deliberations are private, said yesterday. An official announcement could come as soon as this week, one person said.
Failure to create a mega Shariah bank isn't a major setback for the Islamic finance industry, according to investment advisory company Prometheus Capital Finance Ltd.
"Whenever something like a megabank is forced into creation, I'm not so sure that it'll be so successful," Thomas Christie, the head of fixed income at Prometheus, said by phone from Dubai yesterday. "The main problem is more the integration between the Gulf market and the more developed Malaysian market. However, it's not going to dissuade people from looking for other ways to integrate the two regions."
Malaysia is feeling the pinch from plunging oil prices that have sent the ringgit to its weakest level since 2009. A subsequent drop in revenue for Asia's only major oil exporter may make it more difficult for the government to achieve its target of cutting the fiscal deficit to 3 percent of gross domestic product this year from 3.5 percent.
Budget Review
A major support for the currency may also be removed should the current-account surplus slip into deficit. The excess was 7.6 billion ringgit in the third quarter, already the smallest since June 2013. Brent crude has fallen 57 percent in six months to its lowest level since 2009.
Malaysia may review the 2015 budget to take into account the impact of the decline in oil, according to a report yesterday from state news agency Bernama, citing Prime Minister Najib Razak. A statement is due next week, it said.
The establishment of a megabank for the global Islamic finance industry would help remove a major impediment to growth as investors say there aren't enough products, particularly sukuk, to meet demand. Ernst & Young LLP estimates Shariah- compliant banking assets will double by 2018.
Shares Rally
Stock market investors seem to have taken a positive view on the breakdown of the bank merger. CIMB shares ended the day 14 percent higher, compared with a 0.8 percent gain in the benchmark FTSE Bursa Malaysia KLCI Index. RHB climbed 0.9 percent. Malaysia Building Society lost 5.9 percent as it won't get access to a broader loans and mortgage market.
"The creation of a mega Islamic bank isn't critical to Malaysia's Islamic finance industry at the moment, even though the prospect is enticing," Suhaimi Zainul-Abidin, treasurer of the Gulf Asia Shari'ah Compliant Investments Association, said in an e-mail from Singapore yesterday. "It should happen as a matter of course as the market matures, and it is important that the creation of such a megabank makes commercial sense for all the parties involved."