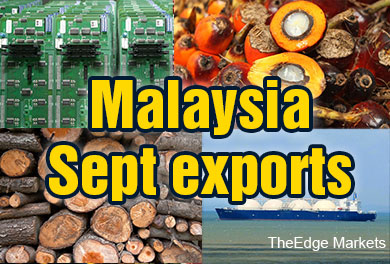 KUALA LUMPUR (Nov 7): Malaysian exports rose 2% to RM64.5 billion in September from a year earlier on higher sales of electrical and electronic (E&E) and palm oil products.
In a statement today, the Statistics Department said higher sales of timber products and liquefied natural gas (LNG) had also supported export growth.
Lower sales of petroleum and natural rubber-based goods had, however, curbed export rise during the month.
According to the department, E&E product sales rose 5.3% while palm oil goods recorded a 16.3% rise. Timber-based product sales grew 8.9% while LNG registered a 2.4% increase.
Meanwhile, the department said the country's imports increased 1.1% to RM55.2 billion as the country bought more intermediate goods.
Higher intermediate goods purchases had mitigated the impact of lower purchases of consumption and capital items.
Total trade in September was valued at RM119.7 billion, up 1.6% increase from a year earlier.
Trade surplus rose 7.4% to RM9.3 billion.
The department did not specify cumulative nine-month export and import figures.
Malaysia's September export growth had come in below market forecast of 2.7 per cent growth, based on a Reuters survey of 13 economists.
While exports are likely to remain weak as commodity prices fall, manufacturing of electrical and electronic products is expected to support export growth.