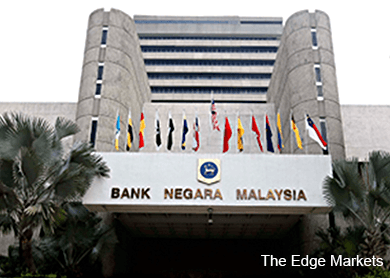 KUALA LUMPUR (May 15): Bank Negara Malaysia said the domestic economy was expected to remain on a steady growth path.
In a statement today, Bank Negara said domestic demand would remain the crucial growth driver amid lower crude oil prices.
"Investment activity is projected to remain resilient, with continued capital spending by both the private and public sectors.
"While private consumption is expected to moderate as households adjust to the introduction of the goods and services tax (GST), the steady rise in income and stable labour market conditions would support household spending," Bank Negara said in a statement.
The statement was in conjunction with the announcement of Malaysia's first quarter (1Q15) economic numbers today.
According to Bank Negara, although global growth recovery was expected to be moderate, it would still offer support to manufactured exports from Malaysia. The central bank, however, warned that lower commodity prices would "likely weigh down on overall exports".
During a press conference earlier today, Bank Negara governor Tan Sri Dr Zeti Akhtar Aziz said
the Malaysian economy, as measured by gross domestic product (GDP), grew 5.6% in 1Q15 from a year earlier.
Zeti said GDP growth was underpinned by private sector demand as exports weakened. She said private consumption expanded on stable labour market conditions and higher wage growth.
"The strong private consumption growth was also contributed by the flood relief efforts early in the year, and the front-loading of household spending prior to the implementation of the goods and services tax (GST)," she said.
The nation's on-year 1Q15 GDP growth of 5.6% compared to a 5.7% expansion in 4Q14. During 1Q15, Bank Negara indicated that domestic demand grew 7.9% while net exports fell 10.2%.
On the supply side, the central bank said the mining and manufacturing sectors grew 9.6% and 5.6% respectively.
The construction and services industries expanded 9.7% and 6.4% respectively. The agriculture segment, however, fell 4.7%.