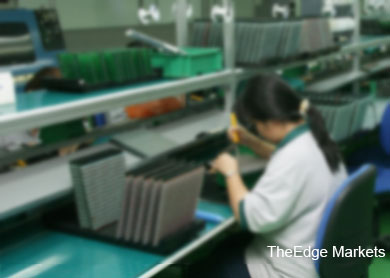 KUALA LUMPUR (Oct 17): With the cost of hiring workers soaring in Malaysia as minimum wages kick in, the government is offering tax benefits to labour-intensive sectors going the automation route, a tactic that analysts say may help lift profits by up to 20 percent.
But some manufacturers, including Top Glove Corp Bhd , which produces one out of every four pairs of latex gloves in the world, say the incentives are not enough. Smaller companies will benefit more due to the way the benefits are structured, analysts say.
"The direction is there, although it is not enough," Chairman Lim Wee Chai said in a post-earnings conference in Kuala Lumpur on Thursday.
One of the processes that Top Glove has partially automated is the removal of gloves from moulds. Some of it is now carried out by robotic arms, cutting the number of workers per production line to four from eight, a company official says, adding that some of the packing, counting, weighing and sorting has also been automated.
The automation comes as the cost of hiring rises in Southeast Asia. Countries such as Indonesia and Vietnam have recently raised minimum wages. On Jan. 1, 2013, Malaysia implemented minimum wages for the first time, prompting concerns about higher operating expenses and pressure on margins.
Malaysian plastics packaging firms including Scientex Bhd have seen their production costs rise 11-19 percent annually over the past five years, mainly due to labour, utility and transportation costs. Rubber glove makers such as Top Glove saw costs climb 6-16 percent a year on a compound basis, Thomson Reuters calculations based on corporate income statements show.
In Prime Minister Najib Razak's 2015 budget speech late last week, he said labour-intensive industries such as rubber, plastics, wood, furniture and textiles will receive automation incentives. On the first 4 million ringgit ($1.2 million) firms spend on automation between 2015 and 2017, they will be entitled to tax savings of 2 million ringgit.
While that is not enough, Top Glove's chairman said, "sometimes small is also better than zero".
Top Glove posted an 8.3 percent drop in net profit to 180 million ringgit in the fiscal year ended Aug. 31, 2014. Higher operating costs - from wages to power and transportation - dragged down earnings, Lim said.
The automation benefits will translate into an annual 2 percent rise in net profit, he said.
'BETTER THAN NOTHING'
Scientex, Asia-Pacific's largest stretch film producer by capacity, may see earnings improve by less than 5 percent from the benefits in the year ending July 31, 2015, Kuala Lumpur-based RHB Research wrote in a note to clients.
Scientex was not immediately available to comment.
Smaller plastic packaging players are set to gain more, with net profit going up as much as 20 percent next year due to their smaller earnings base, RHB Research said.
Karex Bhd, the world's largest condom manufacturer by volume, may see its net profit improve between 10 percent and 13 percent, according to RHB Research.
"With the incentive, I think we can see more than 1 million ringgit flow to our bottom line," Goh Miah Kiat, Karex's chief executive officer, told Reuters. "Although the quantum is still considered small, it is better than nothing and it will entice companies to go for automation." (1 US dollar = 3.2820 Malaysian ringgit)