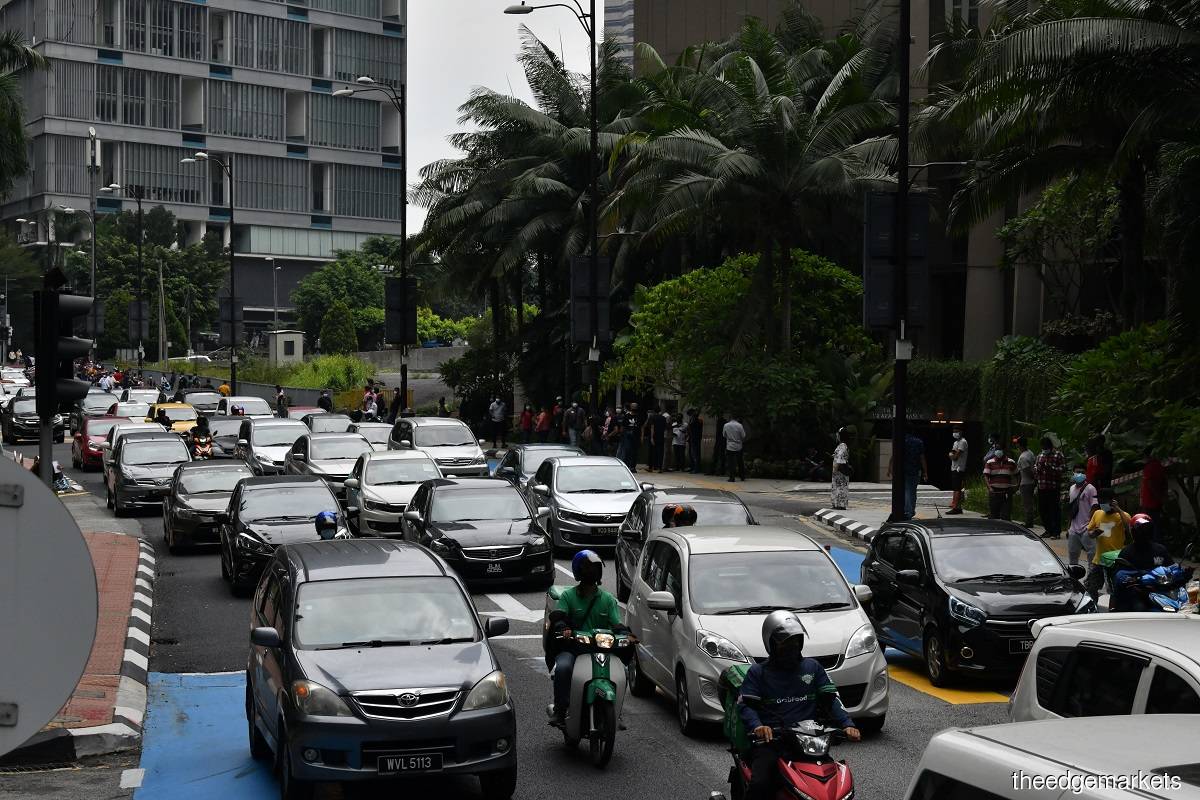 KUALA LUMPUR (Nov 26): Malaysia's inflation, as measured by the Consumer Price Index (CPI), increased 2.9% in October 2021 from a year earlier on factors including rising fuel prices and discontinuation of electricity bill discounts by the government.
In a statement, chief statistician of Malaysia, Datuk Seri Dr Mohd Uzir Mahidin said the increase in the CPI was mainly driven by a double-digit increase of 11.3% in the (CPI's) transport group due to the government's set up of the RON95 petrol ceiling price to RM2.05 per litre in March 2021, which was higher than the average price of RM1.67 in October 2020.
"In tandem with the rise in global oil prices, the average price of RON97 also increased to RM2.84, compared with RM1.97 in October 2020."
"Simultaneously, the index for housing, water, electricity, gas & other fuels rose 3.2%, with the highest increase recorded by the electricity, gas & other fuels subgroup (27.6%)," Mohd Uzir said.
Year-to-date, the CPI increased 2.3% between January and October 2021 from a year earlier, according to the DOSM.
On a month-on-month (m-o-m) basis, the October 2021 CPI reading increased 0.7% compared with September 2021, which was attributed to the 2.5% m-o-m increase of the housing, water, electricity, gas and other fuels segment, DOSM said.
In September 2021, Malaysia's CPI rose 2.2% from a year earlier, according to the DOSM.
Looking ahead, Mohd Uzir said Malaysia's inflation in the coming months will be influenced by external factors such as the rise in global crude oil and food prices.
In addition, the opening of interstate travel in Malaysia is expected to affect prices of some tourism-related groups, according to him.
Bank Islam Malaysia Bhd chief economist Dr Mohd Afzanizam Abdul Rashid, when contacted by theedgemarkets.com, concurred with DOSM's view that higher inflation rate was due to the double-digit increase in the transport sub-index, as well as the higher increment in the housing, water, electricity, gas & other fuels segment.
"This is followed by a sustained increase in food and non-alcoholic beverages [sub-index], which rose by 1.9% for two consecutive months. Within the food and non-alcoholic beverages sub-index, fresh meat saw a sizeable increase of 8.6% (Sept: 7.6%), followed by a 9.9% rise in eggs (Sept: 8.1%) and fresh fish of 4.1% (Sept: 4.0%)," he added. 
 
Dr Mohd Afzanizam opined that the electricity bill discounts under the National People's Well-Being and Economic Recovery Package (PEMULIH) of up to 40% for domestic consumers and 5% for micro, small and medium enterprises (MSMEs), between July 1 to Sept 30, 2021, played a major role in moderating inflation in those three months.
"The lapse in electricity bill discounts, which was granted to [domestic] consumers and MSMEs from July to September, may have been the main factor for the sharp rise in the electricity sub-index of 34.6% in October, from 1.8% in the previous month," he said.
However, Dr Mohd Afzanizam noted that the core CPI of 0.7% in October 2021 as compared to the same month a year earlier was "fairly stable" — in view of the 0.6% core CPI in Sept 2021 — adding that this suggests that the pass-through effect could be somewhat muted. 
"Going forward, the lower base effect should wear off, given that CPI was contracting at a rate of 1.1% in 2020. Furthermore, the existence of subsidies and price-controlled items within the CPI basket would limit the extent of the inflationary pressures. 
"As such, inflation rate should moderate, going forward," he said.
Sunway University economics professor Dr Yeah Kim Leng, when contacted by theedgemarkets.com, shared the same sentiment, saying that the lower base effect on fuel and electricity will gradually diminish over time. 
"The lapse of the electricity bill discounts [causing the hike in electricity prices] is a so-called transitory factor; it is not a permanent shock and will subside when the base effect wears off.
"Similarly, the government's fuel subsidy [on RON95] helps put a lid on the price escalating, but importantly, that also has an adverse risk and impact on the government's coffers," he said. 
Likewise, UOB senior economist Julia Goh and economist Loke Siew Ting in a note on Friday said that the higher October inflation of 2.9% was mainly due to increases in the transport group, amid higher fuel prices, followed by housing, water, electricity, gas & other fuels.
The UOB economists added that there is food and vegetable price pressure due to supply shortages caused by poor weather and worker issues, as well as higher cost of raw materials.
They added that the nation's inflation averaged 2.3% year-on-year (y-o-y) from January to October 2021, implying that the full-year inflation target of 2.5% remains achievable.  
The pair also said that core inflation seems stable when compared with the 12-month average of 0.7%.
Meanwhile, Goh and Loke expect BNM "to stand pat" on the overnight policy rate (OPR) until mid-2022 and thereafter, given further fiscal policy support from Budget 2022, a broadly neutral statement from the November monetary policy committee (MPC) meeting, and nascent recovery.
"We expect a 25bps (basic points) rate hike to 2.00% in 2H2020. We think potential triggers for earlier rate hikes would be a more robust and stable domestic growth in coming months and signs of wider pass-through of higher costs to consumers as the economy recovers," they added.
Lam Jian Wyn & Chong Jin Hun