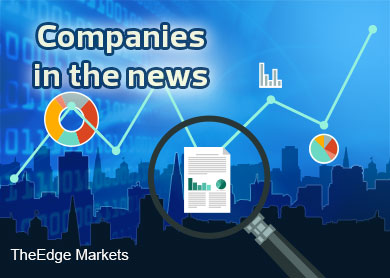 KUALA LUMPUR (Nov 6): Based on corporate announcements and newsflow today, the companies that may be in focus tomorrow (Friday, Nov 7) could include: MAS, WZ Satu, Petronas Chemicals, F&N, Westports, Media Prima, OSK Property, Sunway REIT and YFG.
Khazanah Nasional Bhd's RM6 billion recovery plan for Malaysian Airline System Bhd (MAS) which sees it buying out MAS shares it does own at 27 sen each and taking the loss-making airline private has got the nod from its shareholders.
Khazanah currently owns 69.37% of MAS.
Of the total votes cast at MAS extraordinary general meeting (EGM) today, 93.98% voted for Khazanah's proposal while 6% voted against it.
The EGM also prompted a panic in the market today when the share price fell to as low as 18.5 sen during the afternoon trading session, with over 400 million shares transacted at 4pm, making it the top traded counter.
It eventually closed up 0.5 sen at 26.5 sen, giving the national carrier a market capitalisation of RM4.26 billion.
WZ Satu Bhd signed a heads of agreement (HOA) to fully acquire oil and gas support services provider UBF Maintenance Sdn Bhd for RM79 million under a cash and share deal.
WZ Satu said it had entered into the HOA with Khairul Anuar Mohd Nor, Datuk Leom Joo Deck, Cheong Cheng Kee and Wong Ka Ting, and that the HOA is expected to lead to a share sale agreement.
The group will pay up to RM39.5 million cash to the vendors for the acquisition, whilst the balance purchase price will be financed via the issuance of 17.47 million new shares in WZ to the vendors.
In return, the vendors will guarantee an aggregate audited net profit of not less than RM34.5 million from Sept 1, 2015 to Aug 31, 2018, said WZ Satu. Its shares closed down 14 sen, or 6.14% today to RM2.14, giving it a market capitalisation of RM510.58 million.
Petronas Chemicals Group Bhd's net profit rose 4% on-year to RM661 million in the third quarter ended Sept 30, 2014 (3QFY14) from RM635 million, due to higher revenue as production volume rose, which the group said was a result of higher plant utilisation of 75% versus 70%.
However, sales volume did not increase in tandem and the higher production mainly catered for intermediary products. Its counter closed at RM6.11 today, giving it a market capitalisation of RM48.88 billion.
Fraser & Neave Holdings Bhd's (F&N) net profit dropped 22% on-year to RM62.20 million in the fourth quarter ended Sept 30, 2014 (4QFY14), and recommended a final single tier dividend of 33 sen per share.
F&N said its lower profit was mainly due to the recognition of insurance claims of RM31 million in the corresponding quarter last year. Excluding this quantum, profit for the quarter grew by RM19.2 million.
Its revenue for the quarter increased 7.5% to RM964.5 million from RM897.5 million, driven by contributions mainly from its three core business units - soft drinks, Diaries Malaysia, and Diaries Thailand - on the back of better volumes and product mix. Its shares inched up 2 sen, or 0.12% to close at RM16.12, giving it a market capitalisation of RM5.89 billion.
Westports Holdings Bhd saw its net profit for the third financial quarter ended Sept 30, 2014 (3QFY14) jump 33.25% to RM140.88 million from RM105.73 million a year ago, underpinned by a growth of 11.3% from its container volume to 2.16 million TEU (20-foot equivalent units).
This was despite revenue for 3QFY14 falling 11.85% on-year to RM405.41 million from RM459.9 million. Earnings per share grew to 4.13 sen versus 3.36 sen a year ago.
Westports closed down 3 sen, or 1.02% to RM2.90 today, giving it a market capitalisation of RM9.88 billion.
Media Prima Bhd saw its net profit fall 33.6% to RM42.18 million in the third quarter ended Sept 30, 2014 (3QFY14) compared to RM63.52 million in the previous year's corresponding quarter, while revenue declined 13.6% to RM379.6million from RM439.28 million.
Despite the poorer results, Media Prima declared a second interim dividend of three sen a share for the quarter.
Media Prima attributed the lower quarterly earnings to the challenging market environment and the MH370 and MH17 incidents. Its shares closed down 2 sen or 1.04% to RM1.91, giving it a market capitalisation of RM2.11 billion.
OSK Property Holdings Bhd saw its net profits for the nine months up to Sept 30 this year jump 90% on-year to RM71.7 million from RM37.7 million, while revenue rose 49.3% to RM462.4 million from RM309.7 million previously.
It attributed this to higher level of construction work carried out during the current period for on-going projects like Mirage by the Lake and Pan'gaea, both located in Cyberjaya, as well as the Mirage Residence in Kuala Lumpur, Atria SOFO Suites in Damansara Jaya and Bandar Puteri Jaya in Sungai Petani.
It closed down 3 sen or 1.41% today to RM2.10, resulting in a market capitalisation of RM509.64 million.
Sunway Real Estate Investment Trust's (REIT) net profit rose 14.53% on-year to RM63.45 million in its first financial quarter ended Sept 30, 2014 (1QFY14) from RM55.4 million, lifted by higher net property income from the retail and hotel segments.
Revenue came in 13.61% higher at RM113.81 million from RM100.18 million a year ago, while earnings per share improved to 2.17 sen from 1.90 sen a year earlier.
The REIT declared a first income distribution of 2.28 sen for the quarter to be paid on Dec 4. Its shares closed at RM 1.51 today, resulting in a market capitalisation of RM4.4 billion.
KPMG Malaysia, the auditors for electrical and mechanical engineering company YFG Bhd, has issued a qualified opinion on the group's financial statements for the financial year ended June 30, 2014 (FY14), including a highlight of events that may affect the company's ability to continue as a going concern.
"There is an amount of RM3.37 million, of which recoverability is dependent on the customer's ability to secure financing to reactivate the project, [and] based on information available to-date, we are unable to ascertain the adequacy of impairment loss made on the amount due from the said contract customer," said KPMG in its audit report.
The audit firm also said that subsequent to YFG's financial year end, a contract customer of a development project has called upon the performance bond of a subsidiary of YFG in the form of a banker's guarantee amounting to RM5.73 million.
YFG's shares closed at 9 sen today, up half sen, giving it a market capitalisation of RM54.82 million.