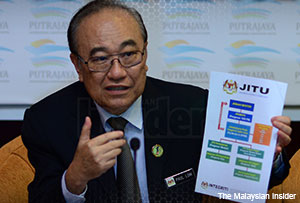 KUALA LUMPUR (Sept 26): Pakatan Rakyat lawmakers have expressed shock over Datuk Paul Low's vigorous defence of the use of Sedition Act against critics, even as the prime minister repeatedly pledged to do away with the colonial-era law.
They said there were enough measures in the Penal Code to handle offences related to hate or provocative speeches and reiterated the need for the Sedition Act to be repealed.
PKR's Padang Serai MP, N. Surendran, said the Act is aimed at punishing those who made any kind of criticisms against the government or its leaders, but not against those who made hate-filled speeches.
"Low misunderstood the Act. He misunderstood the nature of the legislation, he is sprouting the same thing Barisan Nasional are saying without examining the law itself," he said, referring to the minister in the Prime Minister's Department.
"What he is saying has no basis, it was not rooted in analysis of the Sedition Act and its consequences. It's a knee jerk reaction as though that's the only law in existence."
The rights lawyer said Malaysia was not a country lacking strong laws, adding that there were provisions in the Penal Code to prevent people from making provocative speeches.
"We have all kinds of laws to deal with situations that posed a danger to people," he said, and wondered whether Low had read the Sedition Act properly.
Low had said the Sedition Act was needed to preserve peace and harmony in a multiracial society.
"Some are insecure while others are aggresive. How do you maintain harmony?" he had said in response to a question by former Bar Council chairman Datuk Ambiga Sreenevasan, during a law conference on whether the colonial-era law should be repealed.
Low, who once headed Transparency International Malaysia, denied that Putrajaya was trying to instil fear or prevent criticism of the establishment, stressing that there must be social justice and no impunity against those who break the law.
DAP's Ipoh Barat MP M. Kula Segaran expressed surprise and disappointment that Low had "gone to the other side" by "defending the indefensible".
"In this modern day and age, certain strong language and speech should be allowed. Obviously hate speech is a definite no-no, but to have a vibrant democracy, it is unacceptable to have the Sword of Damocles hanging over our heads," he said.
He believed Putrajaya's recent sedition blitz was the Najib administration's reaction to Tun Dr Mahathir Mohamad's criticisms that the government was not strong.
"Najib has to show he is he captain and can control the situation," said Kula, referring to Prime Minister Datuk Seri Najib Razak.
PAS's Shah Alam MP, Khalid Samad, meanwhile, expressed disappointment against those who advocate a vibrant multi-racial society yet defend draconian laws.
Khalid reminded that Najib had repeatedly promised to repeal the Sedition Act as part of his reform agenda.
"He cannot deny that the Sedition Act is currently being widely used without any consideration to the principles of truth and justice. How can he (Low) stand up and defend it?
"It is obvious that there will be people like him, which is very unfortunate. I believe Malaysian society will not be so easily convinced of what he said," he said.
In recent weeks, opposition politicians, activists, a law lecturer, a lawyer, a journalist as well as two Muslim scholars have been charged with sedition or investigated under the draconian law.
This comes as Putrajaya faced pressure from Umno grassroots and Malay groups alligned to the party to retain the Act, which they say will protect the Malays, Islam and the monarchy.
The Prime Minister's Office recently said Putrajaya would tread carefully with the Sedition Act, saying it had yet to decide on its complete abolition, to retain it with amendments, or to introduce new laws.
The statement is seen as a further move away from Najib's pledge in 2012 to replace the Act with a National Harmony Act.