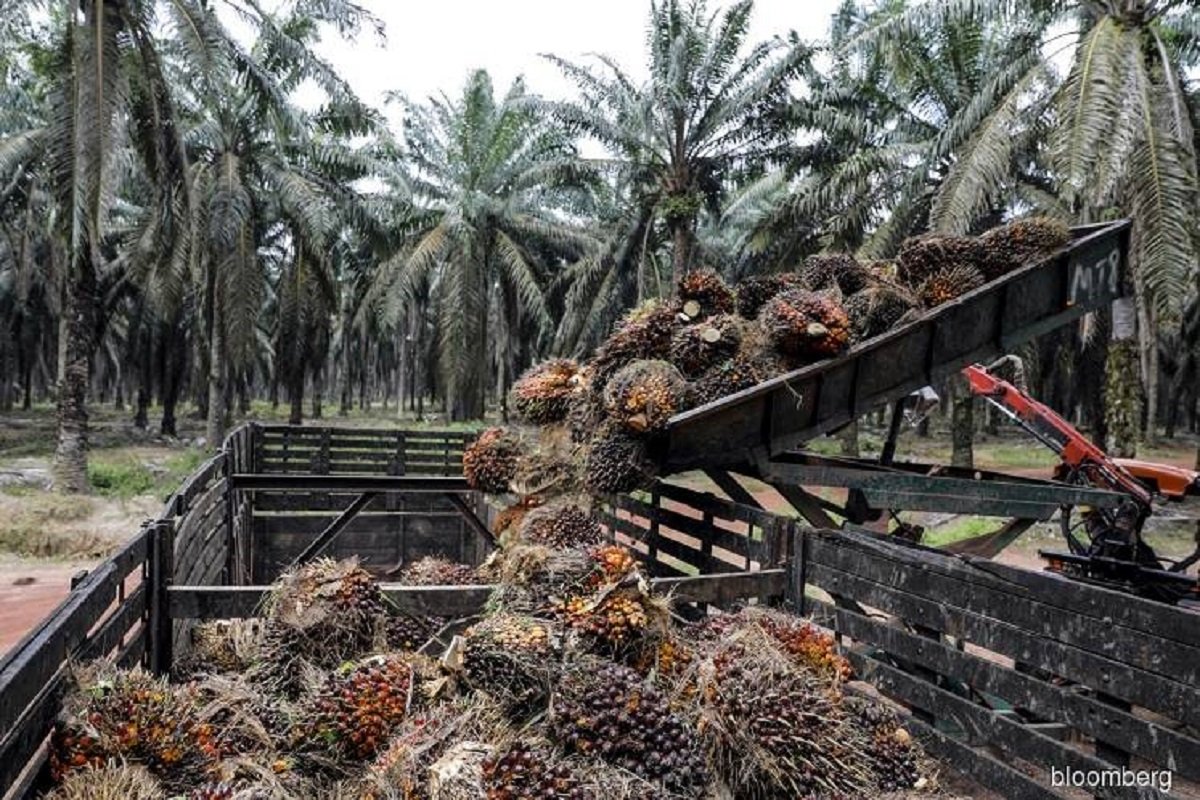 KUALA LUMPUR (Nov 23): The Ministry of Plantation Industries and Commodities (MPIC) expects crude palm oil (CPO) prices to trend downwards as more producing countries are able to harvest the fruits, its secretary-general Datuk Ravi Muthayah said. 
He said with export opening up the markets, the MPIC believes prices will soften a bit and this may also lead to a bearish market sentiment.
"The recent crude palm oil price rally since June 2020 was driven by supply disruptions in key edible oils, as well as the palm oil producing regions, and crude palm oil has traded about US$1,230 (about RM5,160) per tonne. 
"As we have seen on Oct 15, this is also a historic price in the palm oil industry," he said in his opening remarks at the virtual forum on the "Outlook for Challenges and Opportunities for Palm Oil Producers" (OCOPOP) on Tuesday (Nov 23). 
Ravi hopes producing countries, including Malaysia, take appropriate measures to ensure a fair price, as well as be prepared to face any kind of challenges, especially from the market which has a negative sentiment on palm oil.
"The series of negative narratives towards palm oil is a never-ending issue; we have seen it started with reports claiming palm oil is filled with saturated fat contributing to coronary heart disease.
"Later, we see that the renewable energy directive too has categorised palm oil as indirect land use change (ILUC) and will phase out palm oil-based biofuel gradually in 2030," he said. 
He said recently, palm oil was the only target for high ILUC and as soybean oil had been taken out of the list, many countries, especially European Union (EU) member states, had begun to transpose the European Union Renewable Energy Directive II (EU RED II) into their local law, indirectly banning or rather putting palm oil-based biodiesel at a disadvantage position. 
Moreover, he said palm oil had often been linked to food safety and health issues, such as containing high 3-monochloropropane diol (3-MCPD) and recently mineral hydrocarbon oil presence in some products.
"These are some of the challenges posed by the industry and it is imperative for us to counter-narrate the claims with evidence-based facts to ensure a more sustainable industry," he said.  
On the OCOPOP organised by the Council of Palm Oil Producing Countries (CPOPC), he said the objective of the webinar is to provide a platform for interaction and discussions for all stakeholders, especially on three key aspects of the palm oil industry in relation to supply, demand as well as prices in the global market.
"There is a need to develop a balanced supply and demand strategy to ensure that market prices remain remunerative for the industry, so that it provides sustainable livelihoods for smallholders as well. 
"The discussion on formulating strategies for sustainable supply, demand and remunerative prices of palm oil will focus on concerns faced by producers. Hopefully, this will find ways to improve collaborations to mitigate threats, challenges and to develop opportunities for palm oil producers," he added.
Meanwhile, Dr Musdhalifah Machmud, the Indonesian deputy minister for food and agribusiness at the Coordinating Ministry for Economic Affairs, said Indonesia had designed a downstream palm oil industry development road map to increase productivity and support industry activities, create an ecosystem, implement good governance, improve capacity building and develop technology to boost the palm oil business.  
"[It's] not only about demand and supply issues but also greater control of the whole supply chain of the industry. For that to happen in the republic, it must create a conducive ecosystem, including more investments in the downstream industries," she said. 
Her opening remarks was read by Moch Edy Yusuf, the Indonesian assistant to the deputy minister for estate crops, agribusiness development of the Coordinating Ministry for Economic Affairs.