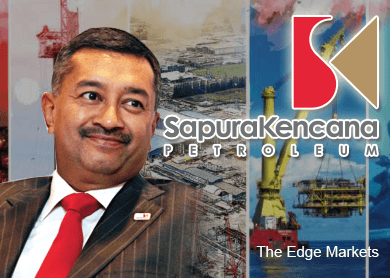 KUALA LUMPUR: SapuraKencana Petroleum Bhd vice-chairman Tan Sri Mokhzani Mahathir (pic) and Yeow Kheng Chew, the company's non-executive director, have indicated their intention to deal in SapuraKencana shares during its close period.
A close period refers to the 30 days before the announcement of a company's quarterly results.
In a filing with Bursa Malaysia on Tuesday, SapuraKencana said the duo had indicated to the company their desire to deal in its shares through Kencana Capital Sdn Bhd, which is Mokhzani's private vehicle, during the close period.
While the announcement did not say whether their intention is to sell or buy SapuraKencana shares, it is understood that the duo are planning to buy the shares.
SapuraKencana saw its shares battered along with other oil majors since Monday after Petroliam Nasional Bhd group chief executive officer (CEO) Tan Sri Shamsul Azhar Abbas said the company may cut its 2015 capital expenditure by 15% to 20% and the Organization of the Petroleum Exporting Countries decided to leave the cartel's production quota unchanged.
On Monday, SapuraKencana's share price plunged 10.36% to RM2.51 from last Friday's close of RM2.80, rebounding slightly to RM2.56 on Tuesday in tandem with the market. It closed down 4.69% or 12 sen to RM2.44 yesterday. Year to date, the oil and gas (O&G) stock has fallen 49.9% and lost RM2.33 from its peak of RM4.77 on April 3.
Similarly, its market capitalisation has gone down by more than half to RM14.62 billion from RM28.58 billion at its peak this year.
In the latest selldown in O&G stocks, SapuraKencana remained one of analysts' top picks in the sector.
According to sources, the stock currently has a single-digit price-earnings-ratio of 9.51 times, which is a "good long-term investment".
In February this year, Mokhzani and Yeow surprised the market when they pared down their shareholdings in SapuraKencana and relinquished their executive roles in the company.
The two, through Khasera Baru Sdn Bhd, another private vehicle of Mokhzani, then sold some 190.32 million SapuraKencana shares at RM4.30 apiece, amounting to RM818.3 million.
After the disposal of the shares, Khasera Baru's shareholding was reduced to 10.1%. According to Bloomberg, the entity now holds a 9.12% stake.
Other major shareholders in the company include Sapura Holdings Sdn Bhd with a 16.71% stake, the Employees Provident Fund (13.07%), Seadrill Ltd (8.18%) and Skim Amanah Saham Bumiputera (6.23%).
When Mokhzani's Kencana Petroleum Bhd merged with Tan Sri Shahril Shamsuddin's SapuraCrest Petroleum Bhd in 2012, Mokhzani had a stake of about 15% in SapuraKencana. Shahril, who is now SapuraKencana president and group CEO, still has his interest of 16.71% through Sapura Holdings.
In June last year, Mokhzani also bought a stake of some 14% in Yinson Holdings Bhd when it was trading at around RM1.30.
This article first appeared in The Edge Financial Daily, on December 4, 2014.