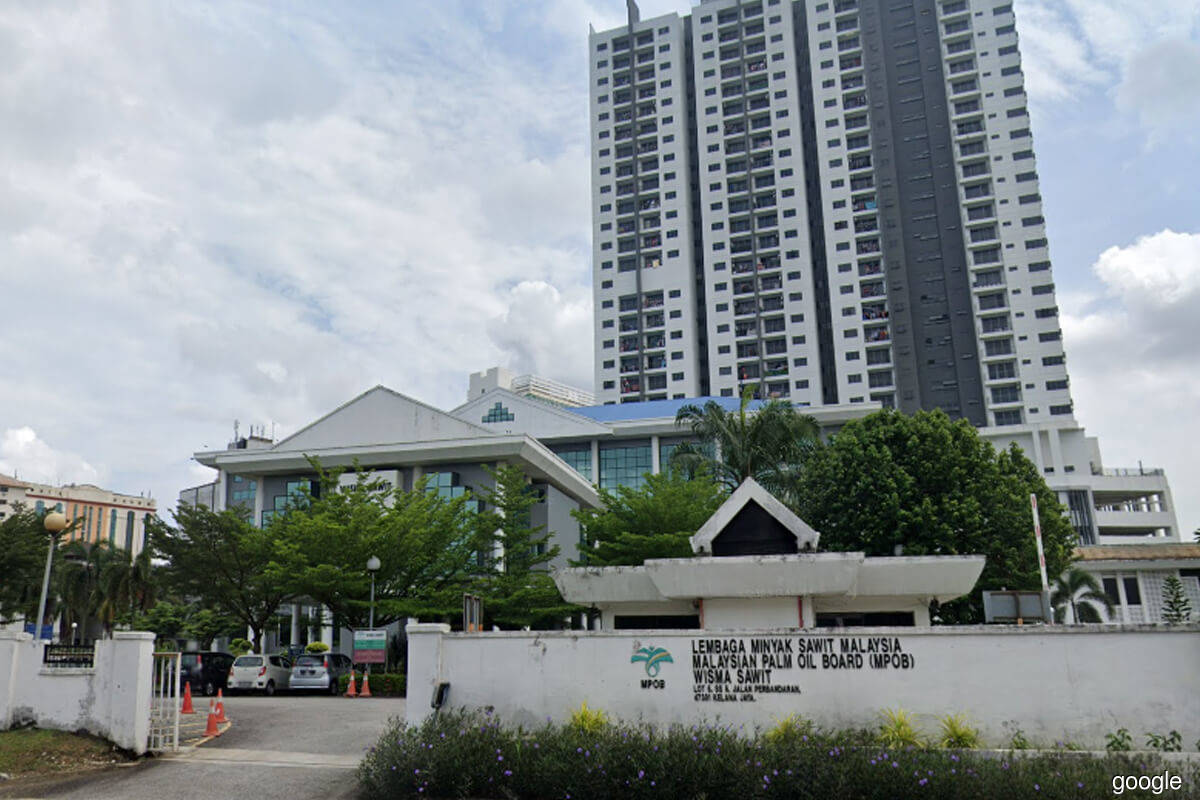 KUALA LUMPUR (March 8): Crude palm oil (CPO) price, which has reached a supernormal high recently of more than RM8,000 a tonne, has hit its peak and is expected to decline further in the near term barring further crises, said Malaysian Palm Oil Board (MPOB) director general Datuk Dr Ahmad Parveez Ghulam Kadir.
He said the board had expected CPO price to hover around RM7,000 a tonne owing to a recent Indonesian policy that mandates palm oil producers to sell a fifth of their output to domestic refiners at fixed prices, but the Russia-Ukraine crisis had boosted CPO price to break the RM8,000 level.
"But we do not think there should be any further increase unless there is something like another crisis that happens so that the price might go up," he said at a press conference in conjunction with the 2022 Palm & Lauric Oil Conference on Tuesday (March 8).
Ahmad Parveez observed that over the past few days, the price of CPO has already retreated to below RM7,000 a tonne. He believed the price will maintain above RM5,000 a tonne for the next few months given the uncertainties over how long the Russia-Ukraine crisis will last. "I doubt in the long term but at least above RM5,000 for at least the first half of the year," he added.
Consumers have rushed to source for CPO following a shortfall in sunflower oil because of the Russia-Ukraine crisis, pushing the March CPO futures contract RM712 higher to RM8,163 a tonne, and April contract RM663 up to RM7,435. The benchmark May contract gained RM463 to RM6,762.
The Ministry of Plantation Industries and Commodities (MPIC) recently said Malaysia as the world's number one exporter of palm oil must strive to maintain good value, among others, through the introduction of new applications for the use of the oil.
Plantation Industries and Commodities Minister Datuk Zuraida Kamaruddin noted further that the expected decline in CPO price, starting in the third quarter of this year, needs to be offset by higher production. Malaysia is targeting CPO production of 20 million tonnes for 2022, compared with 18 million tonnes in 2021.
"The first entry of 32,000 foreign workers for the plantation sector through special permits is expected in May or June.
"At the same time, we cannot rely on foreign labour and [must] continue to improve mechanisation. There are some technologies that have been identified to be applied in the next three to five years and at that time, I believe the use of foreign labour can be reduced by about 40%," added Zuraida.
The MPIC is in the midst of working on a targeted subsidy for cooking oil, which is expected to be finalised by year end, following discussions with the Ministry of Finance and the Ministry of Domestic Trade and Consumer Affairs during a ministerial retreat last month.
"We want to help the targeted segment, those who are in need of help at times when CPO is trading high," she said.
According to Zuraida, the government currently has allocated a subsidy for 720,00 tonnes of cooking oil.
Bursa Malaysia Derivatives chairman Datuk Muhamad Umar Swift is of the view that the current subsidy is an imperfect tool given its blanket coverage.
"So the government is looking at specifically helping those in need of help because the amount of subsidy is increasing all the time," he said.
Read also:
Palm oil tops RM8,000 for first time amid sunflower oil supply disruption
Cooking oils have more room to rally as war deepens supply fears
Russia-Ukraine crisis: Palm oil likely the solution to shortage of frying fat, says CPOPC 
Palm oil producing countries need to increase production sustainably, says CPOPC director
Muhamad Umar: Malaysia's 2022 CPO production began strong despite ongoing economic volatilities
Govt needs to introduce carbon tax mechanism to facilitate nationwide B20 biodiesel plan, says industry expert