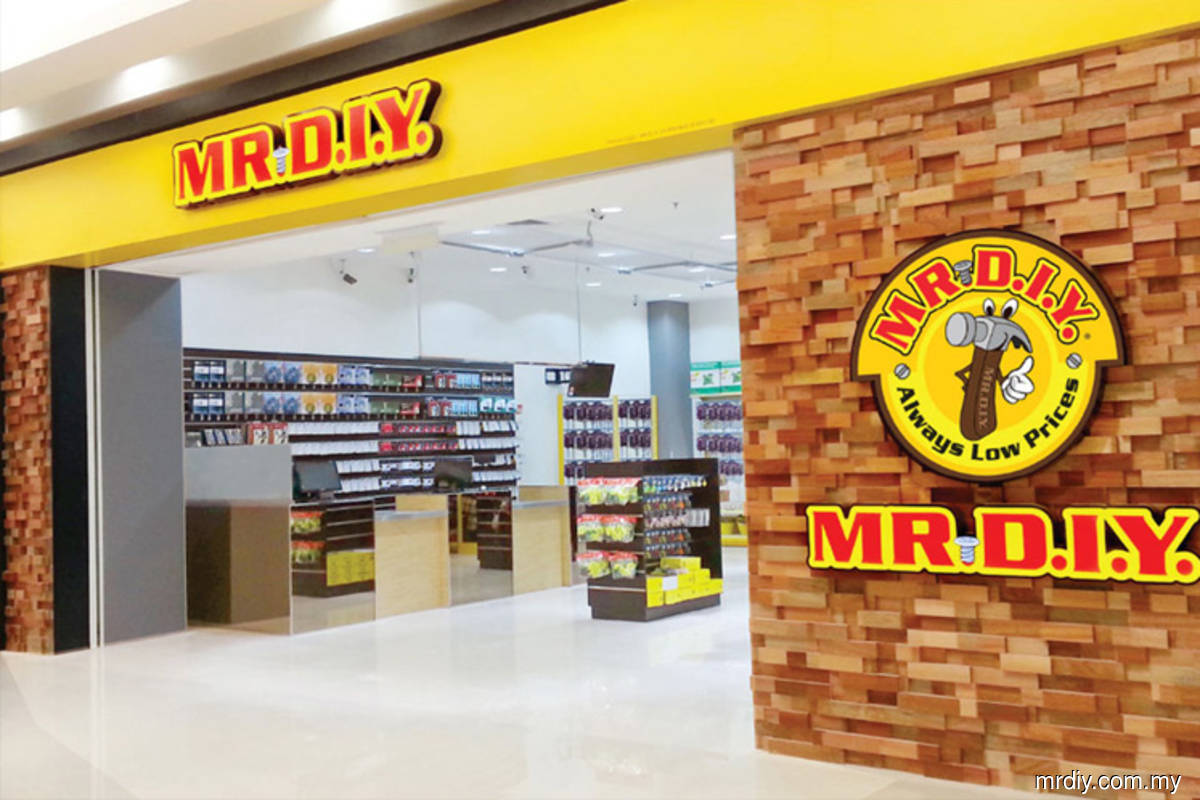 KUALA LUMPUR (Aug 6): MR DIY Group (M) Bhd's share price settled up five sen or 1.48% at RM3.43 during Bursa Malaysia's afternoon break today on bargain hunting after falling to an intraday low of RM3.31 as investors weighed the home improvement retailer's second-quarter financial results, which missed market expectations.
Although MR DIY's second-quarter profit and revenue rose from a year earlier, the figures, however, fell in quarterly terms due to the impact of Malaysia's Covid-19 driven movement restrictions to curb the pandemic, according to the company's Bursa filings yesterday.
About five million shares were traded after the stock was transacted between RM3.31 and RM3.45 as of the 12.30pm break today.
Settling at RM3.43, MR DIY had a market capitalisation of about RM21.54 billion based on the company's 6.28 billion issued shares.
For the second quarter ended June 30, 2021 (2QFY21), MR DIY said its net profit rose to RM82.13 million from RM56.98 million a year earlier, while revenue was higher at RM759.82 million versus RM516.66 million.
The company said its cumulative first-half (1HFY21) net profit stood at RM206.92 million, a climb from RM115.44 million a year earlier, while revenue was also higher at RM1.63 billion compared with RM1.05 billion previously.
For 2QFY21, MR DIY declared a dividend of 0.6 sen a share to reward shareholders.
Quarter-on-quarter (q-o-q), it said that while sales momentum remained strong going into April and May 2021, the group's 2QFY21 revenue and profit before tax (PBT) of RM759.82 million and RM112.55 million were about 12.7% and 34.1% lower respectively compared to the 1QFY21 figures.
Today, RHB Investment Bank Bhd and Hong Leong Investment Bank Bhd (HLIB) said MR DIY's 1HFY21 core net profit of about RM207 million "missed expectations".
RHB analyst Soong Wei Siang wrote in a note that the 1HFY21 core net profit accounted for only 39% and 40% of RHB's and the street's full-year estimates for MR DIY respectively.
"The negative deviation could be attributed to business disruption arising from the imposition of a tighter lockdown.
"Post results, we cut our FY21F-23F earnings [forecasts] by 14%, 3% and 3% [respectively]," Soong said.
RHB also lowered its target price (TP) for MR DIY to RM4.41 from RM4.71, while maintaining its "buy" call for the stock, according to Soong.
"[MR DIY's] 1HFY21 results trailed expectations on business disruption stemming from trading limitations imposed under the movement restrictions. Essentially, MR DIY's underlying fundamentals have remained unchanged as the softness is temporary, in our view. Investors should instead focus on the exciting 27% three-year net profit CAGR (compound annual growth rate) on offer, a scarcity within the sector — premised on a proven business model, established brand equity and continuous expansion plans.
"Going forward, we see sales rebounding progressively from the low in June as we understand that the trading limitations have been gradually relaxed in 3QFY21. As for the expansion, management has stood by its 175 net store addition target, assuming that limitations on construction and renovation works are lifted in September, but the store mix could be tweaked depending on the business environment," Soong said.
Meanwhile, MR DIY is banking on the introduction of new product store keeping units (SKUs) and rising contributions from private label products to mitigate the impact of higher sourcing costs, according to him.
He said that beyond the near term, RHB believes MR DIY will continue to chart robust earnings growth, driven by its outlet expansion. 
"On top of that, MR DIY, with its entrenched network of stores throughout Malaysia, will be a major proxy to capitalise on the recovery in consumer spending following the economic reopening post mass vaccination," he said.
Meanwhile, at HLIB, analyst Syifaa' Mahsuri Ismail wrote in a note today that MR DIY's 1HFY21 core net profit of about RM207 million accounted for only 43.5% and 40% of HLIB's and the consensus full-year forecasts respectively.
The deviation was due to lower-than-expected revenue because of the prolonged movement restrictions, according to her.
"We lower our FY21/22/23 earnings forecasts [for MR DIY] by 10.4%/5.8%/5.7% respectively to account for the prolonged [National Recovery Plan's] Phase 1 restrictions (particularly in the Klang Valley)," she said.
According to her, HLIB lowered its TP for MR DIY to RM4.51 from RM4.79, while maintaining its "buy" call for the stock.
Read also:
MR DIY posts RM82m 2Q profit, declares 0.6 sen dividend