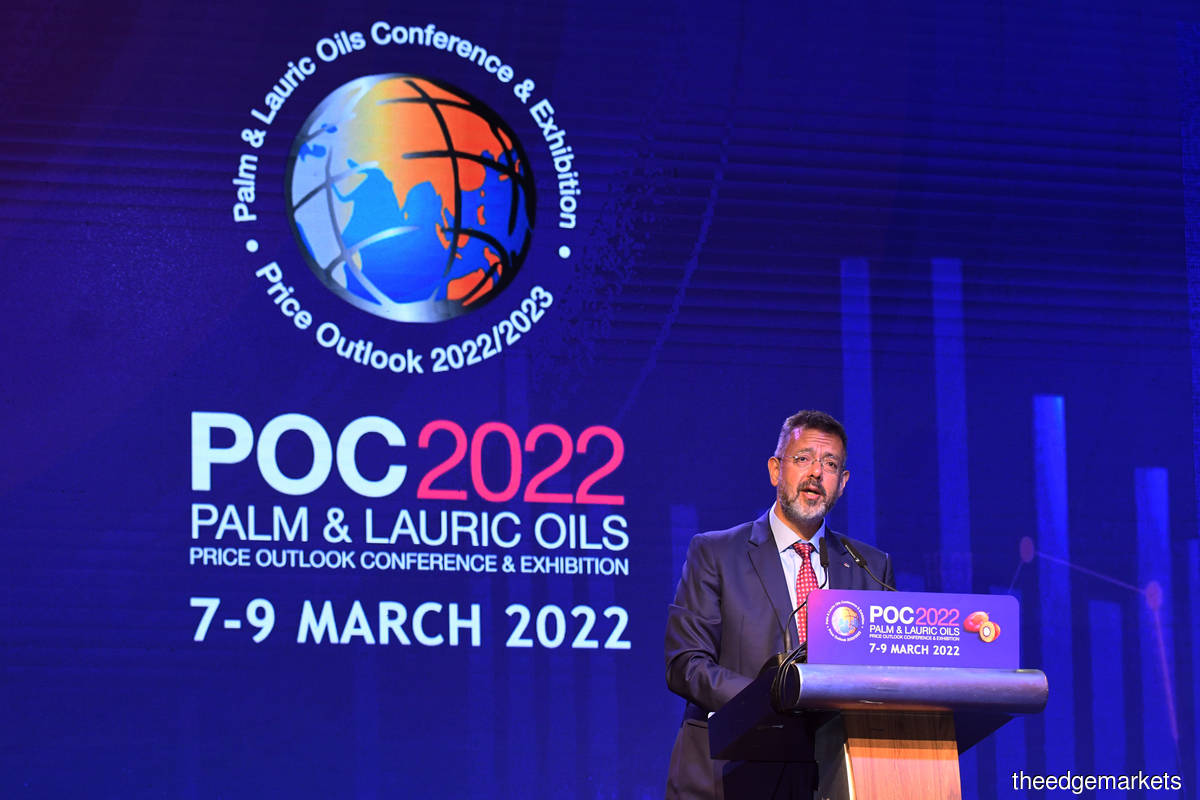 KUALA LUMPUR (March 8): Malaysia's crude palm oil (CPO) production in 2022 began on a positive note despite the ongoing economic volatilities, said Bursa Malaysia Derivatives chairman Datuk Muhamad Umar Swift.
According to Muhamad Umar, who is also Bursa Malaysia chief executive officer, January output grew by 11% to 1.25 million tonnes, compared with 1.13 million tonnes recorded during the same year-on-year period.
However, he said while production has not returned to pre-pandemic levels, the demand for edible oil has seen a strong recovery.
This comes as markets remain volatile after the Covid-19 pandemic impacted the global economy in 2021 while the commodity sector has not been spared by soaring prices as the world reopens due to disruptions to both production and supply chains across multiple commodity classes, he added.
As a result of such events, Muhamad Umar said the prices of CPO for both the physical market and for Bursa Malaysia Derivatives' global benchmark crude palm oil futures (FCPO) contract have reached new historical highs.
"In the physical market, the price of CPO reached a high of RM8,400 per metric tonne while for the FCPO spot month contract, the price recently peaked at RM8,757 per metric tonne. At the same time, the price of the third  month FCPO contract breached RM7,000 per metric tonne this year for the first time.
"Despite volatile price movements in the CPO market, Bursa Malaysia Derivatives and our FCPO contract showed a resilient overall trading performance in 2021, exceeding its performance in 2020.
"In 2021, both our total trading volume and FCPO trading volume recorded historical highs of 18.4 million and 15.6 million contracts traded respectively," he said in his welcome address at the Palm & Lauric Oils Conference & Exhibition on Tuesday (March 8).
Looking ahead, Muhamad Umar said as the world reopens, market participants must be prepared to capitalise on heightened price volatilities brought about by uncertain economic recovery, potential changes to global trade policies, increasingly unpredictable weather conditions and the recent conflict between Russia and Ukraine.
"And in times of market volatility, exchange-traded derivatives may be used by both producers and consumers of commodities to mitigate risks while also preserving portfolio values.
"In this respect, Bursa Malaysia Derivatives will continue our focus on developing a sustainable marketplace by improving our ecosystem and enhancing our products as a reliable hedging instrument against price volatility," he said.
Read also:
Cooking oils have more room to rally as war deepens supply fears
Russia-Ukraine crisis: Palm oil likely the solution to shortage of frying fat, says CPOPC 
Palm oil producing countries need to increase production sustainably, says CPOPC director
MPOB: CPO price has peaked, projected to decline in near term
Govt needs to introduce carbon tax mechanism to facilitate nationwide B20 biodiesel plan, says industry expert