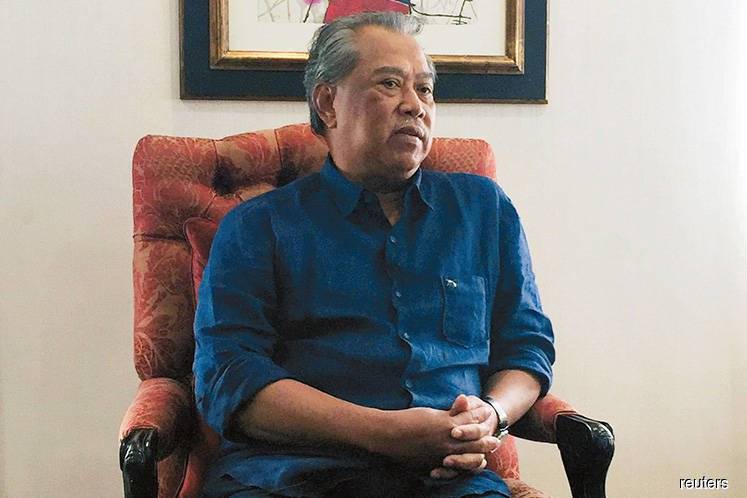 KUALA LUMPUR (Oct 24): Copies of the recently-banned "Belt and Road Initiative for Win-Winism" comic will be confiscated if the controversial comic book continues to be sold, said Home Minister Tan Sri Muhyiddin Muhammad Yasin (pictured).
"What has been reported is that circulation has been ordered to stop. So if it is still distributed in the market, we will take action and confiscate copies of the book," he told reporters at the Parliament lobby today.
He added there was a firm basis for the book's ban, and that the ban was not grounded in any sentiments or actions against any parties.
"It (the ban) is based on the content," the minister added.
When asked what the Home Ministry would do to ensure copies of the comic book are not circulated in schools any further, Muhyiddin said it was under the Ministry of Education's purview and that the two ministries would be working closely on the issue.
It was reported yesterday that the Home Ministry has banned the book by issuing a prohibition gazette under Section 7(1) of the Printing Presses and Publications Act 1984 because its contents could be detrimental to public order and disturb the thoughts of the people.
"The content of this publication promotes, among others, the ideology of communism and socialism, spreads wrong and confusing facts about communism and contains elements that would raise support and sympathy for communist struggles.
"It may also raise doubts among readers, especially the young generation, about the history of Malaysia, leading them to question the efforts and struggles of past leaders for Independence and national development," it said in a statement.
The gazette outlaws the book in the three languages it is published in — English, Bahasa Malaysia, and Chinese.
Those contravening the gazette risk a jail term of up to three years or a fine of not more than RM20,000.
The ban comes hours after a motion by the Opposition to debate the banning of the book was dismissed yesterday.
The comic book was produced by former DAP member Hew Kuan Yau — also known by his moniker Superman Hew — who is also chief executive of the Malaysia-China Business Council, and was illustrated by local artist Chong Po Ling.
The book was released in conjunction with the 45th anniversary of the establishment of diplomatic ties between Malaysia and China.
See also:
Opposition say aye to comic book ban
Opposition's move to debate ban on Belt and Road comic dismissed