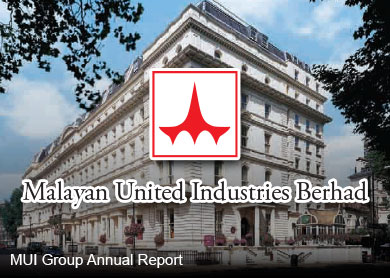 KUALA LUMPUR (Nov 20): Shares of Malayan United Industries Bhd (MUI), one of tycoon Tan Sri Khoo Kay Peng's stable of companies, are suspended from trade for three days starting 11am today to 5pm next Tuesday (Nov 25), following a request from the company.
In a filing with Bursa Malaysia today, MUI said the suspension was "pending the release of a material announcement". 
While it is unsure at this point as to what the material announcement would be, it is worth noting that MUI's value – according to market observers – lies in the assets it holds, which if sold, could allow its profits to shine through, as its financials have been on a downtrend in the past three years.
Khoo – who is on Forbes' list as one of Malaysia's 50 richest men – is currently embroiled in lengthy divorce proceedings with his wife, former beauty queen Pauline Chai.
The Edge Financial Daily reported in September that well-regarded investor Datuk Dr Yu Kuan Chon had emerged as the top 30 shareholders in MUI, just as the group looks to dispose of its crown jewel – the freehold Corus Hotel in Hyde Park, London.
It was reported that MUI had tasked Debutesq Group, a luxury real estate form, to sell the hotel for £200 million (about RM1.05 billion).
MUI, however, dismissed the report.
MUI's chain of hotels in the UK is believed to not have been revalued for more than a decade, and could now worth more than their net book values (NBV).
Based on its latest annual report, MUI's properties in Malaysia, Australia, the US, Hong Kong, Singapore and the UK collectively held a NBV of RM827.3 million as at Dec 31 last year.
MUI's revenue has dipped to RM663.4 million in the financial year ended Dec 31, 2013 (FY13) from RM932.9 million in FY11, while net profit halved to RM6.3 million from RM15.9 million in the same period under review.
More importantly, its finance costs incurred of RM52.62 million and RM58.06 million in FY13 and FY12 respectively, have exceeded operating profit (before exceptional items) of RM50.42 million and RM55.56 million.
Total borrowings stood at RM893.48 million as at June 30, against cash of RM305.88 million.
According to an Aug 27 Bursa filing, MUI's total outstanding receivables as at June 30 stood at RM427.7 million, of which RM392.9 million has an aging period of more than 10 years.
MUI owns and operates nine hotels and two restaurants in the UK and two hotels in Malaysia, most of which operate under the "Corus" brand. 
Its business segments also encompasses the retail division which includes London-listed Laura Ashley Holdings Plc and Metrojaya Bhd, food division, property division, as well as financial services division.  
To date, Yu, widely known as the one who managed to block Hong Leong Capital Bhd from being privatised "cheap" by Tan Sri Quek Leng Chan, had emerged as the top 30 shareholders in MUI as well as its three other subsidiaries – MUI Properties Bhd, Pan Malaysia Corp Bhd (PMCB), and Pan Malaysia Holdings Bhd (PMHB) – based on their latest annual reports.
MUI shares were last traded at 23 sen before they were suspended, giving it a market capitalisation of RM674.49 million.