This article first appeared in The Edge Malaysia Weekly, on June 28, 2021 - July 04, 2021.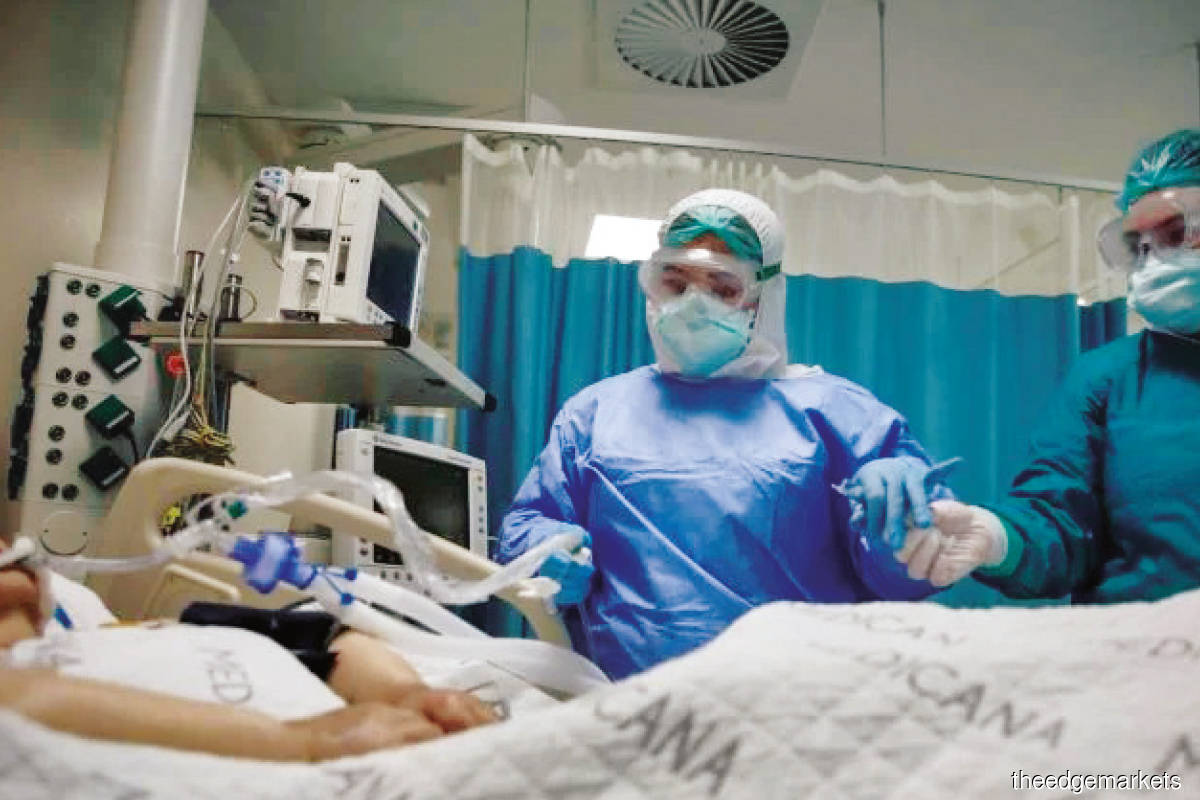 It has been 18 months since Malaysia reported our first few cases of Covid-19. We have had ups and downs in our attempt to contain it. Whether we are now in the third or fourth wave makes no difference, as the damage to our lives and livelihoods has been very bad.
We are bombarded with all sorts of statistics every day. Too many than necessary for most people to digest and understand, in my view. Worse, they could be interpreted wrongly.
And there are, of course, many health experts who have surfaced and a few have become social media stars with their regular tweets and postings. They would rather see the glass as half empty rather than half full. I guess they know that negative news is shared more on social media than positive ones.
These self-appointed experts make solutions sound so easy. I am sure the realities on the ground are far different compared with the perspective from their armchairs.
There has, in recent weeks, been intense debate on social media and even in the newsroom of The Edge Malaysia about which numbers are important and which are not. There was one intense argument about test numbers versus daily infection figures.
The daily positive cases are down only because they are doing fewer tests — was one point made. That's a no brainer, of course.
But the insinuation is that the authorities are deliberately testing less to bring down the absolute number of new cases. I don't know if that is true, and I am sure those who think that way don't know either.
It doesn't matter to them that, more importantly, the infection rate has stayed within the range of 6.5% to 7% in the past few weeks, whether tests were 80,000 or 100,000 a day. In fact, the infection rate is now much lower than the year's peak of 11.9% on Jan 2, which triggered MCO 2.0.
Is the glass half full or half empty? Call it as you wish to, I guess.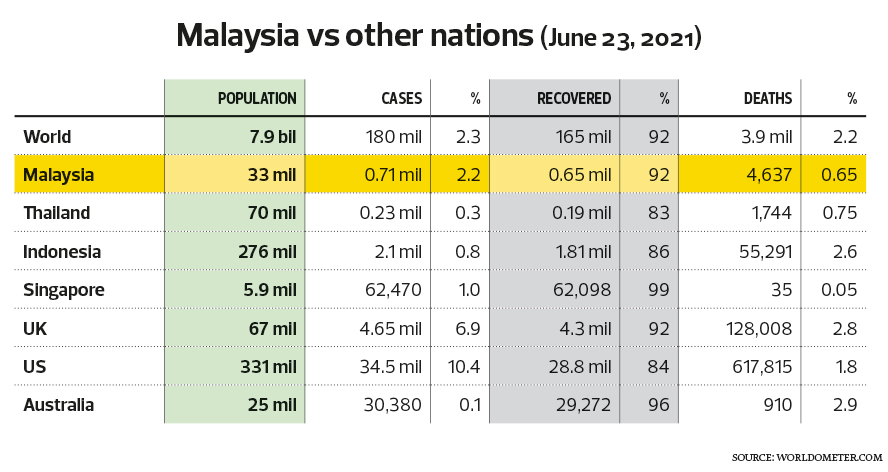 The data points that matter
With so many data points to collect and analyse, what are the numbers that really do matter when all is said and done?
I am not a public health expert and do not pretend to be one. But after 18 dreadful months, and although the fight is not yet over, my view is that the measure of how well, or how badly, we have done to protect lives (I mean lives and not livelihoods, which is the other side of the badly damaged coin in need of more financial support) should hinge on three data points:
1. Total number of positive cases relative to the population, which shows how well we have contained the spread.
2. Recovery rate against accumulated positive cases. This is the number of lives saved.
3. Deaths relative to total number of positive cases, which is the ultimate toll.
The first is therefore about containment, the first line of defence. The second and third are about lives we saved and lost, after the first line of defence had been breached.
How do we stack up?
With a level of infection of 2.2%, Malaysia has done better than the UK (6.9%) and the US (10.4%), and is in line with the global rate (2.3%). But our closest neighbours — Thailand (0.3%), Indonesia (0.8%) and Singapore (1.0%) — have done better.
Malaysia's recovery rate (92%) is better than Thailand's (83%) and Indonesia's (86%). Our death rate (0.65%) is lower than our neighbours, except Singapore (0.05%), and far lower than the UK (2.8%) and the US (1.8%).
To use a football analogy, if Malaysia were a goalkeeper, it has let in only 0.65% of the 711,000 shots fired at its goalpost! That is a fantastic rate of saves.
If we agree that Covid-19 will not go away but will, through a successful vaccination rollout, become endemic (manageable), death rate and number of seriously ill (ICU) are the two data points that matter.
Lockdowns tilt the scale in favour of lives over livelihoods.
It is time to stop obsessing about new cases and use death and ICU patients as guidance on the pace of returning to normalcy.
On that score, we have done well to keep the death rate low so far. This is a credit to our doctors, nurses and healthcare system. They have had to deal with a highly infectious and deadly new virus that has no predetermined mode of treatment.
Which is why, although it may not be a popular thing to say, I would rather see the glass as half full, and not half empty, after 18 months of a vicious pandemic.
---
Ho Kay Tat is publisher and group CEO of The Edge Media Group