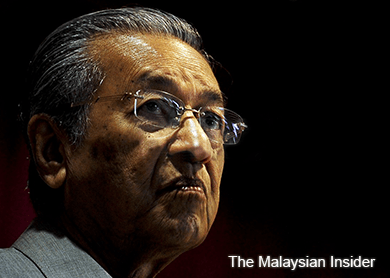 (April 20): Datuk Seri Najib Razak's "1Malaysia" slogan is just a duplicate of the opposition's "Malaysian Malaysia" catchphrase, Tun Dr Mahathir Mohamad said today, in his latest attack against the embattled prime minister.
He said Najib had emulated the opposition in his attempts to woo the Chinese and Indians during his first few years in office by dialling back on pro-Bumiputera policies.
"He reduced places for Bumis in the government universities even though in the numerous private universities and twinned colleges, Bumis make up less than 10%," Dr Mahathir wrote in his latest blog post.
"Bumiputera contractors and small businesses no longer had government favour. Most had to stop their businesses.
"Without saying so in so many words, he had adopted the Malaysian Malaysia slogan of the opposition, only calling it One Malaysia instead."
He added that Najib had caved in to the opposition's demand to repeal the Internal Security Act, which allows detention without trial, and this had caused crime rates to go up.
Najib had also wasted billions of ringgit by giving away money to people, associations and corporations, including those earning more than RM3,000 a month, said Dr Mahathir.
Meanwhile, rallies were organised "on every occasion" to showcase their love for the prime minister, with the participants given food, allowance and transportation to hold up "I love PM" placards, he said.
"Despite all this, the Chinese refused to support Najib. They flocked to the opposition and he performed worse than Abdullah in the 13th general election," wrote Dr Mahathir, referring to Najib's predecessor, Tun Abdullah Ahmad Badawi.
"The Malays too did not support Najib. Selangor after he headed Umno did worse than 2008. Malays only voted for BN because they feared (Datuk Seri) Anwar (Ibrahim) would appoint (Lim) Kit Siang as DPM."
Dr Mahathir said civil servants were unhappy with Najib because he had set up an agency to plan the country's development and hired foreign consultants to help him run the country.
"The civil servants were very unhappy. In the past, they on their own, they transformed this country from a developing country to a middle-income nation. Now their services, their expertise and experience are no longer needed.
"They had always been loyal to the BN government. Now many no longer support the government. Some even join the opposition after retirement and stand as candidates in elections."
Dr Mahathir said that despite all this, he had continued to support Najib and fully expected the latter to perform better than Badawi in the 2013 election.
"But now with the controversies dogging him, I am sure BN would lose if he leads it in the 14th GE." – The Malaysian Insider