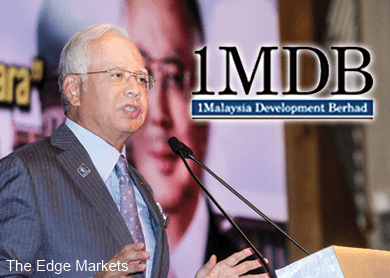 KUALA LUMPUR (Apr 9): 1Malaysia Development Bhd (1MDB) needs time to develop or liquidate its assets and pay off its debt, said Prime Minister Datuk Seri Najib Tun Razak, reported Bernama this evening.
Najib, who is also the Finance Minister, said the company needed to borrow money for expansion because 1MDB has an initial capital of only RM1 million.
He said 1MDB started with a capital of RM1 million only compared to Permodalan Nasional Bhd and Khazanah Nasional Bhd that have been given various capital injections.
"But I have to stress that the assets acquired by 1MDB exceed its liabilities.
"We need to give time to 1MDB to develop or liquidate its assets so that the company can settle its debts," he said in an interview with Hamdan Ahmir in the Special Edition of TV3's 'Soal Jawab' programme aired tonight.
On 1MDB's investment in the Cayman Islands, Najib said the money was not transferred there as the account was only for registration.
He said the island was a "tax haven" where there were 200 Malaysian companies that had accounts and it was not something that was wrong. 
"They keep money overseas as if they have loan overseas, they will reap profits in terms of foreign currency exchange," he said.
Najib said that eventually, the money would be brought back into the country.
In a statement on Jan 13, president/group executive director, Arul Kanda Kandasamy said the company has redemmed fully the US$2.318 bilion invested in the company in a registered fund in Cayman Islands.