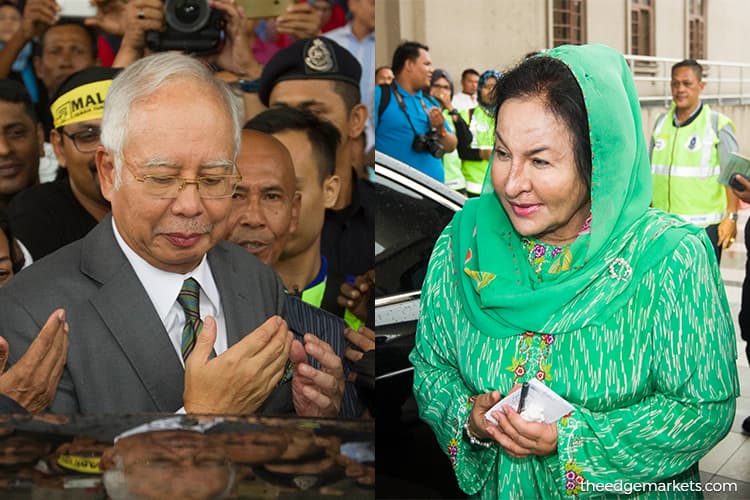 KUALA LUMPUR (Feb 21): After they had given their statements at the police headquarters in Bukit Aman this morning, former prime minister Datuk Seri Najib Razak and his spouse Datin Seri Rosmah Mansor also gave their statements to the Malaysia Anti-Corruption Commission (MACC) this afternoon regarding the audio recordings released by the commission last month.
MACC said in a statement that the married couple arrived at the Malaysia Anti-Corruption Academy, near Jalan Tuanku Abdul Halim, Kuala Lumpur, at 3pm. It took them about an hour to give their respective statements. 
"The investigation is conducted under Section 23 [of the] MACC Act 2009," said MACC. 
Speaking to the press outside police headquarters at Bukit Aman this morning, Rosmah's lawyer Mohamed Reza Rahim said there had not been any charges made against Najib and Rosmah.
"We will see as it goes on. So far, it's just investigations, we just came to give statements," said Mohamed Reza, but he declined to reveal more on the due process.
"We have given our statements, and we are willing to cooperate [in the investigations]," Reza said.
Bernama has reported that police recorded statements from 12 witnesses to facilitate investigations into nine audio recordings exposed by the MACC that allegedly involved a high-level criminal conspiracy.
These include Baling Member of Parliament Datuk Seri Abdul Azeez Abdul Rahim, Najib's principal private secretary Tan Sri Shukry Mohd Salleh and former special officer to Najib, Datuk Amhari Efendi Nazaruddin.
To recap, on Jan 8, the MACC released an audio recording of a conversation allegedly involving leakage of information from the Attorney General's Chambers to Najib, when he was the prime minister and finance minister, and recordings of several other phone conversations in connection with investigations into the 1Malaysia Development Bhd and SRC International Sdn Bhd scandals.
Besides Najib, the conversations allegedly involved Rosmah, former MACC chief commissioner Tan Sri Dzulkifli Ahmad, a foreign figure and several other individuals.