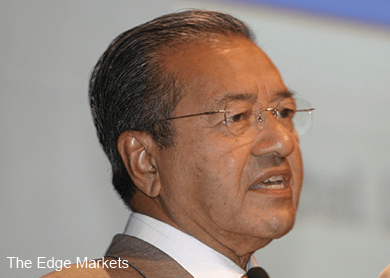 (April 23): 1Malaysia Development Bhd's (1MDB) debt of RM42 billion has "disappeared" and Prime Minister Datuk Seri Najib's inability to explain the matter disqualifies him from leading the country, former prime minister Tun Dr Mahathir Mohamad said today in renewed calls for the embattled Najib to step down.
Dr Mahathir also hinted at corruption and theft of 1MDB's funds, saying that money disappearing was "different from just losing".
"Governments can lose money through bad investments. We would know where the money is lost.
"But when huge sums of money disappear, then those entrusted with its management must answer for the disappearance.
"Disappearance is about money lost which cannot be traced. This can be because of corruption or theft," he wrote in his blog at chedet.cc today.
"It is this disappearance of a huge amount of borrowed money by 1MDB and the inability to answer questions regarding what happened to the funds that disqualifies Najib from being prime minister of Malaysia."
In his blog post, Dr Mahathir listed down the known investments of 1MDB, which is owned by the Finance Ministry and whose advisory board is chaired by Najib, who is also the finance minister.
These investments include the fund's purchase of Powertek Energy Sdn Bhd, Genting Sanyet Power, Jimah energy, 70 acres of land in Jalan Tun Razak, more land in the former Sungai Besi air force base for the Bandar Malaysia project and land in Air Itam, Penang.
All known investments, Dr Mahathir said, amounted to RM14.7 billion.
"So there is approximately RM27 billion left," he wrote.
Noting that more than US$1 billion was reportedly paid to PetroSaudi International, 1MDB's little-known joint-venture partner for a period, Dr Mahathir then listed out more questions.
"Where is the rest of the money? A certain amount was registered in the Cayman Islands. What was the money used for?
"What was brought back to Malaysia? What was brought back and deposited in a Swiss bank in Singapore? Why? Where was the money brought back from? Why is this money not used to pay the RM2 billion interest? Why did Bank Negara allow the first tranche to be repatriated to Malaysia and not the second tranche?
"Now the Swiss bank has told the Singapore authorities that the document did not originate from them and does not represent a true account of the assets of 1MDB. So where is the money said to be registered in the Cayman Islands and is now brought back?" he said in reference to the latest expose by website Sarawak Report that 1MDB had given false statements about its subsidiary's accounts in BSI Bank in Singapore.
BSI Bank had dismissed documents supplied by 1MDB chief executive officer Arul Kanda Kandasamy, relating to the accounts for its subsidiary, Brazen Sky Limited, in Singapore, according to Sarawak Report.
Brazen Sky supposedly has cash and/or assets held in BSI Bank Singapore.
The Swiss private bank told the Singaporean authorities that the documents did not originate from them and did not represent a true account of the assets of the 1MDB subsidiary, said Sarawak Report.
Dr Mahathir also wrote that 1MDB had been "wrong from the beginning".
"It started as an off-budget and was not put before Parliament. The money was borrowed. So it is not sovereign wealth but sovereign debt."
He said the government had invested RM1 million in 1MDB at its inception, and the fund went on to borrow from various sources, leading to its RM42 billion debt.
"A company with RM1 million capital with no assets cannot borrow 42,000 times its capital with no collaterals. That 1MDB is able to do so is because of government guarantees.
"In other words, it is the government which is borrowing the money. If 1MDB loses money, the government will bear the loss. Yet the operation of 1MDB is not overseen by government officers responsible for the management of government funds."
The former prime minister also criticised the secrecy in 1MDB's accounting to the Cabinet, saying the process of presentation and approval was "unclear".
"There seem to be attempts to hide behind official secrecy," he said.
He held Najib ultimately responsible, saying that the prime minister "prefers to keep the Finance Ministry under him all the time".
"He has appointed a second minister of finance. This is his prerogative of course, but he must ultimately be responsible for what happens to the country's finances," Dr Mahathir wrote.
The vocal retired statesman has been unrelenting in his attacks against Najib and recently took them up a notch by directly telling Malay ruling party Umno to remove Najib or risk losing the next general election. Najib is also president of Umno. – The Malaysian Insider