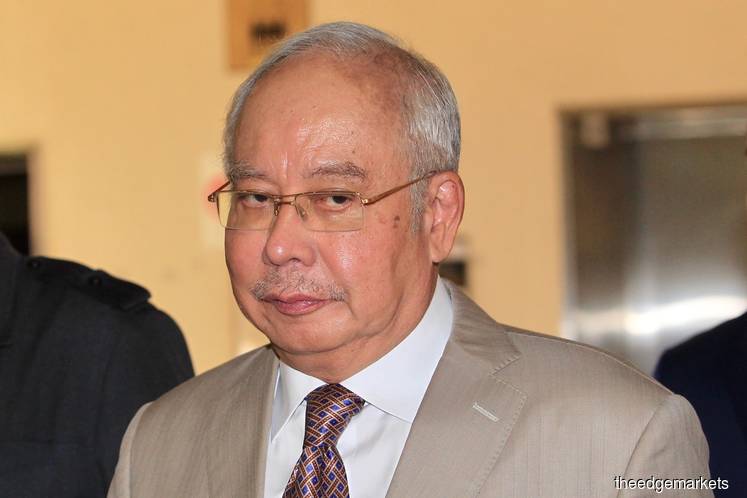 KUALA LUMPUR (May 18): Datuk Seri Najib Razak's 1Malaysia Development Bhd-Tanore (1MDB-Tanore) trial will finally resume on Tuesday (May 19) after almost seven months of false starts and delays, due mostly to the proceedings of two other 1MDB-linked cases involving the accused — the SRC International Sdn Bhd and the 1MDB audit tampering trials.
The Covid-19 pandemic that put the country on pause for almost two months since March 18, also further delayed the case.
Now, amid strict social distancing measures put in place, the Kuala Lumpur High Court case will resume with limited seating available in the public gallery.
But that's not the most significant change since the case was left off last November.
Najib, the Barisan Nasional MP for Pekan, was with the opposition party when the case paused last year. But in March this year, BN recaptured Putrajaya in March by overthrowing the Pakatan Harapan government in what many have termed a "backdoor coup".
So, Najib will now sit in the accused dock as a member of the ruling government.
When proceedings left off last year, former 1MDB chief executive officer Datuk Shahrol Azral Ibrahim Halmi was testifying about the inner workings of the federal entity before Justice Collin Lawrence Sequerah.
He is expected to return to the witness stand when the trial resumes.
A key witness in the case, Shahrol first took the witness stand in September. He took six days to read and explain his 270-page witness statement, during which he explained how decision-making in 1MDB was carried out when it conducted its business from 2009 to 2014. He served as the strategic development fund's chief between 2009 and 2013, and was a board member until 2016.
When quizzed by the prosecution, Shahrol said Najib's approval was needed for 1MDB's loans and business dealings that related to financial matters, in line with 1MDB's memorandum and articles of association.
He said the US$250 million (about RM1.05 billion) loan obtained by 1MDB Energy Holdings Ltd, a unit of 1MDB, and another US$975 million loan that was used for the buy-back of options granted to Abu Dhabi-based Aabar Investments PJS in 2012, had received approval from the former premier.
The loan, Shahrol said, was secured ahead of 1MDB Energy's planned initial public offering (IPO). The IPO, however, eventually fell through.
"The approval to take on these loans (was given) by Datuk Seri Najib as the shareholder of 1MDB and also on behalf of the Minister of Finance Inc," Shahrol said.
Transactions that involved the borrowing of money by 1MDB, according to Shahrol, could not be pushed through without Najib's authority.
He also cited several occasions where approvals for the troubled state investment fund's ventures were fast-tracked, sometimes with the greenlight obtained in a matter of days.
In one instance, he said 1MDB obtained a letter of support (LoS) from the Finance Ministry for a US$6 billion bond issuance — which was later reduced to US$3 billion — with the funds injected into 1MDB Global Investments Ltd (1MDBGIL). 1MDBGIL was a 50:50 joint venture (JV) set up between 1MDB and Aabar Investments to invest in the Tun Razak Exchange (TRX) project, also known as the Kuala Lumpur International Financial District.
Shahrol testified that fugitive businessman Low Taek Jho (Jho Low), who had a hand in the deal, told him that "boss (Najib) will bulldoze, don't worry". The witness was referring to how Najib, who was then prime minister and finance minister, would ensure the LoS would be issued quickly.
Subsequently, the Finance Ministry issued the LoS for the bond issuance on March 14, 2013, two months after Najib made a note for the ministry to take immediate action and issue the LoS on the letter Shahrol sent to the Treasury, dated Jan 15, 2013, requesting the document.
Najib's defence team, led by lawyer Tan Seri Muhammad Shafee Abdullah, started their cross-examination of the former 1MDB CEO on Oct 7.
When the case last left off on Nov 6, Shafee was arguing that there might have been a conspiracy by PetroSaudi International Ltd (PSI) executives Tarek Obaid and Patrick Mahony to ensure that the former prime minister would expedite the release of US$1 billion to their company.
Shafee brought forth an article by The Edge Malaysia for the week of June 18-24, 2018, which carried an email exchange between Tarek and Mahony dated Aug 7, 2010, and read its contents at court.
Shafee asked Shahrol about these exchanges but the latter said he was not comfortable to comment on an email exchange he had no part in. Justice Sequerah also stepped in and questioned the relevance of verifying the emails with Shahrol, who the judge said was not privy to the exchange.
Nevertheless, Shafee managed to ask a final question on a paragraph of the email that covers Obaid and Mahony's plan to convince Najib to accelerate the loan disbursement from 1MDB to PSI in 2010, and pressed Shahrol to answer whether he thought the email exchange contained a plan to deceive Najib.
"Do you agree that based on point four, there is a conspiracy to deceive the prime minister," he asked Shahrol.
"Based on point four, and only on point four, it does look like there was a conspiracy to deceive the prime minister," Shahrol replied.
The email was written after a failed JV between 1MDB and PSI — with US$700 million from 1MDB diverted to Good Star Ltd, a unit linked Jho Low. In the email, Obaid and Mahony were proposing that 1MDB inject more money for an investment in French-based GDF Suez.
1MDB subsequently sent US$830 million to PSI, as an extension to an existing US$1.2 billion Islamic loan paper facility (Murabaha Note), instead of a direct investment into GDF Suez, for a 4.23% stake.
Shahrol also testified that it was Jho Low who suggested Nik Faisal Ariff Kamil's name for the position of 1MDB chief financial officer.
Nik Faisal, whose whereabouts remains unknown despite arrest warrants having been issued for him, subsequently became one of the key figures in 1MDB's then-subsidiary SRC when he was appointed its CEO and managing director.
In this 1MDB-Tanore trial, Najib is facing four charges of abusing his position to obtain bribes totalling RM2.3 billion, and 21 charges of money laundering involving RM4.3 billion.