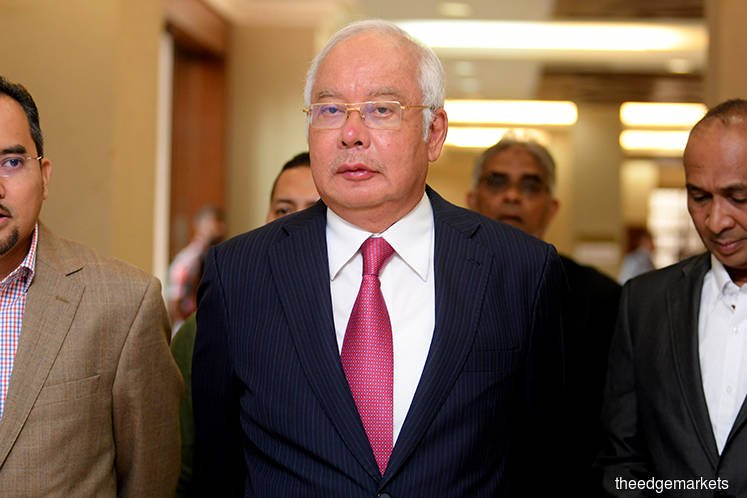 KUALA LUMPUR (April 10): The oral submission dates for former prime minister Datuk Seri Najib Razak's criminal breach of trust, abuse of power and money laundering trial in relation to SRC International Sdn Bhd has been deferred and rescheduled to May 18, 19 and 20 after the High Court approved last Friday (April 3) Najib's defence team's application for a one week extension to file written submissions. The original deadline for the written submissions is on April 21 while the oral submissions were earlier scheduled on May 13, 14 and 18.
Prosecutor Datuk V Sithambaram confirmed the changes for the trial at the High Court here when he spoke to the theedgemarkets.com
"It is nothing major, just some delay in filing," he said.
In a letter dated April 1, 2020 from law firm Messrs Shafee & Co, which is representing Najib, the firm said Malaysia's Movement Control Order (MCO) to curb the Covid-19 pandemic had resulted in difficulty to conduct research and do the necessary filings for the written submissions on time.
The prosecution did not object to the postponement regarding the written and oral submissions.
In reply, High Court Judge Mohd Nazlan Mohd Ghazali allowed the defence team to file the written submissions within one week to April 28. Hence, hearing of the oral submissions originally scheduled for May 13, 14 and 18 has been rescheduled to May 18, 19, and 20. 
The defence team had closed the case on March 11, 2020 after 19 defence witnesses including the former premier had testified. The prosecution had called 57 witnesses. 
Najib is facing an abuse of power charge regarding the approval of the government guarantee for the RM4 billion loan from Retirement Fund Inc or Kumpulan Wang Persaraan (Diperbadankan) (KWAP) to SRC International, a former subsidiary of 1Malaysia Development Bhd.
He also faces three counts of criminal breach of trust involving RM42 million and three counts of money laundering involving RM27 million and RM5 million on Dec 26, 2014 and RM10 million on Feb 10, 2015.