This article first appeared in City & Country, The Edge Malaysia Weekly, on July 25, 2022 - July 31, 2022.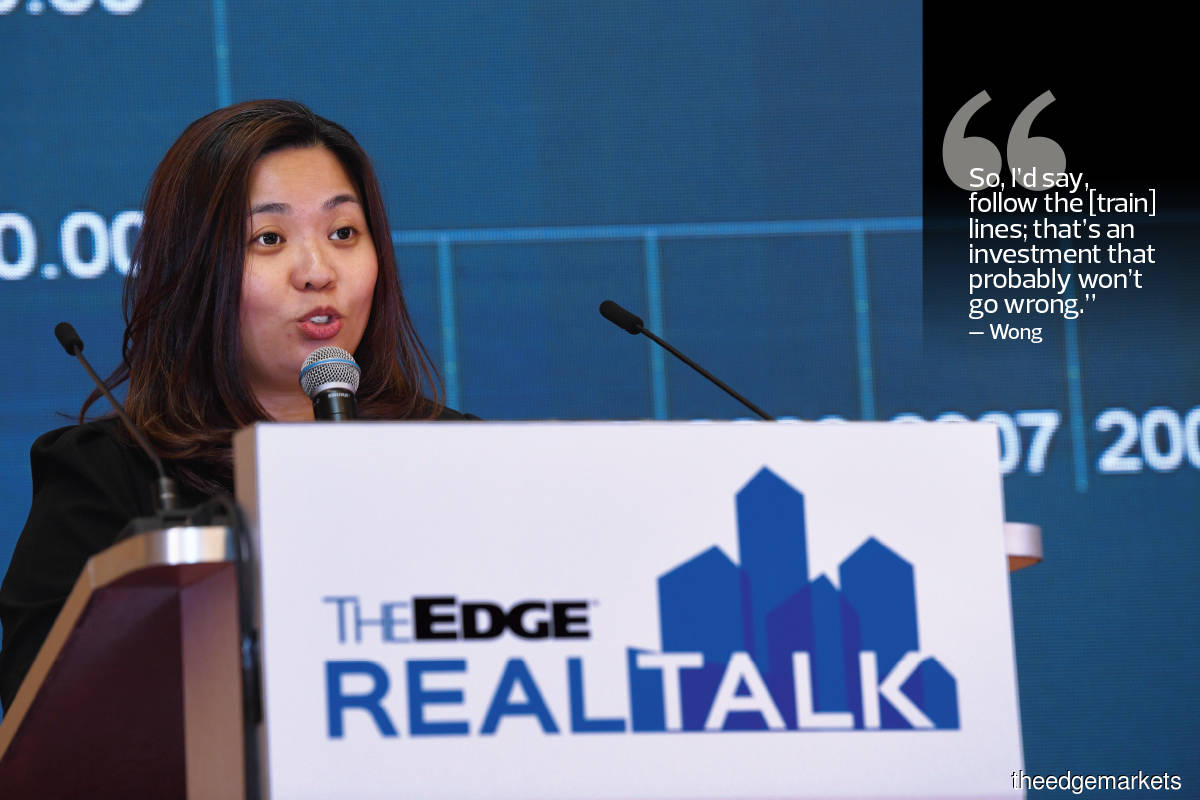 Investing in these volatile times means property buyers should consider the risks involved. As Knight Frank Malaysia's executive director of research and consultancy Amy Wong said at the recent real estate event The Edge Malaysia RealTalk 2022: "Because buying a property is a very big purchase, you do have to consider world issues". Wong was speaking during her session titled "Opportunities and Risks" at the forum, with the theme "Investing in Volatile Times: How, What, Where?", held on July 16.
The first risk she highlighted was worldwide inflation. "It affects disposable income for the household and your wages aren't increasing as fast. US inflation, for example, is at a new 40-year high. There's also the impact of the Russia-Ukraine war, and you do need to look at what's going on in China, which locked down a steel hub for three days just for one Covid-19 case. In addition, the World Health Organization says Covid-19 remains a global health emergency, Temasek in Singapore is cautious on its outlook, Google is slowing down on its hiring, and Shopee has cut [the number of its] employees in Singapore. These are trends that we should be looking out for."
The second risk is rising construction costs, which are driven by the increasing cost of raw materials, which is in turn driven by the volatile supply and demand situation caused by the global economic environment, Wong said. "The cost of construction materials such as aluminium, steel, timber, cement, sand and concrete has increased between 15% and 55% over the past two years.
"A developer that wants to maintain a certain profit margin would naturally have to increase its final selling price; but it is a double-edged sword for the developer because, if the price increase is not supported by banks, then financing would be difficult, which will lead to slow sales rates. So, developers will be balancing these pricing decisions quite delicately and I do not think that there will be a hike just because they want to increase their profit margins."
She added that the shortage of foreign labour in the country was another factor contributing to the rise in the cost of doing business, in addition to compliance, financing and land costs.
In relation to the global supply chain issue, which is related to construction materials, Wong said: "Even if Covid-19 were to go away tomorrow and the Russia-Ukraine crisis ends immediately, it is highly likely that the supply chain troubles that we're experiencing right now will not disappear immediately because it takes time for the supply chain to build up capacity. So, this is something that we think will continue through the year at least."
Another double-edged sword is Bank Negara Malaysia's overnight policy rate (OPR), she said. "The current financing options that we have are one of the lowest interest rates we have ever seen in the past 10 years. Bank Negara maintained its OPR between 3% and 3.25% for almost 10 years from 2011 to 2020 before it decreased gradually to a record low of 1.75% in July 2020. So, the recent increase to 2% and 2.25% is seen as a sort of moderation of the market. It should not immediately have a very negative impact on the real estate sector.
"Interest rates are subject to economic conditions, though; so, if Bank Negara could maintain it for 10 years at 3% to 3.25% and then dropped it to a record low within seven months, the inverse is also possible," she warned.
How do rising interest rates affect the consumer? "As [MIEA president Chan Ai Cheng] mentioned earlier, if it goes up by 0.25% and you have a loan of half a million ringgit at 90% over 30 years, it's an additional RM70 thereabouts a month; but, over 30 years, that works out to about RM25,000 extra that you're paying to the bank."
Train lines and ESG
After illustrating the risks, Wong moved on to the positives. In addition to the low interest rate environment, she highlighted the opportunities found in train lines, specifically the new MRT lines. "This is my favourite one. What's not to like about train lines? They take you everywhere so you don't have to drive, fight traffic jams as well as look and pay for parking.
"These MRT lines are also a mega project. They create lots of jobs and keep the economy spinning; it's win-win," she said.
In addition to MRT 1, or the Kajang Line, the first half of MRT 2 Putrajaya Line started operations about a month ago on June 16. "MRT 2 is supposed to run all the way down from Kwasa Damansara in Sungai Buloh to Putrajaya. The first half of the line is open until the Kampung Batu station in Jalan Ipoh. It goes past Damansara Damai, Sri Damansara and the Kepong areas. The rest of the line is expected to be ready by January 2023," Wong noted.
"And, now, the government is also talking about the third MRT line (MRT3), the proposed Circle Line, which circles the periphery of the city, passing through highly populated areas such as Bandar Sri Permaisuri, Pandan Indah, Setiawangsa, Setapark, Mont'Kiara, Old Klang Road and Salak Selatan, and will connect all of the existing transport lines (MRT, LRT, KTM, monorail) with 10 major interchanges," she enthused.
"That is critical to ensuring that public transport works because you cannot just have public transport running from one end to the other without connectivity," she said, adding that another ongoing public transport project is the LRT3 Shah Alam Line, which runs from Bandar Utama to Glenmarie in Subang, the Shah Alam Stadium, i-City, Bukit Raja, Meru, Bukit Tinggi and Bandar Botanic and ends at Johan Setia in Klang.
What excites Wong most about the train lines is that they play to today's favourite buzzword: ESG, or environmental, social and corporate governance. "Cars don't do that. Trains are about sustainability. They work brilliantly in Japan, Taiwan, China, Singapore and Europe, and they should be the main way of moving about in the future, especially with rising fuel, electricity and parking costs … So, I'd say, follow the lines; that's an investment that probably won't go wrong."
On the subject of ESG, Wong has observed that more local property developers have been fairly active on the "E", or environmental, element. In terms of projects in Malaysia that are Green Building Index (GBI)-certified, Wong noted that there were 190 projects, or 85 million sq ft, in 2013. "In 2022, we have grown to more than 600 projects with 278 million sq ft of green certified space. We are moving in a good direction.
"The fact is that GBI buildings are better buildings, with better specifications and built to a better quality," she said, noting that, according to greenbuildingindex.org, as at 1Q2022, 64% of the total number of GBI projects were rated GBI-certified, 12% were rated silver and 24% rated gold and platinum, the highest level of accreditation.
"Some of the green townships in Malaysia are Sunway Property's Bandar Sunway and Sunway Iskandar, IJM Land's Bandar Rimbayu, Gamuda Land's Gamuda Gardens and Gamuda Cove, EcoWorld's Eco Majestic and Eco Ardence, TRX (Tun Razak Exchange) as well as Nusajaya Tech Park, an industrial park jointly developed by CapitaLand and UEM Sunrise."
Is it a good time to buy?
With regard to the Klang Valley's primary and secondary residential property transaction volume and value between 2002 and 2021, Wong has observed that the volume peaked in 2011. "That was when we had the DIBS [Developers Interest-Bearing Scheme]. In terms of value, it peaked in 2014. It is very clear that the dip happened in 2020 and we are heading upwards. 2021 was actually a pretty good year for real estate, at least for residential properties in the Klang Valley.
"In fact, more expensive properties were transacted in 2021. The number of transactions for residential properties in the Klang Valley rose 9.6% year on year in 2021, but the value grew 20.8%. That's an indicator that property prices are indeed going up," she said, noting that the government's Home Ownership Campaign (HOC), which ran from 2019 to 2021, helped fuel residential property transactions.
In terms of prices, Wong noted that the average price of residential property in the Klang Valley was RM205,000 in 2002. "Fast forward 20 years, it is now almost triple, averaging at RM604,000. In fact, from 2020 to 2021, there was a 10% increase."
She said this showed that residential property prices were slowly creeping back up, especially in key locations, driven by factors such as record-low interest rates, government campaigns such as the HOC and, to a certain extent, pent-up housing demand and the relative slowdown in supply during the lockdowns.
"If the residential market continues to be somewhat optimistic like in 2021 and with general economic activity ramping up, the real estate market is highly likely, based on all these stats, to ride the wave. It will be affected by some form of price increase, driven largely by market volatility and, to a certain degree, cost-push inflation in newbuilds and new launches.
"If you believe property prices are going up, then you should buy at the bottom of the curve, right?" she quipped.
More space
Wong pointed out that Knight Frank's Global Buyer Survey 2021 report — which surveyed more than 900 respondents across Asia-Pacific to find out what they wanted in their homes — found that buyers were looking for a lot more space. "They want access to high-speed broadband, home study/office space, more outdoor space, more indoor space and flexible multi-use space," she said.
"In terms of location, which is a very important factor in real estate, buyers want good air quality — something they are emphasising a lot more nowadays because of Covid-19 — proximity to green space, access to good healthcare, good views and proximity to amenities.
"In terms of future housing trends, there is also urban dispersal because of hybrid work models, whereby people have realised that they do not really need to live right next to or near their office anymore because they go in to the office only twice or thrice a week. Townships outside the main city area have been doing very well. If you do want to live in the city, however, mixed-use schemes, which continue to thrive, are an option. These are the ones with offices, retail units and shopping malls all in one place. They still make very good investment sense."
During the Q&A session, in reply to a question from a member of the audience about how long it may take to see returns when investing in a brand-new township, Wong cited an investment she made in a 1-storey landed property in Kota Damansara in 2000 for RM250,000. "I bought the most expensive single-storey back then because everyone else bought at about RM190,000. And there was nothing there. It was literally rubber trees. Sunway Giza [Mall], Sunway Nexis didn't exist back then, there were no shops there, but we liked that it was gated and guarded and we believed in it. So, it's been 22 years and Kota Damansara is thriving, even though it is built by many developers.
"So, if the developer has a good track record of putting in place all the commercial facilities and good master-planning elements, you could probably see those returns [in the medium term]."
In her concluding remarks, Wong said: "Buying a home is indeed a great investment if you buy it for yourself, and not as a speculative investment, and it's because we can live in our homes."