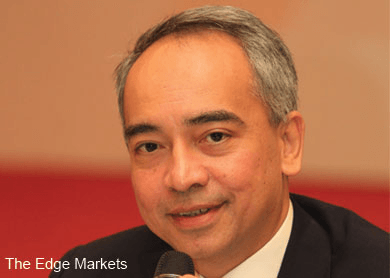 KUALA LUMPUR (April 23): CIMB Group Holdings Bhd chairman Datuk Seri Nazir Razak said he was "disappointed" that 1Malaysia Development Bhd (1MDB) had declined to participate in Invest Malaysia Kuala Lumpur 2015, a forum where foreign investors expect all important issues concerning Malaysia to be addressed.
"While 1MDB is not a 'systemic issue' for Malaysia, it is an issue [of which] investors are concerned about. It is also an issue that can be put to rest if it is properly addressed," he told reporters after the opening of the two-day event by Prime Minister Datuk Seri Najib Razak, who is the Finance Minister and chairman of 1MDB's advisory board, today.
"[1MDB] did not give a reason [for not participating], but there are other platforms [where the issues can be addressed]," Nazir said in reply to a reporter's question whether the state development company's absence, leaves the elephant in the room unaddressed at Invest Malaysia.
Nazir also echoed Bank Negara Malaysia Governor Tan Sr Dr Zeti Akhtar Aziz's statement that the ringgit is currently undervalued.