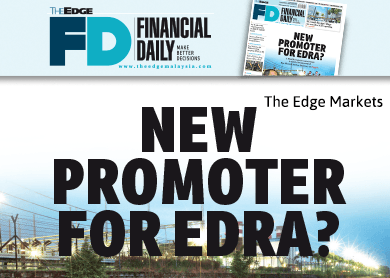 KUALA LUMPUR: Edra Global Energy Bhd is seeking a new promoter to take over from 1Malaysia Development Bhd (1MDB) and undertake the former's listing, said sources, adding that a Middle Eastern consortium might be interested.
"There is nothing wrong with 1MDB's power assets in themselves. These are the Tanjong [Energy Holdings Sdn Bhd], Genting [Sanyen Power Sdn Bhd] and Jimah [Energy Ventures Sdn Bhd] power assets, [which are] good assets. With the right promoter and at the right price, there is no reason why Edra cannot list successfully," one industry executive told The Edge Financial Daily.
Bringing in a new promoter to lead the listing exercise means 1MDB will first dispose of most, if not all, of its stake in Edra to another party that will in turn take Edra for listing. The Middle Eastern consortium, in this instance, is said to consist of sovereign investment funds as well as industry players.
This structure would serve two purposes. First, it would allow 1MDB to cash out of its power investments more quickly and predictably, compared with taking Edra to market by itself — a process that has proven challenging to execute, said sources.
Recall that 1MDB has been trying to list its power assets for more than a year now, but withdrew its initial public offering submission from the Securities Commission Malaysia last month. Even if 1MDB were to resubmit an application to list Edra, it could take roughly a year to complete without any major hiccups.
Secondly, having a new promoter could be a boost to Edra's valuations when it finally goes for listing, since it would be able to shed the negative sentiment from having controversy-ridden 1MDB as parent.
Having a shareholder that can be strategic partner with access to more potential projects in the Middle East could also be a catalyst for Edra going ahead.
The only question remaining is what price a new promoter would be willing to pay for 1MDB's power assets. If the price is lower than the original amount 1MDB invested plus interest, 1MDB will have to take a hit to its balance sheet.
Note that 1MDB has already been writing down the power assets in its books, with a RM1.2 billion write-down for goodwill on acquisition for the financial year ended March 31, 2014.
Edra currently has an estimated RM15 billion in debt against RM4 billion in equity, which places its enterprise value at approximately RM19 billion. In its initial plan to list Edra, 1MDB was hoping to raise between US$3 billion (RM10.89 billion) and US$4 billion, selling off most of its shares.
The Ministry of Finance (MoF) had earlier this year appointed CIMB Group Holdings Bhd to pursue the strategic sale of Edra. However, the MoF last month reversed its decision.
CIMB had subsequently issued a statement, saying "the MoF has decided not to consider a sale of Edra to strategic investors and as such, CIMB's services as adviser to the potential sale are no longer required".
Nonetheless, with more interest payments due over the next few months for its RM42 billion in debts, 1MDB is under increasing pressure to monetise its assets quickly.
This article first appeared in The Edge Financial Daily, on April 24, 2015.