This article first appeared in City & Country, The Edge Malaysia Weekly, on December 17, 2018 - December 23, 2018.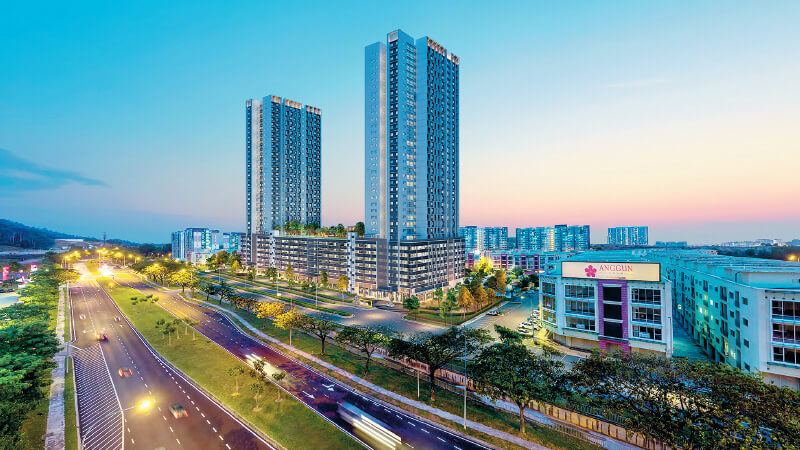 Sprawled on a 3.59-acre plot, Anggun has a GDV of about RM280 million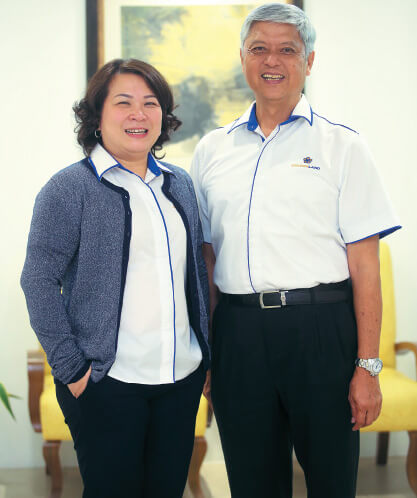 Yap (left), with Ng, tells City & Country that Anggun is built as an escape for city dwellers
Golden Land Bhd plans to capitalise on its first serviced apartment development — Anggun in Setia Alam. "Anggun is located within the 4,000-acre mature neighbourhood of Setia Alam. Anggun's residents will be able to enjoy the nearby conveniences," says chief operating officer Ng Heng Phai.
"This project has a strong concept, value and attractive price points. It is our hope that Anggun will be the prototype for our future products," Ng tells City & Country.
Golden Land intends to build Anggun as an escape for city dwellers. "Our aim is to strike a balance between modern design and nature. We would like to ignite the five senses — taste, sight, smell, hearing and touch — through its features and facilities. About 20% of the development will be allocated for landscaping [which is above the requirement of 10%]," says Ng. He reveals that he grew up in Kampung Batu Belah, Klang, while executive director Jessica Yap grew up in Kluang, Johor.
"We have adopted a kampung theme [for Anggun's overall environment] so residents will enjoy natural surroundings and community living. This theme will be consistent in our landscaping and one-acre facility deck," says Ng.
Sprawled on a 3.59-acre plot at Persiaran Setia Perdana, Anggun has a gross development value of  about RM280 million. Developed by Spectrum 88 Sdn Bhd (a wholly-owned subsidiary of Golden Land), the freehold residential development comprises two towers of 35 and 33 storeys with 500 apartments and 16 single-storey commercial units.
Targeted to be launched in the first quarter of next year, the serviced apartments will have built-ups from 560 to 1,227 sq ft. Layouts will feature 1+1 bedrooms and 1 bathroom, 3 bedrooms and 2 bathrooms, and 3 bedrooms with 1 en suite + 2 bathrooms. The commercial units will have built-ups of 915 to 2,164 sq ft.
Due to be completed in December 2021, construction will start next month, says Ng. The residential units are priced at RM270,000 to RM649,000 and the commercial units are RM850 psf. Ng reveals each residential unit will come with one to four parking bays.
Golden Land is confident Anggun will do well and will be a worthy addition to the Setia Alam township. "We believe in introducing the right type of products upon studying a location and its catchment. We are confident Anggun will attract our target market," says Yap.
Anggun to draw end users
"About 70% of the units are 3-bedroom, which we are confident will appeal to prospective buyers who are looking for spacious units," Yap says."We hope to attract families, couples and even retirees who are mostly owner-occupiers."
So far, the response to the project has been positive. "We did a preliminary registration exercise and we have received about 1,000 registrations so far," she says.
"Most units have a dual-key concept to cater for multigenerational families and to provide privacy for adult children and parents who are living together. And it gives the owners the flexibility to rent out part of the unit while occupying the other," says Ng. "The layouts are practical and functional. There are no odd spaces, which will ease the process of furnishing the spaces."
Another unique selling point of Anggun is that it is low-density, according to Golden Land. "There will be only nine units per floor, with four lifts servicing each block for shorter waiting periods. And the distance between the two towers is about 250 ft, which gives good space for privacy," says Ng.
He says Golden Land's main priority is to build high-quality developments and provide the best services to buyers. "Ultimately, our vision is to be a caring developer. We take pride in being attentive to the details of our projects and we focus on how to increase their value in the long run."
Launching developments with care does have its advantages, according to the developer. "We are hands-on and we believe in providing the best care for our buyers and a personal touch for all our developments," says Yap.
"We have added little things. For example, we include at least four power sockets at the kitchen counters because we understand how important they are for kitchen appliances. Another example would be the infinity pool and water features, introducing depths gradually to ensure the safety of families with children," says Yap.
Anggun's 1-acre facilities deck will include a covered walkway, infinity pool, Jacuzzi, a lawn area, children's playground, a man-made stream, koi pond, maze garden, flower garden, refloxogy path and a bamboo walk. "Anggun will also have its own herb garden and fragrant garden, in line with the nature theme. We also have plans to plant fruit trees in the development to create a kampung feel," says Ng.
The development will also feature a multi-tier security system. "Residents will have to use access cards to enter the car park and lift lobby and use touch-card access to the lifts to their designated floors," says Ng.
Steady demand in Setia Alam
Golden Land plans to capitalise on Anggun's strategic location in Setia Alam. Nearby schools include Peninsula International School Australia, SJK @ Pin Hwa 1 Chinese School, Tenby International & Private School and SMK Setia Alam. Malls and shopping centres in the vicinity include Setia City Mall & Setia City Convention Centre, Tesco Setia Alam, the longest night market in Selangor and Giant Hypermarket Klang Sentral. There are several sports facilities nearby — Setia City Park, Setia Badminton Academy and Setia Alam Central Park — while the Columbia Asia Hospital, Klang, is convenient for healthcare needs.
Henry Butcher Malaysia chief operating officer Tang Chee Meng says Angun has the advantage of being situated within the strategic and mature township of Setia Alam, which was launched in 2004. "Setia Alam is an established township with all kinds of readily available amenities nearby. It has also gained popularity among urbanites in the Klang Valley over the the years as well. The demand for properties in Setia Alam has been good," he says during our interview with Golden Land's Ng and Yap. "Landed properties in Setia Alam are more popular but there has been an increase in strata-titled developments in recent years."If you look at the statistics, properties in Setia Alam have doubled (and in some cases tripled) in value in the last few years."
The average price of serviced apartments in Setia Alam is about RM500 to RM600 psf, with a current average rental rate of RM1,300 to RM2,800 per month, with yields of about 4%, according to consultants.
"The township has connections to major highways, making it accessible to other major townships in the Klang Valley and Kuala Lumpur city centre," says Tang. These include the Federal Highway, Guthrie Corridor Expressway, Damansara-Shah Alam Elevated Expressway and the New Klang Valley Expressway.
Tang believes the project will most likely attract owner-occupiers, mostly families and couples. "The development is self-contained, well-secured and the units appear to be sizeable, which will cater well for this target group."
In terms of the future, the outlook for Setia Alam appears promising. "The mere fact that property prices have doubled or tripled will give prospective buyers enough confidence to buy in the area. There is evidently capital growth for properties in Setia Alam. The well-planned township offers a pleasant environment and landscaping, and will continue to attract more people to live in it," says Tang.
About Golden Land
Golden Land (formerly Tanah Emas Bhd) started off in the timber industry in 1982. In line with the sustainability and availability of oil palm plantation land, Golden Land started cultivating the crop along with its timber activity. Its first estate, spanning 83ha, was located in Telupid, Sabah.
About two years ago, the company, which was listed on the Main Board of Bursa Malaysia in 2009, opened its own property division. Its first project — MidTown Plaza in Sandakan, comprising 43 shophouses — with a GDV of RM52 million was built in 2014.
Its second project, which was launched in March this year, is Golden Gateway at Batu Kawan, Penang, comprising 54 units of 3-storey semi-detached factories and two 3-storey detached factories with a GDV of RM182 million. The project is currently 40% taken up and is due to be completed in 2020.
"In terms of challenges, we believe the challenges we face [as developers] are industry-wide. However, we are fortunate that the authorities have worked well with us for our developments so far," says Ng.
"During the financial year ended June 30 [FY2018], revenue for the property division rose 58% year on year to RM5.7 million. Currently, the group has total assets and an undeveloped GDV of RM605 million in its current financial year [FY2019]. We have a land bank of 38.11 acres,
located in Setia Alam (the Klang Valley), Penang, Kota Kinabalu and Sinsuran (Sabah). None of our land is charged [to any bank] and is thus free of any encumbrances.
"We have a good earnings visibility and a strategic plan in place to grow the property division of Golden Land in the next few years."
Ng has been in the property industry for more than 35 years in various capacities at Sunway City Bhd, Lion Group and other private companies. Ng was at Mah Sing Group for 20 years — his last position was director of business R&D — before joining Golden Land.
As for future plans, the group is open to seeking opportunities and increasing its land bank. "We have been getting a lot of land proposals in the current market. We are exploring opportunities at the moment," says Yap.
The group has set up an office on Penang Island to better serve its Golden Gateway purchasers. "We are also in the process of setting up a branch office in Kota Kinabalu," says Yap.
Golden Land plans to leverage its established reputation in Sabah. "We are in the process of planning a joint-venture residential development on a 14-acre tract in the district of Putatan," says Yap.
The project will have an estimated GDV of RM330 million according to the developer, adding that more details of the project will be revealed closer to its launch date.