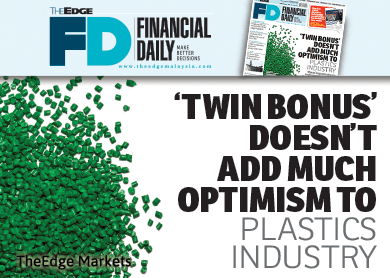 KUALA LUMPUR: Export-oriented plastic-related product manufacturers are among the beneficiaries of the big drop in crude oil prices, which results in lower resin prices, and the weaker ringgit against the US dollar. But the "twin bonus" doesn't add much optimism to industry players' long-term view of a tough operating environment that has prompted many to diversify.
"Oil pricing, as always, is the key to resin cost. Hence, low oil prices are shaping up to be good for resin pricing," Ewein Bhd (fundamental: 1.55; valuation: 1.4) managing director Datuk Ewe Swee Kheng told The Edge Financial Daily. Ewe added that plastics companies will also benefit from the weaker ringgit as the industry is very much export-oriented.
LCTH Corp Bhd managing director Hew Lien Lee concurred, saying the falling oil prices and weaker currency are both favourable for manufacturing firms, including plastics makers. "When resin prices fall, it will ease the cost pressure from our customers. The stronger greenback could also give us [an] advantage because we collect the revenue in US dollars, while salary and petrol costs are being paid in ringgit," Hew explains.
LCTH (fundamental: 2.5; valuation: 1.1) saw its net profit jump 245% to RM3.8 million in the first quarter ended March 31, 2015 from RM1.1 million in the previous corresponding period, partly contributed by a foreign exchange gain of RM1.6 million, as a result of the strengthening of the US dollar against the ringgit.
Meanwhile, Ewein's net profit more than doubled to RM3.46 million for the financial year ended Dec 31, 2014 from RM1.64 million the year before. Revenue, however, was lower at RM44.63 million against RM51.98 million. Nonetheless, Ewein attributed the improved earnings to contribution from its property development activities.
The company is developing its first property project valued at RM800 million in Bandar Tanjong Pinang, Penang in a joint venture with Consortium Zenith BUCG Sdn Bhd (CZBUCG). The group is now working closely with CZBUCG to explore the potential development of the next parcel of land. It is understood that the second project, which is likely to be another high-rise residential development, will have a gross development value of RM1 billion.
Ewe believes that the recent rally on the company's share price is a reflection of investors being positive about its property projects in the pipeline, as the manufacturing business remains competitive. "[In manufacturing], we have to be selective in terms of getting good customers who give us reasonable profits. There are too many players in the market, while we are facing stiff competition from China and Korea," said Ewe, a controlling shareholder of Ewein who holds a 42.9% stake.
Ewein's share price rocketed from 50 sen at end-March to 89.5 sen last Friday, up 79% in less than two months.
Luster Industries Bhd deputy managing director Liang Wooi Gee acknowledged that the collapse in oil prices will somehow reduce production costs, but plastics companies may not benefit significantly as most resin suppliers are being appointed by their customers. "Therefore, whenever there is a price adjustment to the resin, the cost will eventually be passed on to the customers. Resin price varies from one supplier to the other and it also very much depends on transportation costs," he said.
Liang also admitted that the plastics manufacturing market is very fragmented as the industry has lower barrier to entry. The highly competitive environment has prompted the company to set its sights on the Cambodian gaming industry. Luster earlier this month revealed its plans to first expand the lottery outlets in Phnom Penh. The group is allocating some RM100 million for capital expenditure (capex) to expand its presence in the Cambodian gaming industry over the next three years. According to theedgemarkets.com, the likelihood of corporate exercise for Luster is high.
Liang opined that the rising stock price recently has showed that investors are willing to wait for the new investments and expansion plans to bear fruit, as the share price is a reflection of a company's future earnings. "The attractiveness of oil and gas stocks is no longer there, so investors could now be looking at plastics companies like us. There are plenty of upside, and valuations are still attractive," he says.  For LCTH, said Hew, the company intends to spend up to RM65 million on capex this year to expand its operations.
About RM30 million to RM40 million will be used to purchase land in Penang as its existing plant there is already operating at full capacity. It will utilise RM15 million to RM20 million to build another plant in Johor and RM3 million to RM5 million to replace old machineries.
---
The Edge Research's fundamental score reflects a company's profitability and balance sheet strength, calculated based on historical numbers. The valuation score determines if a stock is attractively valued or not, also based on historical numbers. A score of 3 suggests strong fundamentals and attractive valuations. Go to www.theedgemarkets.com for more details on a company's financial dashboard.
This article first appeared in The Edge Financial Daily, on May 18, 2015.