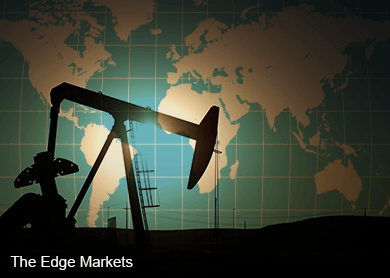 CALGARY, Alberta (Nov 11): Crude prices rose on Tuesday after the International Energy Agency noted a sharp drop in oil investment, though the broader picture of an oversupplied market limited any gains as traders focused on inventory data due later in the day.
U.S. crude settled up 34 cents at $44.21 a barrel. Brent crude was up 24 cents at $47.43 a barrel by 1931 GMT, having previously fallen for four trading days in a row.
Prices rallied to session highs in mid-morning U.S. trade, which one trader attributed to the U.S. National Hurricane Center's forecast that tropical storm Kate will become a hurricane by tonight. The storm is expected to pass north of Bermuda and remain well offshore the U.S. East Coast.
Other market players said the move was driven by technical trading in U.S. crude.
In its World Energy Outlook, the IEA estimated that investment in oil would decline more than 20 percent this year and the trend would continue into 2016.
It added oil was unlikely to return to $80 a barrel before the end of the decade, despite the cuts in investment, as annual demand growth struggles to top 1 million barrels per day.
Teddy Sloup, senior market analyst at iitrader.com LLC in Chicago, said traders on Tuesday had been targeting a technical level $43.50 a barrel and when U.S. crude failed to break lower the market bounced, although it would likely struggle to hold gains.
"If the stock market is able to sell off from now until the end of the week you have to believe crude is going after the early October low (of $42.58)," Sloup said. "Supply is not going anywhere, there's tons out there and the market feels heavy."
The American Petroleum Institute will release its crude inventory data later on Tuesday at 4:30 p.m. ET (2130 GMT) and any build could push prices lower. U.S. crude inventories are forecast to build for a seventh straight week.
The official U.S. Energy Information Administration inventory data will be delayed until Thursday because of the U.S. Veterans Day holiday on Wednesday.
"The immediate picture is still not supportive of rising prices," said Gene McGillian, senior analyst at Tradition Energy in Stamford, Connecticut. "But I am not convinced we have enough weakness yet to test six-year lows in coming days."
U.S. crude touched a 6-1/2 year low of $37.75 on Aug. 24.