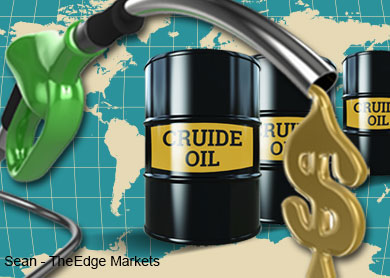 LONDON (Nov 19): Brent crude oil slipped towards $78 a barrel on Wednesday as data showed Saudi Arabia increased crude exports in September despite signs of an oversupplied market and producers appeared divided ahead of an OPEC meeting to discuss output.
All eyes are on OPEC's response to a drop in oil prices of nearly one-third in recent months, with some smaller members calling for production cuts at the Nov. 27 meeting in Vienna.
OPEC heavyweight Saudi Arabia has so far shown no indication that it will support a reduction in OPEC production.
Diplomatic and market sources say Saudi officials said in recent private briefings that the kingdom could live for some time with current, or even lower, price levels.
Even seasoned OPEC veterans say they do not know how the cartel will respond to the collapse in oil prices this year.
"For the first time, I really do not know what is likely to happen at the meeting. It is not clear," one long-serving senior OPEC delegate told Reuters.
Brent was down 10 cents at $78.37 a barrel at 0815 GMT, after settling 84 cents lower in the previous session.
U.S. crude was down 60 cents at $74.01 a barrel. The U.S. crude futures contract closed $1.03 lower on Tuesday.
"It is a guessing game," said Carsten Fritsch, senior oil and commodities analyst at Commerzbank in Frankfurt.
"There are so many opinions and views on what OPEC will do next week. The most reasonable response for investors is to stay on the sidelines and wait for guidance," Fritsch added.
Saudi Arabia increased crude oil exports in September by around 59,000 barrels per day (bpd), official data showed.
Oil prices fell on Tuesday after data from the American Petroleum Institute (API) showed U.S. crude stockpiles rose 3.7 million barrels in the week ending Nov. 14, including a 1.4-million-barrel build at the Cushing oil hub.
A closely watched report from the U.S. Department of Energy's Energy Information Administration (EIA) was due at 1530 GMT on Wednesday. A Reuters poll of seven analysts forecast crude stocks fell 800,000 barrels last week.
Unseasonably cold weather in the United States could boost demand for heating oil, with temperatures in all 50 states dipping to freezing or below on Tuesday.