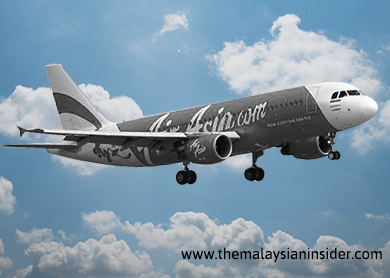 KUALA LUMPUR (Dec 28): There is one Malaysian among the passengers of AirAsia Indonesia's missing flight QZ8501, according to the low cost carrier
In a statement this afternoon, AirAsia Indonesia said there were 155 passengers on board, with 138 adults, 16 children and 1 infant.
Also on board were 2 pilots and 5 cabin crew.
It said there are one Malaysian and Singaporean respectively, three South Koreans and 157 Indonesian passenger on board the missing aircraft.
The low cost carrier said flight QZ8501 from Surabaya to Singapore had lost contact with air traffic control at 7:24am this morning.
It said the flight took off from Juanda International Airport in Surabaya at 5.35am.
"At this time, search and rescue operations are being conducted under the guidance of The Indonesia of Civil Aviation Authority (CAA). AirAsia Indonesia is cooperating fully and assisting the investigation in every possible way.
"The aircraft was on the submitted flight plan route and was requesting deviation due to enroute weather before communication with the aircraft was lost while it was still under the control of the Indonesian Air Traffic Control (ATC).
"The aircraft had undergone its last scheduled maintenance on 16 November 2014," it said.