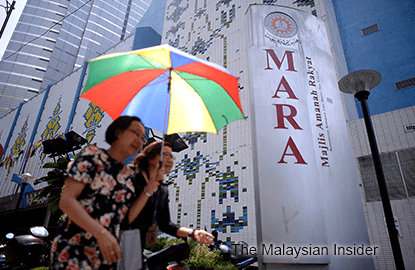 KUALA LUMPUR (July 10): The Public Accounts Committee (PAC) will call Majlis Amanah Rakyat (MARA) to question the organisation over its overseas property purchase policies in light of the recent media reports on their overpriced property purchases in Australia.
Its chairman Datuk Nur Jazlan Mohamed said that the Committee plans on calling them in August to verify the truth behind everything.
"I would like to announce that PAC will call MARA to hear their explanation on their overseas property purchases or investments, especially the case in Australia where it is being investigated by the Australian police," he said.
When asked whether this was specific to the purchase of Dudley International House, which the Australian newspaper The Age reported last month, Nur Jazlan said it goes beyond that.
"I was informed [of] a few other purchases, we want to look at the whole policy of MARA when it comes to investment properties overseas.
"We want to check if the sums reported in the press of overpayment, etc is actually true or not," said Nur Jazlan.
In their report, The Age alleged that a senior MARA official and two "elite" Malay businessmen were involved in corruption related to the Malaysian government agency's worth A$22.5 million (RM65.3 million) during purchase of Dudley International House in Melbourne.
Based on their "eight month-long investigation" by parent publishing house Fairfax Media, the group of "super-rich Malaysian officials" spent government investment funds to push the price of the student housing block built for A$17.8 million to A$22.5 million, an inflation of A$4.75 million.
However, MARA chairman Tan Sri Annuar Musa said that MARA did not lose any money on those deals during an RTM1 interview.
"When we were offered the property, we had it valuated by a private property valuer who found it to be worth around A$26 million (RM71.1 million).
"If we had known that it was worth around A$17.8 million (RM51.4 million) as reported by the media, we would have bargained for a lower price," he said.
Annuar also said since 70% of the purchase was to be funded using loans from international banks, the valuation would have had to be agreed upon by them as well.
"So as far as we know, the value of the property at the time was around A$26 million (RM71.1 million)," he said at the interview.
However, he did say that all allegations will be looked into and a thorough investigation involving the Malaysian Anti-Corruption Commission (MACC) and an independent auditor will take place.