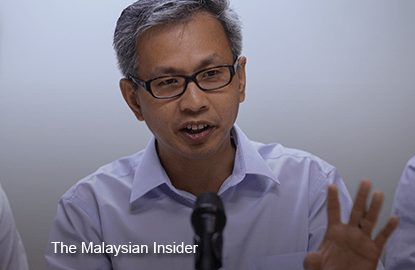 (July 10): Despite numerous reminders, the Ministry of Finance has yet to submit documents required by the Public Accounts Committee for its investigation into debt-ridden state fund 1Malaysia Development Bhd (1MDB), PAC member Tony Pua said today.
As such, he wondered if this could be a result of pressure coming from "higher up" to withhold the documents.
"We have been having meetings and reminding them since April, but not one document has been forwarded to us," Pua told a press conference after a meeting with the auditor-general and his team who briefed the PAC on their interim report on 1MDB.
Pua said they had also requested for documents from audit firms Deloitte and KPMG, which was supposed to be channelled to the PAC through the ministry, but this request too has yet to be complied with.
"So question arises if the MoF officers have been instructed from higher up not to give or to delay giving PAC the documents.
"So, not only is 1MDB delaying documents to the Auditor-General Department, but MoF is also stopping documents from coming to us."
Yesterday, PAC chairman Datuk Nur Jazlan Mohamed said that 1MDB had yet to submit statements and signed agreements to the auditor-general despite requests from the department.
The documents were requested by the A-G for its interim report on 1MDB.
However, the fund's president and group executive director Arul Kanda Kandasamy said that they had submitted all documents in their possession to the National Audit Department to facilitate a probe into its accounts.
Today, when asked about 1MDB's denial, Nur Jazlan said that between the A-G saying the documents had not been submitted and 1MDB saying otherwise, he was more inclined to believe the auditor-general.
"Arul said they have given all, AG says no, we trust the auditor-general more.
"Anyway, if the auditor-general has not been satisfied, then they (1MDB) should just satisfy him," Nur Jazlan told reporters at a press conference after the PAC was briefed on the interim report by Tan Sri Ambrin Buang. – The Malaysian Insider