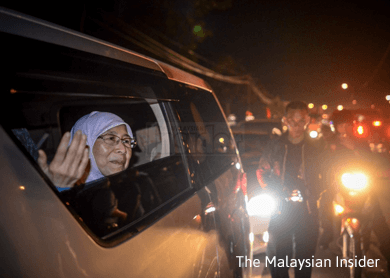 (May 8): With a smaller voter turnout, PKR had its absolute majority slashed by more than 3,000 votes in Permatang Pauh yesterday, but analysts dissecting the by-election said Barisan Nasional (BN) was still the bigger loser.
There are also warnings for both sides, as BN's losses came from among Malay votes, while Pakatan Rakyat (PR) appeared to concede some Chinese votes to BN.
BN's failure to get more votes in Permatang Pauh, especially from Malay areas, mirrored the cold shoulder it got from the largely Malay seat of Rompin in the by-election there three days ago, said political analyst Dr Wong Chin Huat. Although BN was the incumbent in Rompin, its support level went down by 5% from 2013 levels.
BN failed to take advantage of the infighting between PKR and ally PAS, and despite a strident machinery, did not manage to erode support for PKR's Datuk Seri Dr Wan Azizah Wan Ismail. She won by a margin of 8,841 votes against BN's Suhaimi Sabudin.
Given the lower voter turnout, her win translates into 57% of all ballots cast, roughly the same vote share PKR had in the 13th general election. In the national polls two years ago with Datuk Seri Anwar Ibrahim as candidate, it took 58.56% of votes.
In contrast, BN received 40.1% of all votes cast in Permatang Pauh this time, slightly less than the 40.3% it received in 2013.
This is despite BN pouring vast amounts of resources into its campaign and the disunity in the PR machinery, which saw some PAS allies threatening to boycott PKR.
"BN campaigned hard and we expected PR to suffer. But they did not increase their votes even with all the PR infighting," said Wong, of the Penang Institute.
Both BN and PR have internal struggles, the former from attacks against its chairman, who is Prime Minister Datuk Seri Najib Razak, and the opposition from discord over hudud and threats of sabotage by some segments of PAS against PKR in Permatang Pauh.
Yet, even with internal strife in both camps, BN was the weaker of the two, Wong said. It failed in this by-election to capitalise on the chaos and disillusionment with PR to garner more votes.
PKR outpolled Suhaimi in Permatang Pasir and Penanti, constituencies with majority Malay populations of 72% and 76% respectively.
Dr Wan Azizah won 63% of the popular votes in Permatang Pasir and 57% of all votes cast in Penanti.
She won majorities in 16 out of 19 polling districts in those two constituencies. In at least eight of those districts, she managed to beat Suhaimi by a vote margin of 2 to 1.
Dr Wan Azizah said after the results were made official last night, that Malay votes went up by 4% to 5%, mostly among young voters.
"At the end of the day, people may not like the PR but they hate BN more," said Wong.
Taking a different view was Wan Saiful Wan Jan who said PR had nothing to shout about since it did not increase its vote share even with all the issues plaguing BN, such as the unpopular goods and services tax (GST) and scandals involving government-owned fund 1Malaysia Development Berhad (1MDB).
PR's infighting prevented it from getting more support from a public disenchanted with BN, Wan Saiful said.
"(Permatang Pauh) showed that even if people are angry with BN, they are not convinced enough to vote PR. This is why PR really needs to resolve its internal squabbles soon."
Those squabbles, he argued, were starting to eat into its support base among the Chinese.
In Sungai Lembu, a polling district which is 98.7% Chinese, BN managed to increase its support of the popular vote to 30.4% compared with the 16% it garnered in 2013, according to Gerakan Youth chief Tan Keng Liang.
Wong, however, said this did not represent a true swing of the Chinese vote towards BN but more of a reluctance to vote for PR this time.
This is based on lower turnout – 75% of Sungai Lembu's 533 voters came out to vote in the by-election, compared with the 90% in 2013.
Also, there was no swing apparent in Seberang Jaya, a constituency with a 23% Chinese population.
"There were ads in a Chinese newspaper that said that 'both sides are disappointing', so it could have swayed Chinese voters to stay home and not go out and vote," said Wong.
Either way, if PR's internal discord continues and makes voters feel it is no better than BN, it could hurt the opposition pact's ability to hold on to marginal seats.
"It is unrealistic to expect Chinese voters to go back to BN, but realistically, they could stay home and not vote.
"BN does not need the Chinese to vote for it, all it needs is for the Chinese to not vote for PR." – The Malaysian Insider