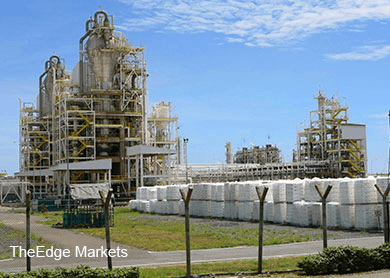 KUALA LUMPUR (Dec 31): Valuation of oil and gas (O&G) stocks across Bursa Malaysia continues to be dampened by weak sentiment which has dominated the sector as retailers see no end to the plunging crude oil prices.
Among the top losers on the local bourse today are state-linked O&G, Petronas Dagangan Bhd (Petdag) and Petronas Gas Bhd (Petgas).
At 4.22 pm, Petdag was trading at RM17.08, having lost 22 sen or 1.27% after over 89,000 shares traded. At the same time, its sister company, Petgas shed 16 sen or 0.72% to trade at RM22.14 after close to a million shares changed hands.
SapuraKenacana Petroleum Bhd was unchanged at RM2.33, while Alam Maritim Resources Bhd delined by 1 sen or 1.57% to 62.5 sen.
MIDF Research O&G analyst Aaron Tan said investors need not be "too concerned" with the sluggish valuation of O&G counters as it is governed more by sentiment than fundamentals.
"Investors should not be confused with the decrease in O&G stocks valuations with the decrease in earnings by these companies," he told theedgemarkets.com.
"When global oil prices fall, sentiment for the industry is generally weak and as a result we see a decrease in valuation placed by investors on O&G stocks. 
"However, investors rarely look into individual companies and see whether these companies are directly exposed to the volatility of global oil prices," he said.
According to Tan, most O&G counters trading on Bursa Malaysia are service providers and are not necessarily vulnerable to falling oil prices.
"Most O&G firms in Malaysia already have their service contracts locked in, the duration of these contracts are certain as well as the earnings derived from these contracts."
"So, when we see O&G companies suffering from share price devaluation, it shows a decrease in the value investors place on these stocks and not the decrease in the earnings of these companies," Tan explained.
Tan, however, admitted that sentiment among retailers and fund managers have impacted valuations of O&G counters.
"Sentiment is an important factor in all this. When fund managers invest in the sector, they usually pick index-linked stocks. When they pull out, you do see a large devaluation in share prices of these companies. Petdag and Petgas are examples," he said.