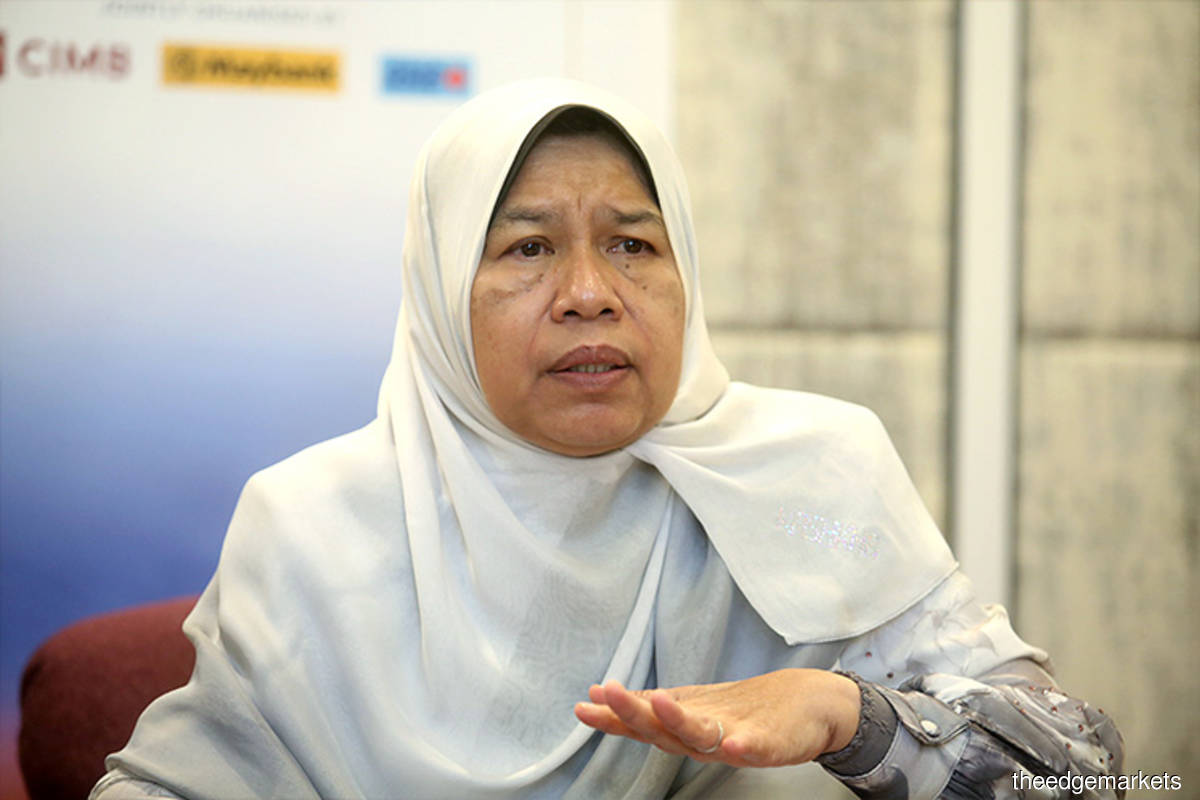 KUALA LUMPUR (Nov 19): Parti Keadilan Rakyat (PKR)'s suit against its former vice president Zuraida Kamaruddin for leaving the party will go on trial.
This follows High Court Judicial Commissioner Datuk Seri Latifah Mohd Tahar having on Friday dismissed her application to strike out the suit filed by PKR secretary-general Datuk Seri Saifuddin Nasution Ismail against her.
"There are triable issues for the matter to go on trial," she said.
"The suit is not frivolous and vexatious, and it is a sustainable action and cannot be struck out. There is also proper cause of action," she added.
The court also ordered Zuraida, who is also Minister of Plantation Industries and Commodities, to pay costs of RM5,000.
The outcome was confirmed by PKR counsel William Leong, who is also Selayang member of Parliament (MP), to theedgemarkets.com.
Besides Leong, counsel Ranjit Singh also appeared for the party. 
The decision was delivered via email.
In her decision, Latifah said Zuraida has to explain why she signed the bond on April 25, 2018 to contest for the party in the 2018 general elections, as well as if there were conditions involved, while the court also had to hear the testimonies of other witnesses.
Latifah heard Zuraida's striking-out application last October.
Zuraida filed the striking-out application in February, where the minister claimed the suit filed by Saifuddin stipulates no cause of action and the implementation of the bond is against public policy, the concept of parliamentary democracy and ultra vires (beyond the law) with the freedom of association stipulated under Article 10.
She further argued that the PKR party constitution itself gives freedom to its members to resign without imposing any penalty, and so the action is meant as PKR's revenge against her, especially by party president Datuk Seri Anwar Ibrahim, and it is using the court to get "unjust enrichment".
Saifuddin on Sept 28, 2020 had initially filed the suit via law firm Messrs William Leong & Co against Zuraida seeking payment of RM10 million to the party based on established terms and conditions of the bond agreement.
The terms and conditions of the bond include the defendant agreeing to pay the party RM10 million no later than seven days upon her resignation from PKR, joining any other political party or being an independent elected representative after Zuraida won the election on a PKR ticket.
Besides the RM10 million, PKR is seeking from Zuraida RM2.049 million — the remuneration she received while being a PKR MP and a minister under the previous Pakatan Harapan administration.
Read also:
Nov 19 decision on Zuraida's application to strike out PKR suit over leaving party
Lam Jian Wyn & Tan Choe Choe