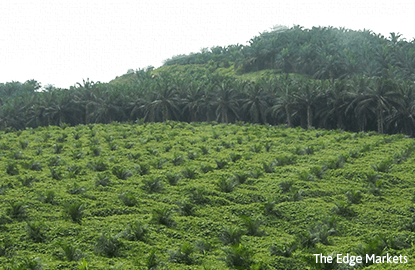 KUALA LUMPUR (March 8): Local plantation stocks took a hit this morning after industry experts forecast a decline in crude palm oil (CPO) prices by the end of the year.
Kuala Lumpur Kepong Bhd was down by 22 sen or 0.9% at RM24.36 after the noon break, making it the largest decliner on Bursa Malaysia.
Meanwhile, IOI Corp Bhd plunged 13 sen or 2.7% to RM4.68 and was also one of the largest decliners on the stock exchange, with some 1.24 million shares traded.
Innoprise Plantations Bhd was knocked back by 3 sen or 2.44% to RM1.20, while Sarawak Oil Palms Bhd fell 4 sen or 1.07% to RM3.70.
According to leading industry analysts Thomas Mielke and James Fry, CPO prices are expected to decline as production bounces back after a year of drought.
Mielke said he expected CPO prices to fall to RM2,400 per tonne by 2018 while Fry opined that CPO prices would fall some 20% by the fourth quarter of this year. Both were speaking at an industry conference today.
According to Mielke, some recovery in CPO prices would be likely in the next three to six weeks because of insufficient supplies and a prospective strong world import demand.
Fry opined that CPO prices would average RM2,500 per tonne in the third quarter before easing to RM2,250 in the final quarter.
CPO prices trended down yesterday at RM2,859 per tonne after hitting a two-year high of RM2,893, according to data from the Malaysian Palm Oil Council.