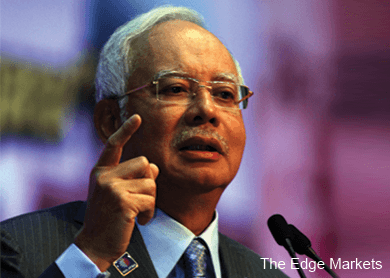 KUALA LUMPUR (May 18): Prime Minister Datuk Seri Najib Tun Razak said the current low crude oil price environment had opened doors for Malaysia to undertake strategic reforms to sustain the economy.
Najib said over the past few years, the government had been working to strengthen the country's economic fundamentals and fiscal position to broaden revenue stream and reduce dependence on oil and gas (O&G) income.
"Although about one-third of the country's revenue source has taken a hit, the low oil price environment also means that Malaysia's exports have become more competitive.
"It has also brought opportunities to make timely changes and set reforms in place," Najib said in his speech at the 18th Asia Oil & Gas Conference 2015 (AOGC) here today. Petroliam Nasional Bhd (Petronas) is hosting the two-day event, which ends tomorrow.
Today, Najib said there had been too much focus on problems related to the surplus of O&G supply.
He said rather than thinking of ways to curb surplus, there should be concentration on economic growth to elevate demand instead.
"There are three facts we should not forget. First, energy is essential in supporting growth. Second, Asia continues to be a force for future growth and third, the key to sustainable development is to make the most of the opportunities during challenging times to innovate and reform.
"I believe that this 18th AOGC is a critical gathering of stakeholders who can discuss and guide us on some of the most complex challenges that is faced today," he said.
Najib said challenges from a cheaper crude oil landscape should spur innovation, especially, among renewable energy firms.
He said innovation should result in more economically-viable renewable energy, which could see higher demand when crude oil prices rebound.
"This is a time when cost saving technologies and services will be in greater demand than ever," said Najib during his keynote speech for the 18th Asia Oil & Gas Conference (AOGC) 2015 today.
"Renewable energy source companies, for example, should be investing in improving their production methods, making them cheaper and more economically viable in the long run, ensuring that renewable energy will be even more appealing when oil prices rebound," he said.