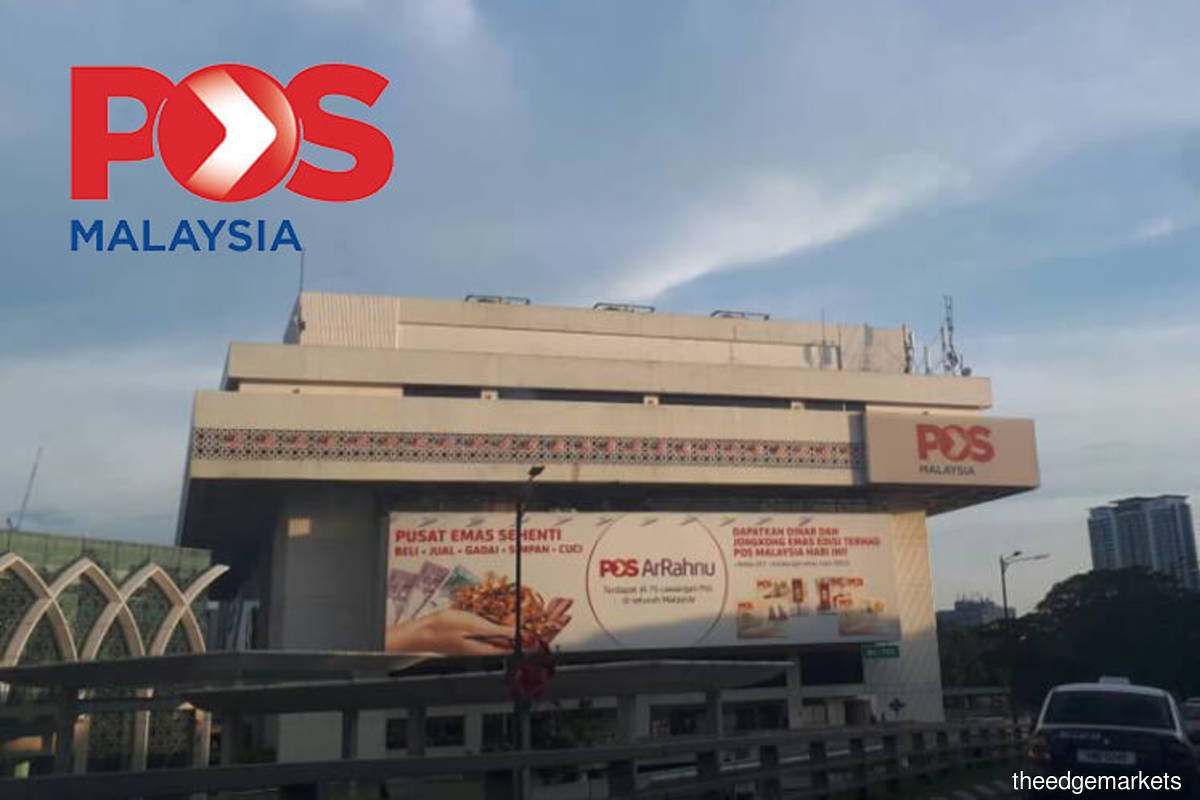 KUALA LUMPUR (Aug 17): Pos Malaysia Bhd's current share price is said to have fallen to its lowest in about 17 years, and such sentiment has led to the notion that the company's negative updates have been largely priced in its shares which are seen contending with the group's latest-reported wider net loss.
At 10:03am today, Pos Malaysia shares were traded 2.5 sen or 3.09% lower at 78.5 sen after the company said yesterday its second-quarter net loss widened to RM121.84 million from RM19.02 million a year earlier.
Yesterday, Pos Malaysia said in a filing with Bursa Malaysia that revenue fell to RM533.89 million in the second quarter ended June 30, 2021 (2QFY21) from RM606.08 million a year earlier.
For 1HFY21, Pos Malaysia said net loss widened to RM168.63 million from RM68.24 million a year earlier while revenue declined to RM1.13 billion from RM1.16 billion.
"[In quarterly terms,] The group recorded a higher loss before tax of RM119.4 million in the current quarter ended June 30, 2021 compared to RM46.1 million in the preceding quarter ended March 31, 2021 mainly due to lower revenue by RM61.4 million mainly from postal segment and impairment of property, plant and equipment by RM46.7 million offset [by] lower cost of sales and operating expenses by RM37.2 million," Pos Malaysia said.
Today, Hong Leong Investment Bank Bhd analyst Nazira Abdullah wrote in a note that Pos Malaysia's 1HFY21 core net loss at RM107.1 million was below Hong Leong's and consensus expectations based on Hong Leong's and consensus full-year core net loss forecast of RM106.6 million and RM65.8 million respectively for Pos Malaysia.
Nazira said Hong Leong maintained its "hold" call for Pos Malaysia shares but with a lower target price (TP) at 76 sen from 86 sen previously "as near term outlook remains challenging". 
"However, with the share price at a 17-year low, we believe the negatives have been largely priced in," she said.
A company's core net loss is derived by excluding extraordinary items in the firm's financial statements.
According to Nazira, Hong Leong has widened its FY21 core net loss forecast for Pos Malaysia to RM223.2 million from RM106.6 million previously, and FY22 core net loss forecast to RM76 million from RM31.9 million previously, after imputing weaker postal services.
"We maintain our FY23 [net] profit forecast [for Pos Malaysia] at RM4.7 million," she said.
Meanwhile, Kenanga Investment Bank Bhd, which maintained its Pos Malaysia share TP at 80 sen with an unchanged "market perform" call, has also widened its net loss forecast for Pos Malaysia.
"FY21E net loss is doubled to RM226.5 million (from net loss of RM118.3 million), with unchanged FY22E net profit at RM62.2 million. 
"For the immediate term, we expect the lockdown to continue weighing on postal and logistics segments, but anticipate it to fully end by December while we maintain the FY22E net profit on post-pandemic recovery," Kenanga analyst Wan Mustaqim Wan Ab Aziz wrote in a note today.
At Pos Malaysia's current share price of 78.5 sen, the company has a market value of about RM614.48 million based on the group's 782.78 million issued shares.
Year to date, Pos Malaysia's share price had fallen to current levels from its closing share price of RM1.16 on Jan 4, 2021.
Read also:
Pos Malaysia's net loss widens in 2Q amid shrinking business volume