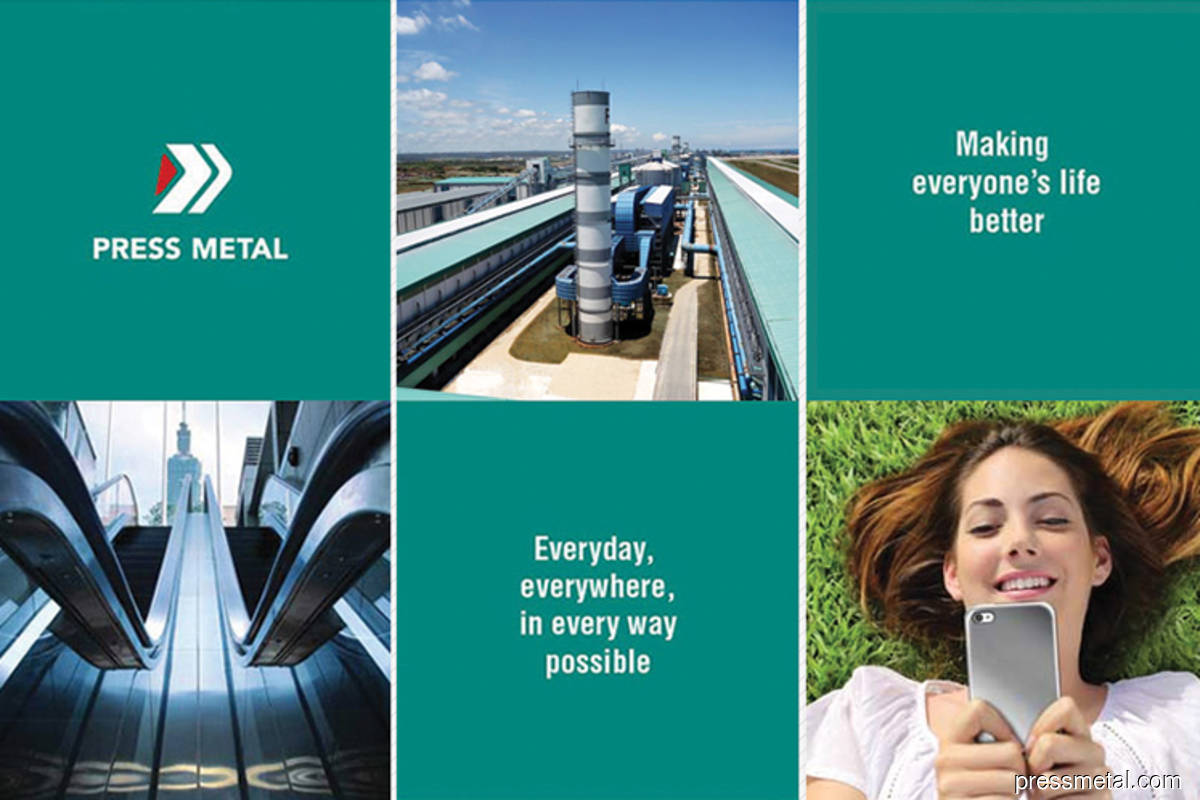 KUALA LUMPUR (Oct 8): Shares of Press Metal Aluminium Holdings Bhd, which has held steady since hitting a record high in early September amid soaring aluminium prices on supply concerns, jumped to a fresh peak of RM6.16 on Friday after rising 26 sen or 4.41%.
The stock closed at RM6.09 after paring some of its earlier gains, but still up 19 sen or 3.22% from Thursday's close, which placed it among Bursa Malaysia's top 10 gainers of the day.
The further jump in its share price came a day after Hong Leong Investment Bank Research analyst Jeremie Yap wrote in a note that the research house was "ecstatic and upbeat about Press Metal's earnings prospects in the next 12-18 months".
The strong optimism was primarily due to three catalysts, with the first two being soaring London Metal Exchange (LME) aluminium spot prices and the progressive ramping up of the group's Phase 3 Samalaju expansion project, which will boost its overall smelting capacity by 42% to 1.08 million tonnes annually, from 760,000 tonnes previously.
The third catalyst is the targeted full commissioning of the group's 25%-owned PT Bintan alumina refinery (Phase 2) in the first half of 2022, which will also provide an additional earnings boost to Press Metal.
Yap also noted that LME aluminium spot prices had recovered significantly to US$2,915 (RM12,186) per tonne, from a low of US$1,465 per tonne in April 2020.
"We are expecting a sustained bull run in global aluminium prices over the next 12-18 months with the synchronised decarbonising movements to achieve net zero carbon emission and the general recovery post-pandemic across most countries.
"We envision the world at large to enter into an aluminium deficit in 2022-23, in which demand would severely outstrip supply globally. This would ultimately lead to a drop in aluminium inventory in the LME, lifting aluminium spot prices," Yap said.
On the raw materials front, Yap said the alumina price trend was also favouring the group as its average price year-to-date had dropped to US$296 per tonne, compared with US$373 per tonne previously.
"Our earnings forecast is based on an average LME aluminium selling price per tonne of US$2,550, US$3,150 and US$3,250 for FY21 to FY23, respectively," Yap noted.
He added that the firm had imputed these few key hedging assumptions on the earnings forecasts: 65% hedged at US$2,050 for FY21, 55% hedged at US$2,200 for FY22, and 35% hedged at US$2,300 for FY23.
He added that his alumina cost per tonne forecasts are US$334, US$385 and US$444 for FY21 to FY23 respectively.
As such he forecast Press Metal's annual net profit to come in at RM1.38 billion for the financial year ending Dec 31, 2021 (FY21), RM2.98 billion for FY22, and RM4.47 billion for FY23.
The forecasts are significantly higher than the group's reported annual net profit of RM457.21 million for FY20.
Indeed, Press Metal's net profit for the first six months ended June 30, 2021 of RM461.3 million — up 139.47% from RM192.63 million in the previous January-June period — already surpassed its FY20 annual profit. Six-month revenue rose 33.17% to RM4.74 billion from RM3.56 billion.
The strong six-month earnings came after its net profit for the second quarter ended June 30, 2021 surged nearly three-fold to RM255.58 million from RM90.07 million a year earlier, due to higher aluminium prices. Revenue rose 52.22% to RM2.64 billion from RM1.73 billion.
Meanwhile, Yap raised his target price for Press Metal to RM7.42, from RM5.92 previously.
"We may increase our ascribed price-earnings multiple for Press Metal as we note that the group deserves a premium in its valuations to reflect the group's favourable cost structure, as the bulk of its energy costs are locked in via 15- to 25-year power purchase agreement with Sarawak Energy Bhd; and its low carbon footprint as its smelters are hydro-powered, making its environmental, social and governance profile more favourable to investors," he added.