This article first appeared in Enterprise, The Edge Malaysia Weekly, on February 11, 2019 - February 17, 2019.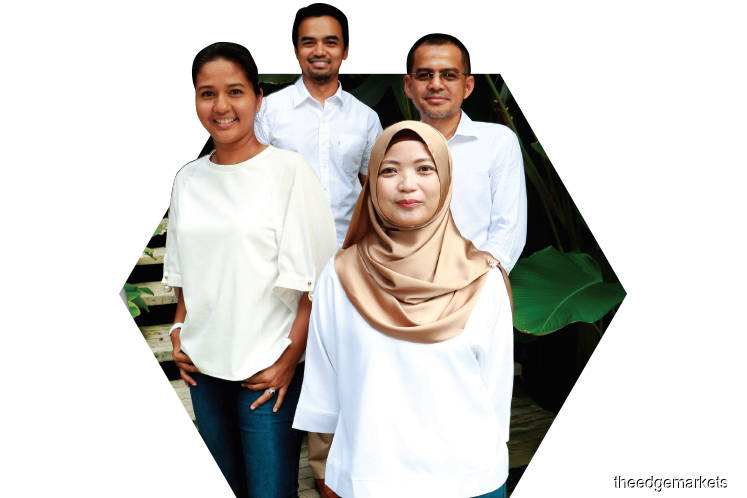 In July 1988, offshore oil and gas (O&G) platform Piper Alpha, located near Aberdeen, Scotland, suffered a disastrous explosion that killed 165 of the 220 crew members and two rescuers. The explosion, caused by a gas leak due to multiple human errors, is considered one of the worst in the industry's history.
Fairuz Yahaya, sales director at explosion-protection (Ex) specialist firm EXS Synergy Sdn Bhd, explains that although many offshore incidents are nowhere near the severity of the Piper Alpha explosion, those that lead to fatalities, environmental pollution or the loss of assets are not rare. That is why explosion prevention and protection is important, he says.
Despite this, Ex is not a well-known term in Malaysia. This is worrying as the country is home to about 300 offshore facilities, some of which are 30 years or older, says technical director Fern Raja Harris. "In Malaysia, explosion-related accidents have happened. However, as they were not catastrophic, they were not picked up by the mainstream media. Hence, there is a lack of awareness of the importance of Ex."
This and the lack of expertise in the region are two of the main reasons Fairuz and his ex-colleagues decided to take matters into their own hands. Together with managing director Ahmad Lutfi Amir and general manager Siti Norani Samjuri, EXS Synergy was established in 2014 to provide comprehensive, cost-effective solutions in hazardous area-related services, primarily focusing on the inspection and maintenance of Ex installations for the energy industry.
The four of them had previously worked for a European company that specialised in FPSO (floating production, storage and offloading) vessels, which are used by the offshore oil and gas (O&G) industry for the production and processing of hydrocarbons and the storage of oil. They were based in the company's Kuala Lumpur office, but were executing projects being done all over the world.
During their tenure with the company, they realised that Ex compliance is not common in this region despite being a standard requirement in Europe. "Most of the time, we ended up having to outsource the expertise from countries such as the UK and Australia. Obviously, these guys were super expensive," says Fairuz.
"One day, we thought, 'If nobody is providing this service here, why don't we?' We talked about it for 1½ years. During that period, I started building connections with industry players in Malaysia and Asia-Pacific. In 2014, I registered the company even though all of us, except for Ahmad, were still working for our previous company."
EXS Synergy got its first contract in 2015. When the business proved viable in 2016, the core team decided to quit their jobs and focus on providing Ex services full-time. "In 2017, the business started to really pick up. We got our first long-term contract with a US oil company that has facilities in Sarawak. We secured another contract by end-2017 and a third in the middle of last year," says Fairuz.
Pushing for awareness   
The risk of explosion is present wherever there is flammable material or combustible fine dust, according to Fairuz. In the oil, gas and petrochemical industry, the most common element is hydrocarbon, which increases the risk of explosion.
"Wherever there is hydrocarbon, there is a risk that it will leak, whether in liquid or gas form. An explosion will happen if the hydrocarbon combines with oxygen and sparks an ignition," he says.    
EXS Synergy reduces the risk of this happening by performing a compliance inspection and maintenance, says Fairuz. "On an offshore facility, there are safe and hazardous areas. The hazardous areas are divided into three zones — 0, 1 and 2, with 0 being the most dangerous. Our job is performing compliance inspection and maintenance of the equipment in these zones."
The global governing standard for Ex is IECEx (International Electrotechnical Commission System for Certification to Standards Relating to Equipment for Use in Explosive Atmospheres). In October 2017, EXS Synergy became the world's first IECEx-certified Ex inspection company under the IECEx 03-4 Scheme, with Sirim QAS International Sdn Bhd as the certification body.
If EXS Synergy is the first to be certified by the global governing standard, what certification did companies comply with previously? In Europe, companies comply with the Atex, derived from the French appareils destinés à être utilisés en atmosphères explosives. It consists of two EU directives describing what equipment and workspaces are allowed in an environment with an explosive atmosphere.
"Atex is Europe-centric. The rest of the world is still trying to catch up with Europe's safety standards. In Malaysia, the National Institute of Occupational Safety and Health and the Department of Occupational Safety and Health Malaysia do have something in their regulations that say workplaces must be safe for employees. However, the maintenance of the equipment according to stringent hazardous area standards is not yet mandatory," says Fern.
Fairuz says that typically, equipment selected to be stored in a hazardous area has to comply with the Ex requirements of a classification society (an organisation that establishes and maintains technical standards for the construction and operation of ships and offshore structures) or the American Petroleum Institute's Standard.   
"On top of that, the clients will have their own specifications. For example, if Sapura accepts a contract from Shell to build a facility, it will have to refer to Shell's standards. So, compliance is already there for the equipment selection part. However, it is only for new facilities," says Fairuz.
"Once they are installed and operational, there is no requirement to constantly monitor the condition of the equipment. When there is a problem with the equipment, a modification is required. Unauthorised modifications, which happen a lot could totally cancel the protection level. So, if anything happens, the equipment no longer has the protection needed."
Recently, thanks to the push from certification bodies, there has been increased awareness of the need to comply with safety standards for equipment in hazardous areas, especially in terms of inspection and maintenance. EXS Synergy is trying its best to do its part by spreading awareness in this region, although this proves challenging.
"Over the past few years, it was very hard for us to operate as there was neither awareness nor regulations in the region to perform compliance inspection and maintenance of offshore equipment. We felt like we were trying to penetrate a very high wall. However, we are lucky that industry players are starting to listen to us and accept this as the correct way of doing things," says Siti.
Ahmad says a very positive sign is that Petroliam Nasional Bhd (Petronas) has incorporated the IECEx standard as part of the Petronas Technical Standards.
Beyond O&G
When the company was established, it was very much ahead of the curve, says Ahmad. So, there was virtually no demand for its services. Consequently, it did not do well in its first two years of operations.
In fact, when it first started out in September 2014, EXS Synergy paid for nine electrical inspectors to get their IECEx certification. However, when they were certified, the company was not able to provide them with jobs.
"People were not ready for our services. That was when we learnt that we would have to begin with increasing awareness," says Ahmad.
The first few years were very intense, says Fairuz. "It took us almost two years because we faced a lot of people-related challenges. But we learnt our lessons and moved on, chalking it up to growing pains."
But these were not the company's only challenges. As a small Malaysian company, it took a lot of effort to gain the trust of the O&G giants. "It helps that we were trained with an international work ethic. We are used to disciplined record keeping and report writing and we perform our work diligently. And since the very beginning, we strived for global certification so that we could be different from the others," says Fairuz.
Siti concurs. "The working culture is very important. We were trained by the French and the Dutch. Back then, we were pushed to our limits every single day. This has been embedded in the way we work and we try to implement the same culture in the company," she says.
In the third quarter of last year, the company recorded almost RM3 million in revenue. It hopes to achieve RM10 million in the next two years.
Today, its 27-strong workforce is focusing on digitising its project records and coming up with standard procedures and working methods. These are important to improve work efficiency, says Ahmad.
"For example, an improper cable gland installation may be recorded as 'improper glanding' by one inspector and 'glanding not properly installed' by another. So, we are going through our findings to get the most accurate description and put that in the system," he adds.
"We go to this extent because if we capture the correct finding, we can make the best recommendation for rectification. Going offshore is costly — tens of thousands of ringgit per trip. It is going to cost a lot more if the wrong equipment is brought on board," Siti points out.
Can EXS Synergy expand its services beyond the O&G industry? Absolutely, says Fern. "Surprisingly, sugar dust can create an explosion. In fact, 14 people were killed when an explosion occurred at a sugar refinery in the US in 2008. That is one example. Flour, paper mills, sawmills, paintings, coatings, pharmaceuticals and oxygen tanks in university labs all have the potential to explode.
"We want to avoid freak accidents. If there are regulations in place to ensure the safety of equipment in places like these, we will be happy to provide our services."