This article first appeared in Enterprise, The Edge Malaysia Weekly, on October 9, 2017 - October 15, 2017.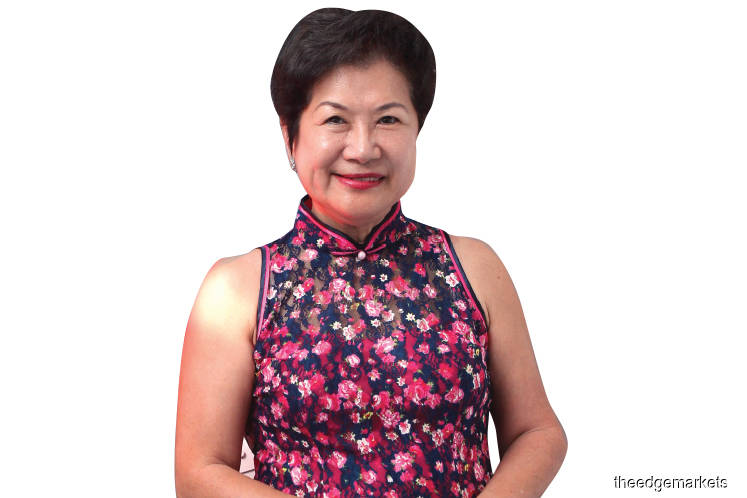 If you've ever wondered what those red blinking lights up in the night sky are, wonder no more. They are aviation obstruction lights, placed there for safety purposes. They light up the edges of obstructions such as communications towers, electrical towers and high-rise buildings to prevent a plane from crashing into them.
Avialite Sdn Bhd produces these lights. Co-founder and CEO Hee Wee Leng says the company strives to meet the highest quality and standards and is proud of keeping it local.
"We take pride in being a Malaysian company that offers made-in-Malaysia products. We keep our production line in the country and hire locals to manufacture the products. In fact, almost 80% of our materials are locally sourced because they are of high quality," she points out.
Avialite was founded in 2004 when Hee and her business partner, A L Chew, saw an opportunity in the market. This niche sector was dominated by European products until they became too expensive due to the weakening ringgit.
"Chew was an agent trading in European aviation warning lights. When the euro rose significantly against the ringgit, his business was in crisis as it made the European products unaffordable," Hee recalls.
But Chew refused to give up without a fight. He consulted his friends (including Hee) about what he should do and finally came up with the idea of manufacturing his own aviation warning lights. He invited Hee to come on board and she gladly accepted.
"Both of us were very confident this would take off because we had what it takes to be successful in business. Chew helmed the design and manufacture of the product while I focused on marketing and sales," she says.
Avialite did not reproduce what the Europeans were making — it went one better. The European aviation warning lights were neon but Avialite adopted the latest technology in the industry at the time — the light-emitting diode (LED).
"We wanted to make LED lights. We set the barriers to entry high so that potential competitors could not replicate our products easily and take our market share," Hee explains.
This is despite the fact that the company started off as a backyard business with a start-up capital of only RM100,000. In a humble second-floor shoplot in Taman Desa, Kuala Lumpur, Chew did the R&D while Hee wrote the business plan. Right from the outset, she trained her sights on the Asian market.
"This is such a niche business. Targeting the home market alone would not have been sustainable. We needed to enter other markets in the region to make things work. My plan was to also penetrate Indonesia and the Philippines from the start," says Hee.
Avialite had the edge as one of its co-founders knew the industry well. Chew built the product to the requirements of the Department of Civil Aviation (DCA) and International Civil Aviation Department. The product was designed and manufactured in compliance with international standards.
The first model of Avialite's aviation obstruction light, Li-3280, came out in mid-2005. It was tested by SIRIM Bhd before being sent to the DCA for approval.
Once the product was approved, the company hired a few workers and trained them to manufacture it. Meanwhile, Hee launched her full marketing plan.
"Our LED aviation warning light was lighter than that of our competitors. The SIRIM test certified that it was IP67, which means that it can be submerged in water. Many of our competitors' products were only certified IP6, so we had the edge," she explains.
The International Protection rating consists of the letters IP followed by two digits and an optional letter. This classifies the degree of protection provided against the intrusion of a solid object, duct, accidental contact and water in electrical enclosures. It aims to provide users with more detailed information than vague marketing terms such as "waterproof".
With a quality product in hand, Hee approached companies that had communications towers. Naturally, the first company she went to was Telekom Malaysia Bhd. The telecommunications service provider was buying lights made in France, which had become increasingly expensive. One unit of the French light cost around RM2,700 at the time.
"So I went to TM and offered the company our light. As it was made in Malaysia, they were doubtful about its quality. Our quoted price was RM1,500 per unit, but I lowered it to RM800 to encourage them to buy and test our light," Hee recalls.
Because the product was made in Malaysia, Avialite was able to lower its price and still enjoy a comfortable margin. "This is because the product was developed, designed and manufactured in-house. I was the only marketer for the company for eight years. We kept our overheads very low to ensure sustainability."
TM bought a few units of Avialite's product and mounted them on some of its towers. Eventually, it bought more from the company at RM1,000 each.
"It was very hard when I first started trying to penetrate the telecoms companies. They already had existing suppliers whom they trusted. So we needed to sow a seed to establish a relationship with them, meet them periodically and try to close sales. Concurrently, we also needed to develop the international market," says Hee.
Closing the TM sale was Avialite's first milestone. Its next breakthrough came when Hee closed major orders in Brunei.
She says it was sheer luck — being in the right place at the right time, offering the right product.
"At the time, Brunei was at the forefront of championing LED lights. I happened to be in that part of the region and had the chance to meet representatives from Telekom Brunei. They were really delighted with my presentation and I closed the sale very quickly. It was a big order," she recalls, gleefully.
Indonesia and the Philippines were more difficult to penetrate as they were using Philips lights. How did Avialite manage to prevail?
Hee says it was a matter of persistence. "And stamina. I stationed myself in different cities for a few weeks to do the rounds. Usually, the capital is where most headquarters of telecommunications service providers would be. So I planned my trips to different offices."
Her approach was simple: Just ambush anyone in the office and talk to them. "I did not make any prior appointment. There was no point in trying to call to make appointments because these people would just pass your call around.
"Instead, I went to the office with our product. I approached the clerks first and they usually were more than happy to introduce me to their higher-ups. That's because our product is so niche; you don't get a salesperson selling aviation warning lights every day. From there, I got to meet the engineers, managers and decision-makers."
It was not until 2007 that Hee managed to close her first deal in Indonesia. But as that one deal came with an order for 10,000 units of aviation obstruction lights, it meant that the company officially broke even and the business took off. After that, it also managed to capture markets like the Philippines and Myanmar.
On the home front, it took Avialite nine years to close big telecoms customers such as Celcom. When this telecoms heavyweight formed Edotco, a tower operator, Avialite managed to land a large order from the new player too.
"When Edotco was first formed, we closed a two-year nationwide contract with it. It meant that all the towers operated by Edotco would be equipped with our lights. This contract was extended for three years," Hee says.
This year, Avialite landed a nationwide contract with Telekom Malaysia. Previously, TM had been an Avialite customer only in certain states. "I think this means we have proved ourselves in terms of product quality and the services we provide," Hee adds.
By dint of hard work and persistence, Avialite won over many of the heavyweights in Malaysia and the region. The company is set on a path of growth and expansion with this year's sales exceeding RM10 million.
But when it started out, it was a little unknown company from Malaysia, competing against international giants such as Philips. How did it take on the competition and come out on top?
The key, says Hee, is quality and durability. "Our lights are designed to withstand heavy rainfall and a high lightning rate. We invested in strong surge arresters to lengthen the product's life. This is one of our advantages."
Moreover, Avialite's lights have a unique feature — they actually emit a red light rather than a white light covered by a red-coloured dome. This helps maximise the light output because a cover eliminates part of it. Also, when the light is mounted on a tower, moisture enters the dome through condensation, making the cover cloudy and mouldy. What this means is that the tower operator may need to get people to clean the dome periodically.
"Our lights do not have a dome cover. They do not get cloudy or mouldy because they are naked. So, tower operators need not worry about maintaining the lights," Hee points out.
Some aviation obstruction lights turn yellow or tarnish quickly. Hee says this is not the case for the company as the team uses the best materials to construct the light, so it remains crystal clear for years.
"Our lights are well-made. Any light that is placed outdoors is prone to failure because it is exposed to challenging weather. We seal our lights really well so no moisture, that may corrode the circuits or affect the output, can get in. Our lights last an average of five years."
Avialite has won a slew of awards over the years. In 2013, it received the GreenTech Industry Award from GreenTech Malaysia and the Ministry of Energy, Green Technology and Water. In 2015, the Malaysia External Trade Development Corporation (Matrade) awarded it the Go-Ex export grant. This year, Avialite won the Nano Tech Collaborative Grant and SIRIM Technology Grant, awarded respectively by Nano Malaysia and SIRIM.
There are three types of aviation obstruction lights, namely low-intensity for obstacles below the height of 45m, medium-intensity for those below 150m and high-intensity for those at 150m and above. Avialite's first model was the low-intensity type B, whose brightness is higher than that of the low-intensity type A. Some countries only allow type B as it is safer for the planes.
At the moment, Hee says Avialite offers both low-intensity and medium-intensity lights in AC and solar options. There is a stark difference in the prices of the different intensity lights — almost like the difference between a Perodua Kancil and Mercedes-Benz C Class.
"The low-intensity lights cost around RM1,000 each while the medium-intensity lights cost around RM6,000 each. We are trying to close the price gap between the AC and solar options to promote green energy. We can do so because we have achieved economies of scale," says Hee.
She adds that the company is currently in the R&D stage of high-intensity lights as it has to move up the value chain and offer something very few players carry.
"The high-intensity light is the top-notch product in the sector. Once we come out with that, we will have a complete range of aviation warning lights to offer. The price of a European-made high-intensity light is RM100,000. We plan to sell a product of comparable quality at RM50,000 to penetrate the Asian market."
It is not just the telecoms towers that have to be lit up for the pilots to see, Hee says. Buildings such as condominiums have to be lit up as they are also obstructions to planes. The regulations of each country dictate how many lights should be used.
"For example, the United Arab Emirates (UAE) requires the top of a building to have medium-intensity lights while the sides have to be marked with low-intensity lights. Each country has different requirements," Hee explains.
Another often overlooked area is utility towers. Hee says the company is targeting utility companies next because their towers need aviation obstruction lights too.
"Utility towers are not very high but they are more dangerous than telecoms towers because they carry high-tension cables. We have low-flying aircraft and they may get entangled in these cables if they are not properly marked."
Avialite's entire production is still kept in the country, although the company moved from a small factory in Seri Kembangan, where operations began after the first Indonesian order was won, to a 2.5-acre factory in Kuala Terengganu in 2011. In return, Avialite received 10 years of tax relief from the state government.
"It was very easy for us to meet all our clients and suppliers at our Seri Kembangan factory but the state government offered us land at RM500,000 and tax relief for 10 years. It was a bargain, so we took it. We had been self-sustaining all those years, so we bought the land and built the factory with our revenue, which totalled around RM3 million," Hee says.
Avialite takes a lot of pride in being a Malaysian company. Some 80% of its materials are locally sourced and all its workers are Malaysian. In fact, most of them are from Terengganu. Hee says this is because the company is committed to creating job opportunities and helping the locals improve their incomes.
"When we acquired the land in Terengganu, we made it a point to hire the locals to work for us. We conducted the interviews in Selangor. We asked our candidates if they were willing to go back or relocate to Terengganu and only hired them if they were."
As the company pays above market wages to retain talent, Hee says the staff members are very loyal to the company. "We treat them well. Each year, we try to give them increments and bonuses. We also take them on company trips."
Right now, Avialite's biggest challenge are products from China, which are of uncertain quality but cheaper. "For example, a medium-intensity type A light needs to be 2,000 Candela (equivalent to the light of 2,000 candles) but a made-in-China light may only be a quarter of that and the clients would not be any wiser. They would only go for the low price," says Hee.
But the level of brightness is very important, especially for aviation warning lights. "We have to highlight the difference to our clients. We represent Malaysia and we will not compromise on quality. We will keep our quality and standards high."