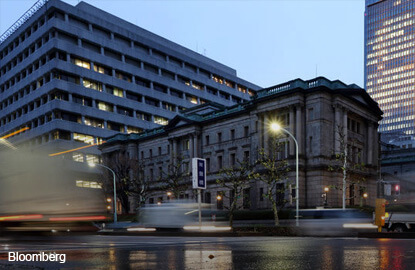 TOKYO (Feb 21): The likelihood of more monetary stimulus in Japan is diminishing, according to a Reuters poll of economists who were largely split on the central bank's next policy move, signalling a possible turning point in expectations for its easing cycle.
The latest Reuters survey of economists conducted Feb 13-17 showed the outlook for growth and inflation for the world's third-largest economy broadly in line with the January poll.
However, economists have pared back their expectations for the Bank of Japan to ease its already ultra-accommodative monetary policy, as the outlook for global growth improves and the yen's outlook softens.
While the analysts don't expect any change soon, 15 of those surveyed said it will pull back from its ultra-easy monetary policy, when the BOJ does decide to alter its policy, while 17 said its next move will be to ease.
That compares with 12 to 18 in the January poll and 10 to 21 in December.
The BOJ will likely stay the course this year, said Yoshimasa Maruyama, chief market economist at SMBC Nikko Securities, though he expects inflation to pick up and wages to improve in 2018.
"So the BOJ could raise the 10-year government bond yield target in the middle of next year," he said.
"But that would be too early to raise negative interest rates."
The central bank has lowered short-term interest rates to minus 0.1% and bought billions of yen worth of bonds and other assets in a campaign to boost inflation and growth. In September, it adopted the unusual tactic of trying to keep the 10-year bond yield around zero percent.
Some analysts expect the BOJ will likely cut the pace of its annual increase in Japanese government bond (JGB) holdings from the current 80 trillion yen sometime this year.
"The BOJ has shifted its policy targets to interests rates, so we expect the central bank will drop the target of the amount of an increase in JGB holdings eventually," said Takeshi Minami, chief economist at Norinchukin Research Institute.
The poll showed the BOJ will maintain its interest rates at minus 0.1% imposed on some excess bank reserves at least until the second quarter of 2018.
Easing would mean lowering the short- and long-term rate targets, while tightening would mean raising them or cutting back on its massive asset-buying, a measure market participants call "tapering."
Analysts who forecast a possibility for further easing say that would happen in the case of sudden spikes in the yen, which hurt exporters by eroding their overseas earned income.
BOJ Governor Haruhiko Kuroda said on Tuesday that it was too early for the central bank to raise interest rates.
"Rates are rising in other countries, but it would be premature to assume that the BOJ will raise either its short- or long-term interest rate targets, simply because rates are rising overseas," he told parliament.
The government will tolerate the yen strengthening to about 100 against the dollar, according to 16 of the 27 economists who responded to the question on the currency. Three economists pegged it between 110 to 105 yen.
The remaining eight economists said beyond 100 yen, and to as far as 80 yen was acceptable. The currency was last trading around 113.40 yen to the dollar on Tuesday.
In a separate Reuters survey, FX analysts maintained their view for a weaker yen outlook, with the Japanese currency forecast to weaken about 7% to around 120.0 in a year from the poll date.
Trump summit
A rise in protectionism poses the biggest threat to the pace of economic growth in major economies, which are vulnerable to political forces at a time when global trade is at risk.
But the summit between Prime Minister Shinzo Abe and U.S. President Donald Trump earlier this month was largely positive, according to all but one of the 33 economists who answered an extra question in the latest poll.
The two leaders also agreed to establish a bilateral economic dialogue, to be led by Taro Aso, finance minister — who also serves as deputy prime minister, and Vice President Mike Pence, focusing on issues such as economic policies, infrastructure, energy and trade.
Almost three quarters of the 33 economists who answered another question said the risk for a redux of 1980s and 1990s trade disputes was low, but 10 economists predicted they may get acrimonious.
The poll projected that Japan will grow 1.2% in the fiscal year starting April and 1.0% for fiscal 2018, according to the poll. Last month, they forecast 1.1% and 1.0% growth, respectively.